6 Anime Like Kuzu no Honkai [Scum's Wish]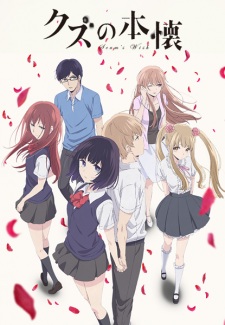 Here are my favorite picks for anime like Kuzu no Honkai. Keep in mind the list is in no particular order. Enjoy!
Koi to Uso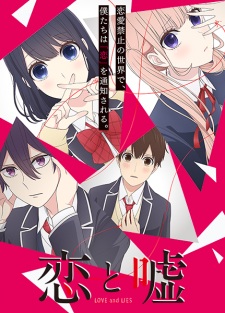 In a futuristic society, Japan has implemented a complex system referred to as "The Red Threads of Science" to encourage successful marriages and combat increasingly low birthrates. Based on a compatibility calculation, young people at the age of 16 are assigned marriage partners by the government, with severe repercussions awaiting those who disobey the arrangement. For Yukari Nejima, a teen that considers himself average in every way, this system might be his best shot at living a fulfilling life.
However, spurred by his infatuation for his classmate and long-time crush, Misaki Takasaki, Yukari defies the system and confesses his love. After some initial reluctance, Misaki reciprocates his feelings in a moment of passion. Unfortunately, before the two can further their relationship, Yukari receives his marriage notice. He is then thrown into a confusing web of love and lies when his less-than-thrilled assigned partner, Ririna Sanada, becomes fascinated with his illicit romance.
White Album 2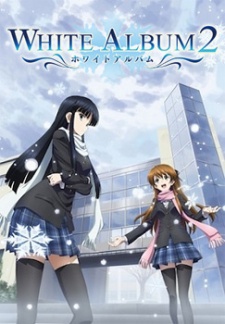 Haruki Kitahara's light music club is on the verge of disbanding. At this rate, the third year's dream of performing at the school festival would never be realized. However, as his exhausted fingers drift through the chords of "White Album," the first song he would ever play, an angelic voice and mysterious piano begin harmonizing with his lonely guitar. It is a momentous performance that marks the beginning of everything for Haruki.
White Album 2 orchestrates Haruki's final semester with complex romance and exhilarating music, as the curtains of the stage he so desired begin to open…
School Days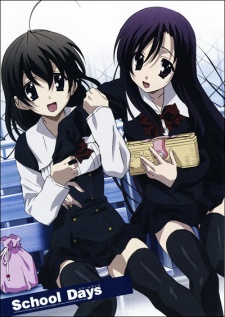 High school student Makoto Itou first notices Kotonoha Katsura at the start of his second semester, freshman year. Immediately, he becomes entranced by her beauty, but his bashfulness doesn't allow him to approach her, even though they ride the same train every day. Instead, he snaps a photo of her in secret and sets it as his cell phone's wallpaper: a charm that, if kept under wraps, would supposedly help you realize your love. However, classmate Sekai Saionji spots the picture, but instead of ratting him out, she offers to help set him up with Kotonoha—going so far as befriending her just for him. Thus, the trio begins a rather impromptu friendship.
School Days follows the lives of these three teenagers as they traverse the joys and hardships that come with being a high schooler. In a story alive and brimming with romance and melancholy, the tale of these three students will linger in memory long after the momentous conclusion.
Citrus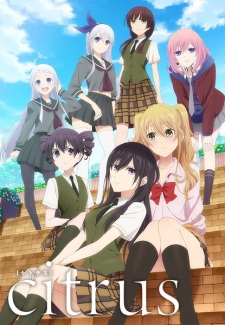 During the summer of her freshman year of high school, Yuzu Aihara's mother remarried, forcing her to transfer to a new school. To a fashionable socialite like Yuzu, this inconvenient event is just another opportunity to make new friends, fall in love, and finally experience a first kiss. Unfortunately, Yuzu's dreams and style do not conform with her new ultrastrict, all-girls school, filled with obedient shut-ins and overachieving grade-skippers. Her gaudy appearance manages to grab the attention of Mei Aihara, the beautiful and imposing student council president, who immediately proceeds to sensually caress Yuzu's body in an effort to confiscate her cellphone.
Thoroughly exhausted from her first day, Yuzu arrives home and discovers a shocking truth—Mei is actually her new step-sister! Though Yuzu initially tries to be friendly with her, Mei's cold shoulder routine forces Yuzu to begin teasing her. But before Yuzu can finish her sentence, Mei forces her to the ground and kisses her, with Yuzu desperately trying to break free. Once done, Mei storms out of the room, leaving Yuzu to ponder the true nature of her first kiss, and the secrets behind the tortured expression in the eyes of her new sister.
Netsuzou Trap
Yuma and Hotaru have been friends since childhood, so it's only natural that when Yuma is nervous about her new boyfriend, she asks Hotaru for advice. But when Hotaru starts coming onto Yuma for what feels like more than just 'practice,' what does it mean…? With boyfriends in the foreground but a secret, passionate tryst in the background, will Yuma and Hotaru try to forget what happened between them or have they fallen into a trap of true love and betrayal?
Nana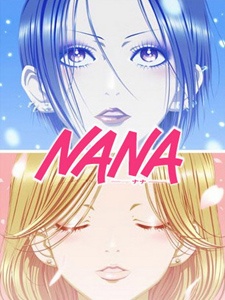 Nana Komatsu is a helpless, naïve 20-year-old who easily falls in love and becomes dependent and clingy to those around her. Even though she nurses ambitious dreams of removing herself from her provincial roots and finding her true calling, she ends up traveling to Tokyo with the humble reason of chasing her current boyfriend Shouji Endo.
Nana Osaki, on the other hand, is a proud, enigmatic punk rock vocalist from a similarly rural background, who nurtures the desire to become a professional singer. Putting her career with a fairly popular band (and her passionate romance with one of its former members) firmly behind her, she boards the same train to Tokyo as Nana Komatsu.
Through a fateful encounter in their journey toward the metropolis, the young women with the same given name are brought together, sparking a chain of events which eventually result in them sharing an apartment. As their friendship deepens, the two attempt to support each other through thick and thin, their deeply intertwined lives filled with romance, music, challenges, and heartbreaks that will ultimately test their seemingly unbreakable bond.
References: Myanimelist