Gatotkaca Mighty Legend [Mobile Legends: Bang Bang]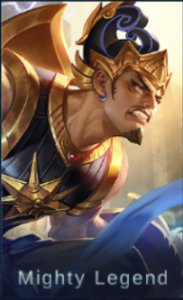 | Role | Tank |
| --- | --- |
| Crowd Control |  Engage |
| Cost | 32000 BP or 599 Diamonds |
| Durability | 9/10 |
| Offense | 5/10 |
| Ability Effects | 7/10 |
| Difficulty | 7/10 |
Thoughts
Gatotkca is a great Tank character with amazing durability and decent ability effects. He's great for aggroing heroes and getting hero kills.
Attributes
| | | | |
| --- | --- | --- | --- |
| MOVEMENT SPEED | 260 | MANA | 440 |
| PHYSICAL ATTACK | 120 | ATTACK SPEED | 0.818 |
| MAGIC POWER | 0 | HP REGEN | 42 |
| ARMOR | 20 | MANA REGEN | 12 |
| MAGIC RESISTANCE | 10 | BASIC ATTK CRIT RATE | 0 |
| HP | 2709 | ABILITY CRIT RATE | 0 |
Abilities
Steel Bones: Passive
Description: Converts 4% lost HP to his physical defense, up to 250. Every 6s, dealing damage to the enemies with higher HP grants 110~250 (increases with level) HP and 0.5 times HP of his physical damage.
Blast Iron Fist
Cooldown: 8.0s
Mana Cost: 70
Description: Shatters the front ground, dealing 300 magical damage and slowing the enemies.
Unbreakable
Cooldown: 13s
Mana Cost: 100
Description: Gatotkaca shouts loudly, forcing nearby enemies to basic attack him for 1.5s. In the next 2.5s, he counters the attacker when hit, dealing 130 magical damage to nearby enemies
Avatar of Guardian: Ultimate
Cooldown: 60s
Mana Cost: 120
Description: Shortly charges and jumps to the target area, knocking nearby enemies into the air for 1s and dealing 500 magical damage. The enemy near to the center is knocked into the air for a longer time.
Builds
Steady DPS

Burst

Durable

Skins
Lore
Gatotkaca "The Iron Bone" was the son of Bima and Arimbi from Arcapada universe. Since his childhood, he's been a champion of gods, fights vicious enemies of his homeland. Once lost and beaten near death, Gatotkaca arises as a mighty warrior from Pandava clan who possessed the supernatural power he got from the ultimate training inside the cauldron of heaven, Candradimuka. With his Anatakusuma armor and Brajamusti-Brajadenta twin gauntlet, he can fly across the skies of lightning and hunt down his enemies, the furious Ashuras. Gatotkaca, the Knight of Priggandani is a symbol of bravery and devotion. *Based on "Garudayana" comic created by Is Yuniarto, inspired from Indonesian traditional shadow puppets.
Related posts: