10 Anime Like Gakusen Toshi Asterisk [Recommendations]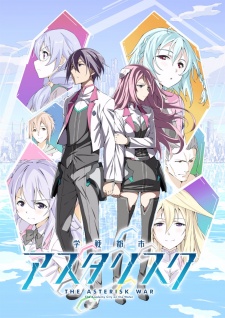 Here are my top picks for anime like Gakusen Toshi Asterisk[also known as The Asterisk War: The Academy City on the Water]. Keep in mind the list is in no particular order. Enjoy the recommendations!
Bonus Read: 7 Reasons to Watch Gakusen Toshi Asterisk
Magic Knights are modern magic-users who fight with weapons converted from their souls. Ikki Kurogane goes to a school for these Magic Knights, but he is the "Failed Knight" or "Worst One" who is failing because he has no magical skills. However, one day, he is challenged to a duel by Stella, a foreign princess and the "Number One" student. In this duel, "the loser must be obedient for life."
The story is set in Areishia Spirit Academy, where girls from noble families are educated to become spirit contractors. A boy named Kamito, a male spirit contractor whose existence Was believed to be impossible, accidentally peeps on a girl named Clair while she was bathing, and forms a contract with the spirit she set her sights on. In order to make up for his mistake, Kamito must become Clair's contracted spirit.
Swords of Salvation, known as Saviors, are special people chosen from across Japan who inherited the memories of their previous lives and able to use the miraculous power of the Ancestral Arts. They are being trained in order to break down Metaphysicals who randomly attack.
Infinite Stratos (IS), a weaponized exoskeleton system, has become the dominant tool of warfare and conflict. Unfortunately for the men in society, only women are able to operate Infinite Stratos…with very few exceptions. One of those exceptions is Ichika Orimura, an orphan raised by his older sister, who is herself a famous IS pilot. When his compatibility with Infinite Stratos is discovered after he accidentally touches one at the age of 15, he is given a scholarship and enrolled in a school that specializes in training IS pilots. Which means an interesting life surrounded by girls for this shy, unassuming boy.
Set in a slightly futuristic world where Earth has been invaded and is at war with aliens from another dimension called the Nova, the story follows the adventures of a Japanese boy named Kazuya Aoi who enrolls for training at a special school for genetically modified girls called Pandoras who battle the aliens, and their male partners, called Limiters, who use a special power called "freezing" to limit their opponent's mobility. The protagonist makes the acquaintance of an unusual older girl named Bridgette L. Satellizer who appears to be the most powerful Pandora in her class, but has not yet chosen a male partner to be her Limiter, and in spite of the warnings of all his friends, he decides to be her Limiter.
References: Wiki, MyAnimeList, ANN