10 Anime Like My Bride is a Mermaid
My Bride is a Mermaid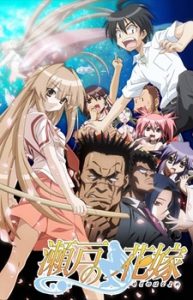 Here are my favorite picks for anime like Interviews with My Bride is a Mermaid. Keep in mind the list is in no particular order. Enjoy!
To LOVE-Ru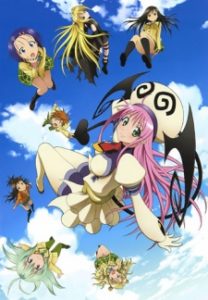 Timid 16-year-old Rito Yuuki has yet to profess his love to Haruna Sairenji—a classmate and object of his infatuation since junior high. Sadly, his situation becomes even more challenging when one night, a mysterious, stark-naked girl crash-lands right on top of a bathing Rito.
Nagasarete Airantou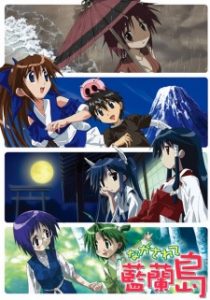 Ikuto Touhohin just had a fight with his old man, one that led him to make a rash decision to run away from home. He boards a ship, deciding to take a vacation, but the ship is suddenly hit by a huge storm—one that sends Ikuto overboard! When he regains consciousness, he realizes he is still alive on some island. An isolated island. An isolated island with nothing but girls. Beautiful girls. Stranded on an island with only girls, no electricity, gas, radio, television, like he was back in the stone age.
Baka to Test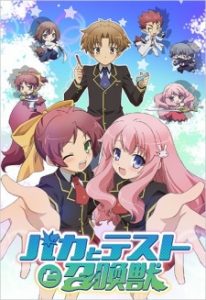 The story centers around Akihisa Yoshii, the "baka" of the title. His academy rigidly divides up the student body into classes based on the results of tests. The prodigies are in the A class with reclining seats complete with air conditioning, but Akihisa is in F class, the lowest rung of the school ladder which is furnished only with low, decrepit tables and worn-out straw tatami mats. A girl named Mizuki Himeji is actually one of the smartest girls in Akihisa's sophomore year, but she had a fever on test day and was pigeonholed into the F class. Besides Mizuki (who Akihisa secretly adores), the F class also has Yuuji Sakamoto, the class president who has been Akihisa's friend and partner-in-crime since the freshman year.
Nogizaka Haruka no Himitsu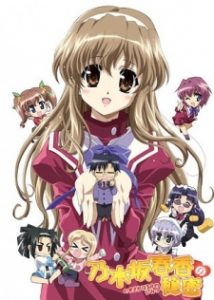 Hakujo Academy is a private high school with a student body filled with elite students. At the top of this list is the beautiful Haruka Nogizaka, an intelligent and wealthy girl who comes from a prestigious family, and is by far the most idolized girl at school. Her popularity is so great that her classmates occasionally give her French nicknames to further express their infatuation.
School Rumble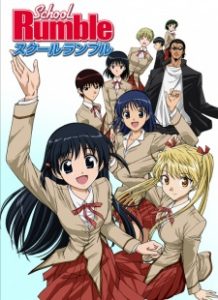 Just the words "I love you," and everything changes—such is the nature of the bittersweet trials of high school romance. Tenma Tsukamoto, a second year, is on a quest to confess her feelings to the boy she likes. Kenji Harima, a delinquent with a sizable reputation, is in a similar situation, as he cannot properly convey his feelings to the one he loves. Between school, friends, rivalries, and hobbies, these two will find that high school romance is no walk in the park, especially as misunderstandings further complicate their plight.
Nisekoi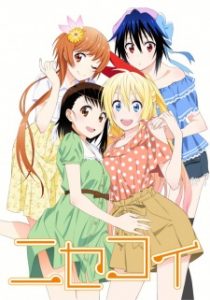 Raku Ichijou, a first-year student at Bonyari High School, is the sole heir to an intimidating yakuza family. Ten years ago, Raku made a promise to his childhood friend. Now, all he has to go on is a pendant with a lock, which can only be unlocked with the key which the girl took with her when they parted.
Arakawa Under the Bridge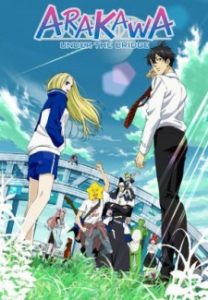 Kou Ichinomiya is the son of a wealthy businessman who holds firm belief in his elite status. As such, he is determined to avoid becoming indebted to anyone; but one day, after a run-in with some mischievous kids on Arakawa Bridge, he ends up falling into the river running underneath. Luckily for him, a passerby is there to save him—but now, he owes his life to this stranger!
Binbougami ga!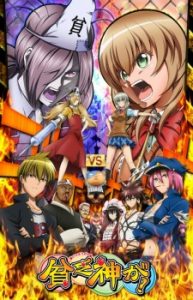 Born with a silver spoon, Ichiko Sakura is overflowing with good fortune. She is wealthy, beautiful, athletic, and smart. Not only that, but everyone around her does whatever they can to ensure that her perfect life is not disturbed in any way. Talk about luck! Unfortunately for everyone else, it turns out she is actually sponging up all of the good fortune from them and leaving them high and dry!
Nyan Koi!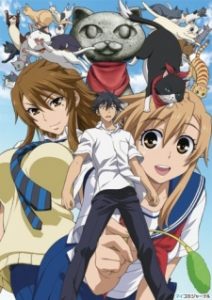 Junpei Kousaka is a second-year high school student who has an allergy for cats—a predicament that has made him hate cats and everything related to them. Unfortunately for him, though, he is surrounded by cat lovers: his family, his estranged childhood friend, and even his crush Kaede Mizuno.
Shinryaku! Ika Musume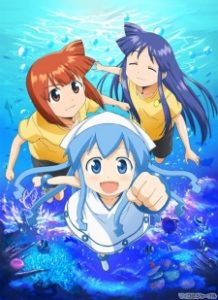 From the depth of the seas rises an evil monster, bent on taking over the human world: Ika Musume. She's ruthless. She's menacing. She's… an adorably non-threatening little girl who makes an awesome squid-ink spaghetti?
References: Myanimelist