10 Anime Like Cardcaptor Sakura
Cardcaptor Sakura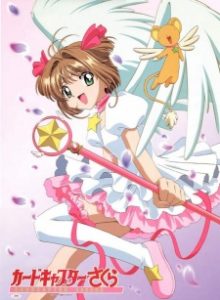 Here are my favorite picks for anime like Cardcaptor Sakura. Keep in mind the list is in no particular order. Enjoy!
Tsubasa Chronicle
During an excavation at the mysterious ruins in Clow Country, Syaoran discovers his childhood friend Princess Sakura appear on the site with wings that disperse into many feathers. As the feather's disappear to different dimensions, so does Sakura's memory. In attempts to save Sakura's life and restore her memory, Syaoran travels through to another world to find a solution. There's only one thing left he can do. Travel through to different dimensions to collect Sakura's feathers. Helping out with the quest is Kurogane, an exiled ninja from Japan Country who wishes to return to his world, the runaway magician, Fay, who desires to jump between each world never to return to his own and the white meat-bun shaped creature, Mokona.
Shugo Chara!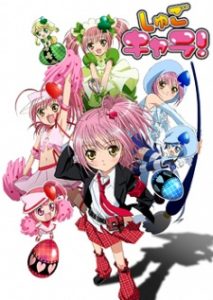 Amu Hinamori is a student at Seiyo Elementary, where she has a reputation for being "cool and spicy"; however, her real personality is that of an extremely shy and easily intimidated girl. One night Amu makes a wish that she would have the courage to be reborn as her "would-be" self. The next morning Amu finds three brightly colored eggs—red, blue, and green—in her bed. Each egg eventually hatches into a Guardian Character: Ran, Miki, and Su. Guardian Characters are angel-like beings that aid a person into becoming their "would-be" selves and fulfill the person's dreams. The Guardian Characters accomplish this by giving encouragement and advice, but they can also temporarily change a person's personality and abilities. With the Guardian Characters, Amu's life becomes much more complex as she now struggles to deal with her new personalities and the Seiyo Elementary Guardians—a student council group where each member has their own Guardian Character—who recruits Amu to search for and seal the X eggs and X Characters, corrupted forms of people's dreams.
Magical Girl Lyrical Nanoha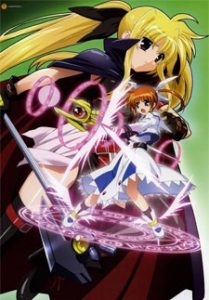 Third grader Takamachi Nanoha stumbled upon an injured talking ferret after hearing his telepathic cries for help. The ferret turned out to be Yuuno, an archeologist and mage from another world who had accidentally scattered the dangerous Jewel Seeds throughout Earth. Without the strength to collect the Jewel Seeds, Yuuno had resumed a ferret form and needed someone else to take on the task for him. He gave a red jewel to Nanoha explaining to her with this she could transform and use magic to combat the monsters that threatened them due to the Jewel Seeds. But the monsters are the least of their worries, as Yuuno and Nanoha are not the only ones out to collect the Jewel Seeds.
Sailor Moon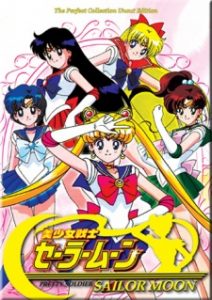 Tsukino Usagi is a 14-year-old girl in junior high. She's ditzy, whiny, and a crybaby. She often flunks her tests, and she is always scolded by her family. However after a bad day, Usagi is surprised to encounter a black cat that can talk! The cat, Luna, grants Usagi the power to transform into Sailor Moon, a fighter who is to save the world against the Dark Kingdom and its evil ruler, Queen Beryl.
Kobato.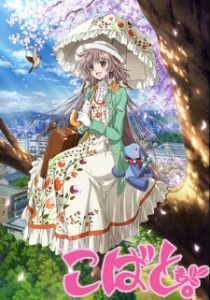 Sweet and naïve Hanato Kobato came to Earth on a mission to collect and fill a bottle with "konpeito," which appear after healing a person's heart that is suffering. Kobato collects these because it is her wish to go to a certain place. Despite her strangeness, Kobato turns out to be well-suited for this mission as her heartfelt sincerity in helping others earns her the love and admiration of everyone she meets. However, she is not allowed to fall in love with anyone whose heart she heals.
Nanatsu-iro Drops
Tsuwabuki is a normal student, though not very social. One day he meets a new transfer student, named Sumomo Akihime, and another girl, both the only members of the gardening club. Tsuwabuki is forced by a teacher to join this club. But then he bumps into a strange guy with dog ears, switching his drink with they guy's by mistake. Drinking it, he is turned in a stuffed animal. The teacher tells him that the only way to turn back to normal is to find the chosen girl and let her catch the seven stardrops. This girl is Sumomo, that accepts to help him, though she's not allowed to know the animal's true identity.
Kamichama Karin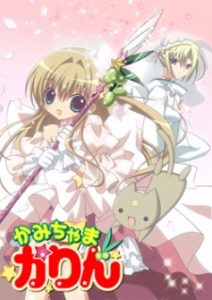 Thirteen-year-old Karin Hanazono feels like her life can't get any worse, Her parents died when she was younger, leaving her with an aunt who doesn't hesitate to call her stupid and useless over her poor grades. Her only friend, her cat named Shii-chan, passed away recently, leaving her completely alone. All she has left of her parents is a ring given to her by her mother, which she treasures dearly as the sole thing left of her past.
Fate/kaleid liner Prisma Illya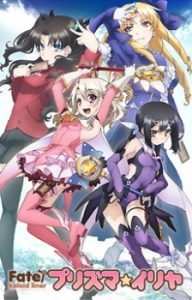 Illyasviel von Einzbern is an ordinary elementary school student who becomes a magical girl when the magical Kaleidostick Ruby deems her a more suitable master than the sorceress, Rin Tohsaka. Rin, who had been tasked by the wizard Zelretch to collect the seven Class Cards containing the spirits of Heroic Spirits from legend, finds that she is unable to change Ruby's mind and must supervise Illya in completing the task of collecting the Class Cards. During Illya's adventures, she receives a friend and rival in a girl named Miyu, the contracted master of the Kaleidostick Sapphire, which similarly abandoned its original master and Rin's rival, Luvia Edelfelt.
Corrector Yui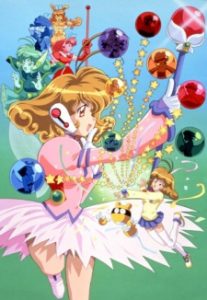 Yui is an average schoolgirl who lives in a future where all computers are supported by a single global network known as COMNET. Yui is a computer-illiterate girl who after a computer-lab accident is approached by IR, a raccoon looking corrector computer program, which tells her she must save COMNET. She must stop the rogue A.I. (Artificial Intelligence) computer program known as Grosser and his hench-programs from taking over the world. Grosser was originally designed to be that manager of all of COMNET. At first she's very reluctant to play the heroine because of her complete lack of knowledge and ability with computers. To save COMNET she must find and gain the trust of the other seven wayward corrector programs. They must also find the creator or COMNET Professor Inukai, to help stop Grosser for good.
Tokyo Mew Mew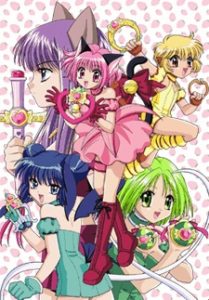 Ichigo Momomiya expected her date with her crush, Masaya Aoyama, to have a more romantic ending than her falling asleep after she sees a vision of a cat entering her body. Things get even stranger when, the next day, she begins displaying cat-like behaviors such as an intense craving for fish. When Masaya is attacked by a monster, she discovers that she is able to transform into the cat-eared magical girl, Mew Ichigo.
References: Myanimelist