Chaos;Head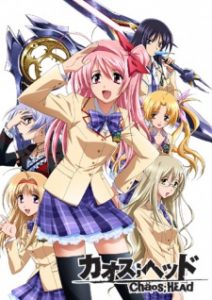 Here are my favorite picks for anime like Chaos;Head. Keep in mind the list is in no particular order. Enjoy!
Higurashi When They Cry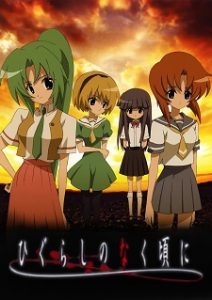 Keiichi Maebara has just moved to the quiet little village of Hinamizawa in the summer of 1983, and quickly becomes inseparable friends with schoolmates Rena Ryuuguu, Mion Sonozaki, Satoko Houjou, and Rika Furude. However, darkness lurks underneath the seemingly idyllic life they lead.
Welcome to the N.H.K.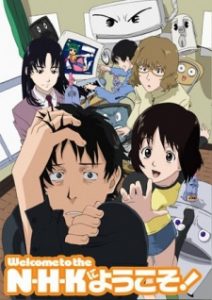 Twenty-two-year-old college dropout Tatsuhiro Satou has been a hikikomori for almost four years now. In his isolation, he has come to believe in many obscure conspiracy theories, but there is one in particular which he holds unshakable faith in: the theory that the evil conspirator behind his shut-in NEET (Not in Employment, Education or Training) status is the Nihon Hikikomori Kyokai (NHK)—an evil and secret organization dedicated to fostering the spread of hikikomori culture.
Mirai Nikki (TV)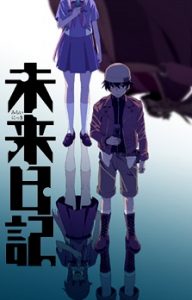 Lonely high school student, Yukiteru Amano, spends his days writing a diary on his cellphone, while conversing with his two seemingly imaginary friends Deus Ex Machina, who is the god of time and space, and Murmur, the god's servant. Revealing himself to be an actual entity, Deus grants Yukiteru a "Random Diary," which shows highly descriptive entries based on the future and forces him into a bloody battle royale with 11 other holders of similarly powerful future diaries.
Serial Experiments Lain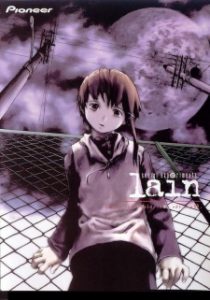 Lain Iwakura, an awkward and introverted fourteen-year-old, is one of the many girls from her school to receive a disturbing email from her classmate Chisa Yomoda—the very same Chisa who recently committed suicide. Lain has neither the desire nor the experience to handle even basic technology; yet, when the technophobe opens the email, it leads her straight into the Wired, a virtual world of communication networks similar to what we know as the internet. Lain's life is turned upside down as she begins to encounter cryptic mysteries one after another. Strange men called the Men in Black begin to appear wherever she goes, asking her questions and somehow knowing more about her than even she herself knows. With the boundaries between reality and cyberspace rapidly blurring, Lain is plunged into more surreal and bizarre events where identity, consciousness, and perception are concepts that take on new meanings.
11eyes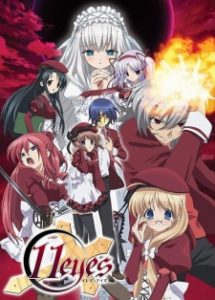 When the Sky turns Red, the Moon turns Black, and monsters begin roaming the streets, Satsuki Kakeru is at a loss for what to do. Along with his best friend Yuka, they try to decipher why they have been sent to this strange world, which is seemingly empty aside from themselves.
Denpa-teki na Kanojo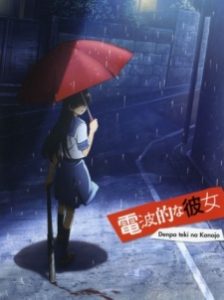 Delinquent Juu Juuzawa is a lone wolf who does not see much use in befriending people. So when a girl named Ame Ochibana claims they are linked together from their previous lives, he is highly skeptical and doesn't want anything to do with her. Even stranger is that her fondest wish is to be his servant. Thinking that Ame must be delusional, he tries to distance himself from her. But when a classmate is murdered, Juu instead decides to keep her close, believing the strange girl to be the culprit. However, her intelligence and skill begin to prove invaluable as the two begin working together to solve the murder.
Steins;Gate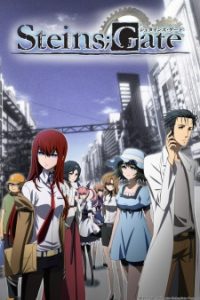 The self-proclaimed mad scientist Rintarou Okabe rents out a room in a rickety old building in Akihabara, where he indulges himself in his hobby of inventing prospective "future gadgets" with fellow lab members: Mayuri Shiina, his air-headed childhood friend, and Hashida Itaru, a perverted hacker nicknamed "Daru." The three pass the time by tinkering with their most promising contraption yet, a machine dubbed the "Phone Microwave," which performs the strange function of morphing bananas into piles of green gel.
Death Note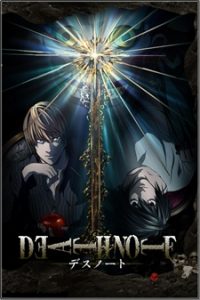 A shinigami, as a god of death, can kill any person—provided they see their victim's face and write their victim's name in a notebook called a Death Note. One day, Ryuk, bored by the shinigami lifestyle and interested in seeing how a human would use a Death Note, drops one into the human realm.
Haruhi Suzumiya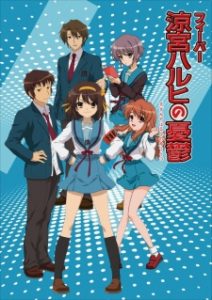 Kyon, your typical high school student, has long given up his belief in the supernatural. However, upon meeting Haruhi Suzumiya, he quickly finds out that it is the supernatural that she is interested in—aliens, time travelers, and espers among other things. When Haruhi laments about the lack of intriguing clubs around school, Kyon inspires Haruhi to form her own club. As a result, the SOS Brigade is formed, a club which specializes in all that is the supernatural.
Elfen Lied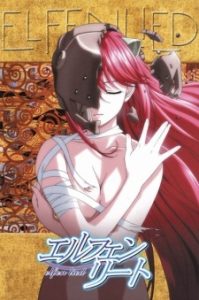 Lucy is a special breed of human referred to as "Diclonius," born with a short pair of horns and invisible telekinetic hands that lands her as a victim of inhumane scientific experimentation by the government. However, once circumstances present her an opportunity to escape, Lucy, corrupted by the confinement and torture, unleashes a torrent of bloodshed as she escapes her captors.
References: Myanimelist