10 Anime Like Flip Flappers
Flip Flappers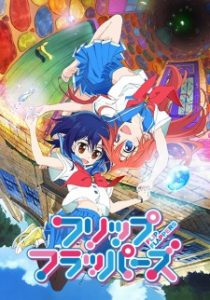 Here are my favorite picks for anime like Flip Flappers. Keep in mind the list is in no particular order. Enjoy!
Humanity Has Declined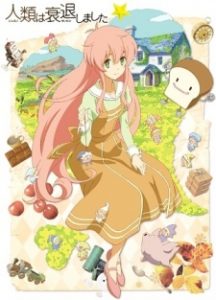 Because of the constantly declining birth rates over many decades, human civilization is all but extinct. With only a few humans remaining, they survive in this post-apocalyptic world with what was left behind by the previous generations. Earth is now dominated by fairies, tiny creatures with extremely advanced technology, an obsession with candy, and a complete disregard for human safety.
Little Witch Academia (TV)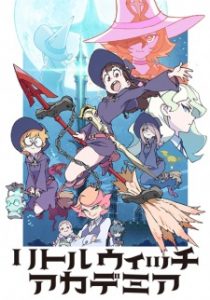 Atsuko Kagari is an ordinary girl who joins the renowned witch academy for witch girls, Luna Nova Academy. When she was younger, she went to Magical Festa, a magic show hosted by a witch named Shiny Chariot. Atsuko was so mesmerized and inspired by Shiny Chariot's performance that she dreamed to someday be a "cool" witch like her. This young and impressionable Atsuko takes Shiny Chariot's words as her own motto: "Never forget, a believing heart is your magic." As part of a class, Atsuko and her classmates go into a labyrinth under the Tower of Luna Nova. There, a sealed ancient dragon was unleashed by one of her classmates. Atsuko tries to stop the dragon, but…
Kyousou Giga (TV)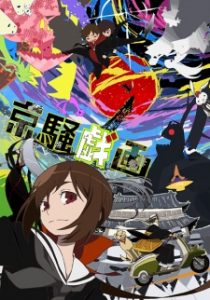 Hidden within Kyoto is the "mirror capital" where youkai and humans live together and no one ever dies. It is protected by three people—Kurama, Yase, and Myoue—as they await the return of their parents, Myoue Jonin and Koto. One day, a young girl named Koto (same name, different spelling) and her little brothers A and Un wander into the city from a different dimension looking for her mother. A mecha-geek with red eyes, it's not immediately clear whether she's human or youkai. Her arrival upsets the long peace that had ruled the city.
Mahou Shoujo Madoka★Magica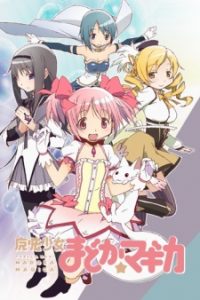 Madoka Kaname and Sayaka Miki are regular middle school girls with regular lives, but all that changes when they encounter Kyuubey, a cat-like magical familiar, and Homura Akemi, the new transfer student.
Space Patrol Luluco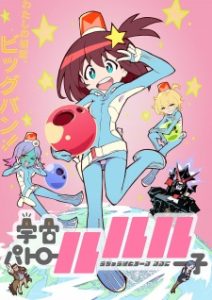 Living an abnormal existence in Ogikubo, an intergalactic melting pot of humans and aliens as well as the only Space Immigration Zone on Earth, Luluco is a bubbly middle school girl who just wants to be normal. One morning, however, her father, who works at the Space Patrol, eats a volatile sleep capsule by mistake and is frozen solid! To make matters worse, Luluco accidentally breaks him, so she hurries off to his office for help. There, the chief of the Space Patrol, Over Justice, hires Luluco as a space temp worker for undercover investigations, so that the institution may crack down on crime within her school.
Kaiba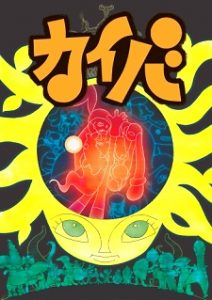 It is now possible to store memory data, so that the death of your body is not actually "death." As memories are stored in databanks, they can be "transferred" to new bodies. Because so-called "memory trading" now occurs, it is now possible to steal memories and illegally alter them.
Kill la Kill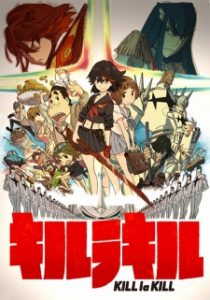 After the murder of her father, Ryuuko Matoi has been wandering the land in search of his killer. Following her only lead—the missing half of his invention, the Scissor Blade—she arrives at the prestigious Honnouji Academy, a high school unlike any other. The academy is ruled by the imposing and cold-hearted student council president Satsuki Kiryuuin alongside her powerful underlings, the Elite Four. In the school's brutally competitive hierarchy, Satsuki bestows upon those at the top special clothes called "Goku Uniforms," which grant the wearer unique superhuman abilities.
Fate/kaleid liner Prisma☆Illya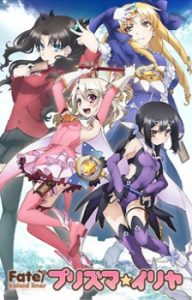 Illyasviel von Einzbern is an ordinary elementary school student who becomes a magical girl when the magical Kaleidostick Ruby deems her a more suitable master than the sorceress, Rin Tohsaka. Rin, who had been tasked by the wizard Zelretch to collect the seven Class Cards containing the spirits of Heroic Spirits from legend, finds that she is unable to change Ruby's mind and must supervise Illya in completing the task of collecting the Class Cards. During Illya's adventures, she receives a friend and rival in a girl named Miyu, the contracted master of the Kaleidostick Sapphire, which similarly abandoned its original master and Rin's rival, Luvia Edelfelt.
Rolling Girls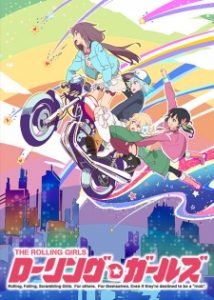 In a dystopian future where Japan's political organization has crumbled after the Great Tokyo War, Japan is broken up into 10 independent nations, with each nation controlled by a gang led by a "Best," a human-proclaimed prophet with destructive superpowers. Nozomi Moritomo is a "Rest"—a normal girl that has just started out as a rookie in the local gang. She wants to help the Best Masami Utoku, her childhood friend and role model, in the ongoing territorial dispute.
Top wo Nerae 2! Diebuster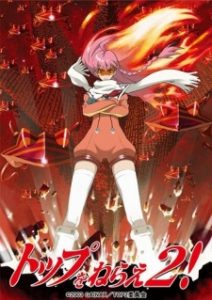 While Gunbuster's final mission destroyed the space monsters' star system, the intergalactic war still continues. Earth's only hope lies in the hands of "TOPLESS," an elite mecha group with children possessing supernatural powers and new Buster Machines. Among their ranks is a rookie named Nono and the ace pilot Lal'C—whom Nono looks at as a "big sister." Together with their teammates Nicholas and Chiko, they must aim for the top and protect all of mankind from the wrath of the space monsters.
References: Myanimelist