10 Anime Like Great Teacher Onizuka
Great Teacher Onizuka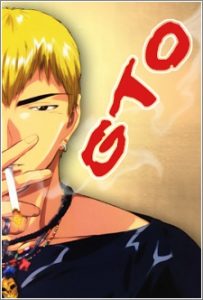 Here are my favorite picks for anime like Great Teacher Onizuka. Keep in mind the list is in no particular order. Enjoy the recommendations!
Golden Boy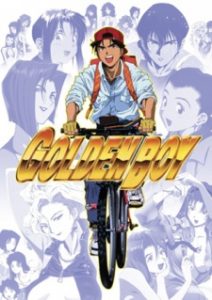 Kintarou Ooe is a specialist in part-time work, riding all over the highways and byways of Japan on his trusty steed, the Mikazuki 5, and finding employment wherever he can. His adventures bring him knowledge and experience that can't be taught in a classroom, from political corruption to the delicacy of a young woman's heart. With nothing but the open road before him—not to mention the many beautiful women along the way—Kintarou pursues his spirit of education while attempting to hold down his various odd jobs, however undignified they may be. As he learns from each task he takes on, who knows what could happen? He might even be able to save the world one day. One thing is for sure—this will all be very educational!
Assassination Classroom
When a mysterious creature chops the moon down to a permanent crescent, the students of class 3-E of Kunugigaoka Middle School find themselves confronted with an enormous task: assassinate the creature responsible for the disaster before Earth suffers a similar fate. However, the monster, dubbed Koro-sensei (the indestructible teacher), is able to fly at speeds of up to Mach 20, which he demonstrates freely, leaving any attempt to subdue him in his extraterrestrial dust. Furthermore, the misfits of 3-E soon find that the strange, tentacled beast is more than just indomitable—he is the best teacher they have ever had!
Gokusen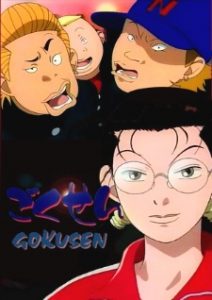 Kumiko Yamaguchi is smart, enthusiastic, and ready to start her dream job as a math teacher at Shirokin Academy. But as her first day opens on atrocious students and cowering teachers, Kumiko realizes that the all-boys high school is a cesspool of delinquents with no intention of improving themselves.
Gintama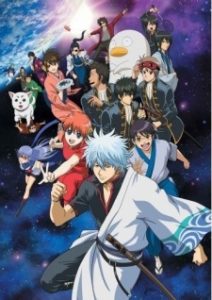 he Amanto, aliens from outer space, have invaded Earth and taken over feudal Japan. As a result, a prohibition on swords has been established, and the samurai of Japan are treated with disregard as a consequence. However one man, Gintoki Sakata, still possesses the heart of the samurai, although from his love of sweets and work as a yorozuya, one might not expect it. Accompanying him in his jack-of-all-trades line of work are Shinpachi Shimura, a boy with glasses and a strong heart, Kagura with her umbrella and seemingly bottomless stomach, as well as Sadaharu, their oversized pet dog. Of course, these odd jobs are not always simple, as they frequently have run-ins with the police, ragtag rebels, and assassins, oftentimes leading to humorous but unfortunate consequences.
School Rumble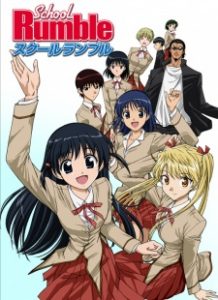 Just the words "I love you," and everything changes—such is the nature of the bittersweet trials of high school romance. Tenma Tsukamoto, a second year, is on a quest to confess her feelings to the boy she likes. Kenji Harima, a delinquent with a sizable reputation, is in a similar situation, as he cannot properly convey his feelings to the one he loves. Between school, friends, rivalries, and hobbies, these two will find that high school romance is no walk in the park, especially as misunderstandings further complicate their plight.
Ultimate Otaku Teacher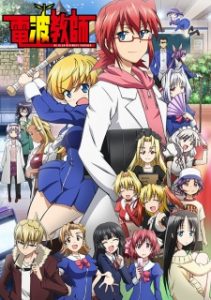 Junichirou Kagami is a young published physicist, a genius, and a hopeless otaku. At the mercy of YD, a self-diagnosed illness which causes him to only be able to do what he "Yearns to Do," Junichirou foregoes his scientific career to maintain and improve his anime blog. However, when he gets hired as a high school physics teacher; his sister Suzune, no longer willing to tolerate his NEET lifestyle, forces him to take the position.
Beelzebub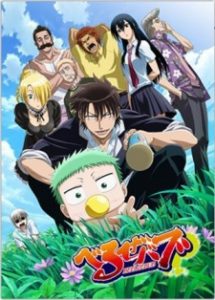 Ishiyama High is a school populated entirely by delinquents, where nonstop violence and lawlessness are the norm. However, there is one universally acknowledged rule—don't cross first year student Tatsumi Oga, Ishiyama's most vicious fighter. One day, Oga is by a riverbed when he encounters a man floating down the river. After being retrieved by Oga, the man splits down the middle to reveal a baby, which crawls onto Oga's back and immediately forms an attachment to him. Though he doesn't know it yet, this baby is named Kaiser de Emperana Beelzebub IV, or "Baby Beel" for short—the son of the Demon Lord!
Slam Dunk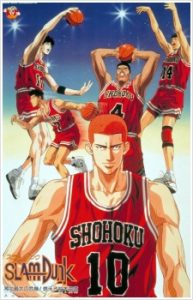 Hanamichi Sakuragi, infamous for this temper, massive height, and fire-red hair, enrolls in Shohoku High, hoping to finally get a girlfriend and break his record of being rejected 50 consecutive times in middle school. His notoriety precedes him, however, leading to him being avoided by most students. Soon, after certain events, Hanamichi is left with two unwavering thoughts: "I hate basketball," and "I desperately need a girlfriend."
Fighting Spirit
Makunouchi Ippo has been bullied his entire life. Constantly running errands and being beaten up by his classmates, Ippo has always dreamed of changing himself, but never has the passion to act upon it. One day, in the midst of yet another bullying, Ippo is saved by Takamura Mamoru, who happens to be a boxer. Ippo faints from his injuries and is brought to the Kamogawa boxing gym to recover. As he regains consciousness, he is awed and amazed at his new surroundings in the gym, though lacks confidence to attempt anything. Takamura places a photo of Ippo's classmate on a punching bag and forces him to punch it. It is only then that Ippo feels something stir inside him and eventually asks Takamura to train him in boxing. Thinking that Ippo does not have what it takes, Takamura gives him a task deemed impossible and gives him a one week time limit. With a sudden desire to get stronger, for himself and his hard working mother, Ippo trains relentlessly to accomplish the task within the time limit. Thus Ippo's journey to the top of the boxing world begins.
Sayonara, Zetsubou-Sensei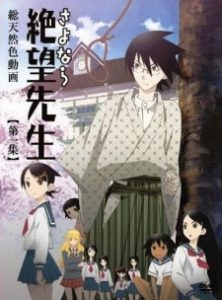 Nozomu Itoshiki is a high school teacher so pessimistic that even the smallest of misfortunes can send him into a pit of raging despair; some of these "catastrophes" even lead to suicide attempts. Sayonara Zetsubou Sensei is a satirical slice-of-life comedy set in the modern day, covering various aspects of Japanese life and culture through Nozomu and his interactions with his students: Kiri Komori, a recluse who refuses to leave the school; Abiru Kobushi, an enigma who frequently arrives to class with severe and mysterious injuries; the hyper-optimistic Kafuuka Fuura, Nozomu's polar opposite; and several other unusual girls, all of whom are just as eccentric as their teacher.
References: Myanimelist