Haré+Guu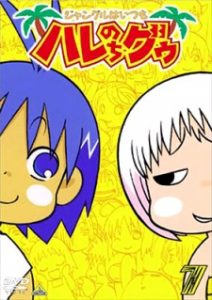 Here are my favorite picks for anime like Haré+Guu. Keep in mind the list is in no particular order. Enjoy!
Arakawa Under the Bridge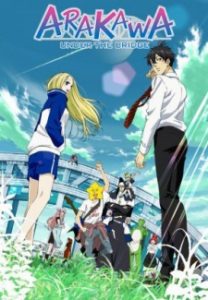 Kou Ichinomiya is the son of a wealthy businessman who holds firm belief in his elite status. As such, he is determined to avoid becoming indebted to anyone; but one day, after a run-in with some mischievous kids on Arakawa Bridge, he ends up falling into the river running underneath. Luckily for him, a passerby is there to save him—but now, he owes his life to this stranger!
Potemayo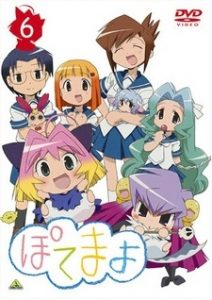 Sunao Moriyama finds a strange but cute creature that he names Potemayo. Potemayo starts following him everywhere, usually riding on top of his head. His discovery becomes the center of attention in his class at school. Soon after, a similar creature appears, and is named Guchuko by one of Sunao's classmates. However, Guchuko doesn't seem to be as good-natured as Potemayo.
Kemeko Deluxe!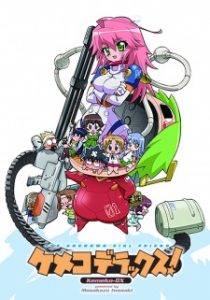 When Sanpeita Kobayashi was a child, his lovely friend had to move away, but she vowed that in ten years, they would meet again—as husband and wife. Ten years later, Sanpeita is a high school student, but he hasn't forgotten the feelings they shared. Sanpeita awakes from a dream about his last day with her, only to have his morning interrupted. A weird robot girl is battling other robots in his bedroom, claiming to be his wife. The robot's pilot looks like none other than Sanpeita's long-lost, childhood friend. But who is she really? Why did she have to leave? And what does she have to do with the Mishima Electronics Corporation?
Senyu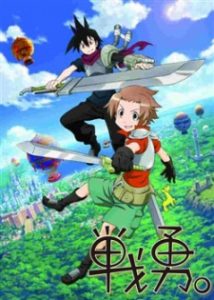 Once upon a time, the demon lord Rchimedes spread terror throughout the world, until he was eventually sealed away by the legendary hero Creasion. Since then, a thousand years have passed peacefully. However, a mysterious hole has opened up between the demon and human spheres, and countless demons have surged into the human realm once more. Coming to the conclusion that Rchimedes would soon return to wreak havoc, a human king summons the possible descendants of the legendary hero—all 75 of them. Unfortunately, after so long, it was too difficult to pinpoint his true descendants.
Cromartie High School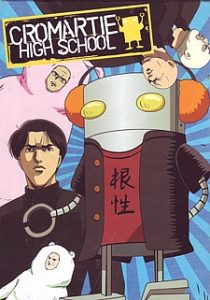 Takashi Kamiyama is your typical mild-mannered high school student—polite, aloof, and pacifistic, with a slightly above-average IQ. But would your average high school student really enroll himself at the infamous Cromartie High School, known as a breeding ground for the toughest delinquents out there?
Magical Witch Punie-chan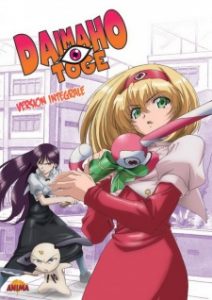 Punie is next in line to become queen of Magical Land. However, she must spend a year on Earth before she can inherit the throne, so she transfers into a school in Japan. She's usually a sweet and gentle girl… that is unless someone does something to displease her, then she'll drop the act. She won't hesitate to whip out her magic stick and cheerfully rain bloody destruction down on the hapless fool, or barring that, simply use wrestling moves she calls "Submission" to punish them. Accompanied by her animal mascot Paya-tan, who makes regular attempts on her life (still bitter about being defeated and then forcibly recruited from Waku Waku Mascot Village), and forced to fend off random attacks by various people from her Kingdom who all have different reasons for wanting her dead, she must complete this year of training on Earth without fail.
Full Metal Panic? Fumoffu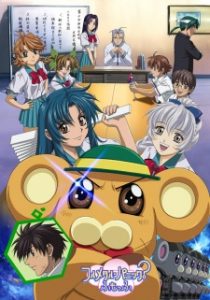 It's back-to-school mayhem with Kaname Chidori and her war-freak classmate Sousuke Sagara as they encounter more misadventures in and out of Jindai High School. But when Kaname gets into some serious trouble, Sousuke takes the guise of Bonta-kun—the gun-wielding, butt-kicking mascot. And while he struggles to continue living as a normal teenager, Sousuke also has to deal with protecting his superior officer Teletha Testarossa, who has decided to take a vacation from Mithril and spend a couple of weeks as his and Kaname's classmate.
My Bride is a Mermaid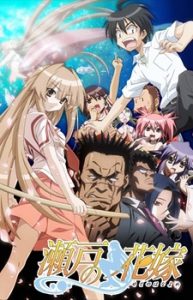 Michishio Nagasumi's life couldn't be any more normal. In an odd twist of events, during his summer vacation he ends up almost drowning in the sea. Luckily, the cute mermaid Seto Sun appears to save him. However, Sun is from a yakuza mermaid family and according to their law, if a human is to catch sight of a mermaid, either he or the mermaid must die. The only other way is for Nagasumi to be taken in as a family member, marrying Sun. In attempts to save both of their lives, Nagasumi asks for Sun's hand in marriage. Nagasumi's summer vacation reaped more than what he would expect, as he must now protect Sun from others finding her secret out.
Papuwa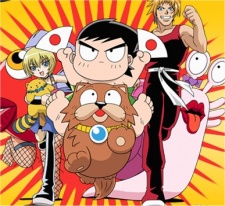 In this sequel series, events continue four years after they left off in the first series. Papuwa-kun is a mysterious boy who lives on a new tropical island full of the same crazy creatures. Along with his maid, Liquid, and his new amnestic friend, "Rotarou", they lead nonsensical adventures as they try to evade and confuse the Ganma Army, Special Corps, and even the Shinsengumi from discovering Rotarou's real secret and taking him away.
FLCL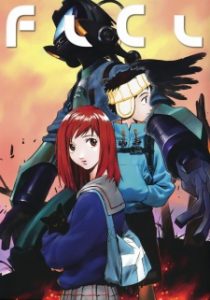 Naota Nandaba is an ordinary sixth grader living in a city where nothing amazing ever seems to happen. After his brother Tasuku leaves town to play baseball in America, Naota takes it upon himself to look after everything Tasuku left behind—from his top bunk bed to his ex-girlfriend Mamimi Samejima, who hasn't stopped clinging to Naota since Tasuku left.
References: Myanimelist