Hyouka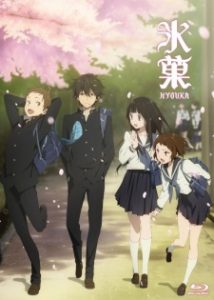 Here are my favorite picks for anime like Hyouka. Keep in mind the list is in no particular order. Enjoy!
My Youth Romantic Comedy Is Wrong, As I Expected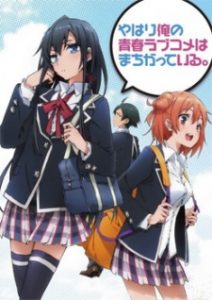 Hachiman Hikigaya is an apathetic high school student with narcissistic and semi-nihilistic tendencies. He firmly believes that joyful youth is nothing but a farce, and everyone who says otherwise is just lying to themselves.  In a novel punishment for writing an essay mocking modern social relationships, Hachiman's teacher forces him to join the Volunteer Service Club, a club that aims to extend a helping hand to any student who seeks their support in achieving their goals. With the only other club member being the beautiful ice queen Yukino Yukinoshita, Hachiman finds himself on the front line of other people's problems—a place he never dreamed he would be. As Hachiman and Yukino use their wits to solve many students' problems, will Hachiman's rotten view of society prove to be a hindrance or a tool he can use to his advantage?
Gosick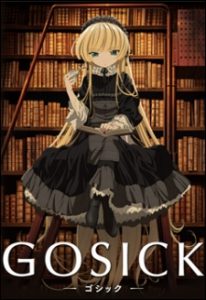 Kazuya Kujou is a foreign student at Saint Marguerite Academy, a luxurious boarding school in the Southern European country of Sauville. Originally from Japan, his jet-black hair and dark brown eyes cause his peers to shun him and give him the nickname "Black Reaper," based on a popular urban legend about the traveler who brings death in the spring.
Haruhi Suzumiya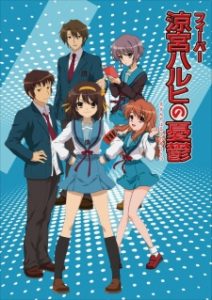 Kyon, your typical high school student, has long given up his belief in the supernatural. However, upon meeting Haruhi Suzumiya, he quickly finds out that it is the supernatural that she is interested in—aliens, time travelers, and espers among other things. When Haruhi laments about the lack of intriguing clubs around school, Kyon inspires Haruhi to form her own club. As a result, the SOS Brigade is formed, a club which specializes in all that is the supernatural.
Kokoro Connect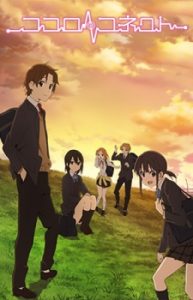 When five students at Yamaboshi Academy realize that there are no clubs where they fit in, they band together to form the Student Cultural Society, or "StuCS" for short. The club consists of: Taichi Yaegashi, a hardcore wrestling fan; Iori Nagase, an indecisive optimist; Himeko Inaba, a calm computer genius; Yui Kiriyama, a petite karate practitioner; and Yoshifumi Aoki, the class clown.
Clannad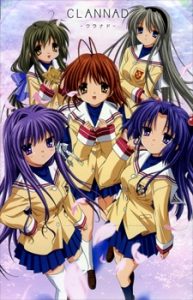 Tomoya Okazaki is a delinquent who finds life dull and believes he'll never amount to anything. Along with his friend Sunohara, he skips school and plans to waste his high school days away. One day while walking to school, Tomoya passes a young girl muttering quietly to herself. Without warning she exclaims "Anpan!" (a popular Japanese food) which catches Tomoya's attention. He soon discovers the girl's name is Nagisa Furukawa and that she exclaims things she likes in order to motivate herself. Nagisa claims they are now friends, but Tomoya walks away passing the encounter off as nothing.
Heaven's Memo Pad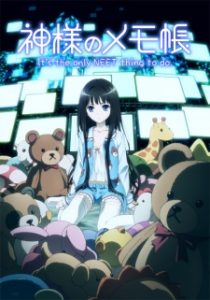 Narumi Fujishima isn't your typical high school student. He's never really fit in and has become increasingly more isolated from his fellow classmates. But he's not alone, and when Ayaka, the sole member of the Gardening Club, introduces him to the reclusive girl who lives above the ramen shop, Narumi enters a whole new secret world. Alice is a NEET, someone who is Not Employed, being Educated or in Training, but as Narumi quickly discovers, that doesn't mean that she does nothing all day.
Beautiful Bones: Sakurako's Investigation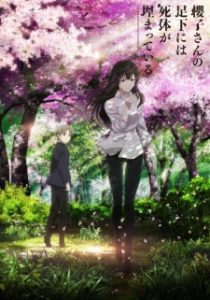 When Shoutarou Tatewaki first meets Sakurako Kujou, he knows his life will never be the same. Initially believing her to be responsible for a disappearance in the neighborhood, he later learns of her true talent: analyzing bone specimens. Sakurako has quite the collection of reconstructed animal bones, but she wishes she had more of the human variety, much to the chagrin of those around her.
Love, Chunibyo & Other Delusions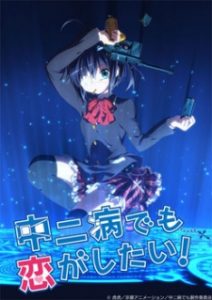 Everybody has had that stage in their life where they have thought themselves to be special, different from the masses of ordinary humans. They might go as far as seeing themselves capable of wielding mystical powers, or maybe even believe themselves to have descended from a fantasy realm. This "disease" is known as "chuunibyou" and is often the source of some of the most embarrassing moments of a person's life.
"Bungaku Shoujo" Movie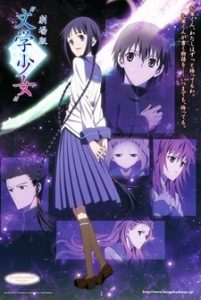 The protagonist of the story, Konoha Inoue, is a seemingly normal senior high 2nd year student. His high school life, other than a hinted incident 2 years ago, can be summed up as normal- if one can dismiss the secret fact that he used to be a female bestselling romance author. Due to that incident, however, he has now vowed never to write again.
Ghost Hunt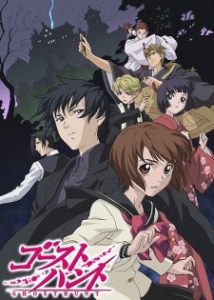 While at school, Taniyama Mai and her friends like to exchange ghost stories. Apparently, there is an abandoned school building on their campus that is the center of many ghost stories. During the story, they are interrupted by a mysterious male figure. The person turns out to be Shibuya Kazuya, a 17-year-old who is president of the Shibuya Psychic Research Company. He was called by the principal to investigate the stories surrounding the abandoned school building.
References: Myanimelist