10 Anime Like Magi: The Labyrinth of Magic
Magi: The Labyrinth of Magic
Here are my favorite picks for anime like Magi: The Labyrinth of Magic. Keep in mind the list is in no particular order. Enjoy!
Hunter x Hunter (2011)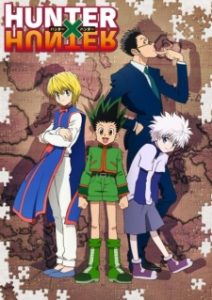 Hunter x Hunter is set in a world where Hunters exist to perform all manner of dangerous tasks like capturing criminals and bravely searching for lost treasures in uncharted territories. Twelve-year-old Gon Freecss is determined to become the best Hunter possible in hopes of finding his father, who was a Hunter himself and had long ago abandoned his young son. However, Gon soon realizes the path to achieving his goals is far more challenging than he could have ever imagined.
Fairy Tail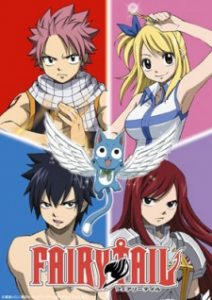 In the mystical land of Fiore, magic exists as an essential part of everyday life. Countless magic guilds lie at the core of all magical activity, and serve as venues for like-minded mages to band together and take on job requests. Among them, Fairy Tail stands out from the rest as a place of strength, spirit, and family.
Fullmetal Alchemist: Brotherhood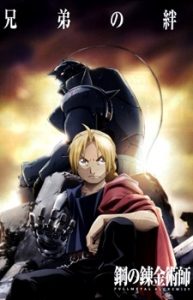 "In order for something to be obtained, something of equal value must be lost." Alchemy is bound by this Law of Equivalent Exchange—something the young brothers Edward and Alphonse Elric only realize after attempting human transmutation: the one forbidden act of alchemy. They pay a terrible price for their transgression—Edward loses his left leg, Alphonse his physical body. It is only by the desperate sacrifice of Edward's right arm that he is able to affix Alphonse's soul to a suit of armor. Devastated and alone, it is the hope that they would both eventually return to their original bodies that gives Edward the inspiration to obtain metal limbs called "automail" and become a state alchemist, the Fullmetal Alchemist.
The Seven Deadly Sins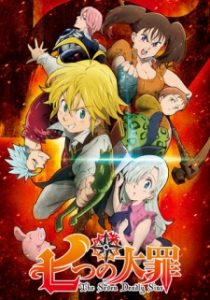 In a world similar to the European Middle Ages, the feared yet revered Holy Knights of Britannia use immensely powerful magic to protect the region of Britannia and its kingdoms. However, a small subset of the Knights supposedly betrayed their homeland and turned their blades against their comrades in an attempt to overthrow the ruler of Liones. They were defeated by the Holy Knights, but rumors continued to persist that these legendary knights, called the "Seven Deadly Sins," were still alive. Ten years later, the Holy Knights themselves staged a coup d'état, and thus became the new, tyrannical rulers of the Kingdom of Liones.
One Piece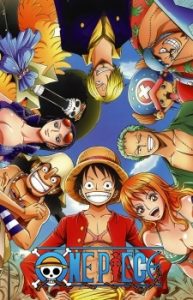 Gol D. Roger was known as the "Pirate King," the strongest and most infamous being to have sailed the Grand Line. The capture and death of Roger by the World Government brought a change throughout the world. His last words before his death revealed the existence of the greatest treasure in the world, One Piece. It was this revelation that brought about the Grand Age of Pirates, men who dreamed of finding One Piece—which promises an unlimited amount of riches and fame—and quite possibly the pinnacle of glory and the title of the Pirate King.
The Legend of the Legendary Heroes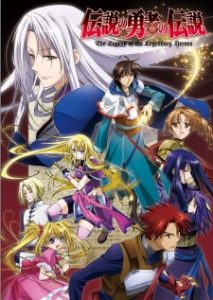 "Alpha Stigma" are known to be eyes that can analyze all types of magic. However, they are more infamously known as cursed eyes that can only bring destruction and death to others. Ryner Lute, a talented mage and also an Alpha Stigma bearer, was once a student of the Roland Empire's Magician Academy, an elite school dedicated to training magicians for military purposes. However, after many of his classmates died in a war, he makes an oath to make the nation a more orderly and peaceful place, with fellow survivor and best friend, Sion Astal.
Yona of the Dawn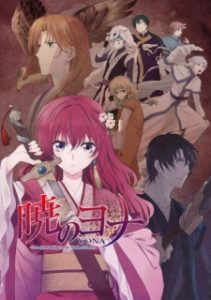 Princess Yona lives a life of luxury and ease, completely sheltered from the problems of the seemingly peaceful Kingdom of Kouka; however, the sudden murder of the king and betrayal of her beloved cousin Su-won places Yona's life in mortal peril. Forced to escape only with Son Hak, who is both her childhood friend and bodyguard, the naïve princess soon discovers that Kouka is not the idyllic place she envisioned it to be. Poverty, strife, and corruption run rampant, making reclaiming the throne nothing more than a wishful fantasy given the kingdom's current state.
Makai Ouji: Devils and Realist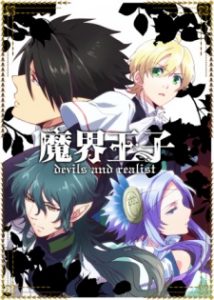 The story revolves around William, an aristocratic family's progeny with rare intellect. One day, his uncle lost his possessions after his business failed. Fearing that his family's name has been tarnished, William returns home and searches with his family's butler for anything that can be converted into cash. A search of the premises yields an underground room left by an ancestor. In the room is a magical seal, and William unintentionally summons a devil. The summoned devil tells William his name Dantalion, and reveals that William is the designator who can choose the acting ruler of the demon world.
Is It Wrong to Try to Pick Up Girls in a Dungeon?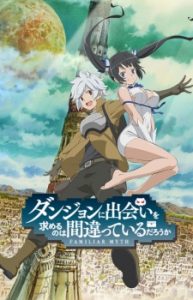 Life in the bustling city of Orario is never dull, especially for Bell Cranel, a naïve young man who hopes to become the greatest adventurer in the land. After a chance encounter with the lonely goddess, Hestia, his dreams become a little closer to reality. With her support, Bell embarks on a fantastic quest as he ventures deep within the city's monster-filled catacombs, known only as the "Dungeon." Death lurks around every corner in the cavernous depths of this terrifying labyrinth, and a mysterious power moves amidst the shadows.
Sword Art Online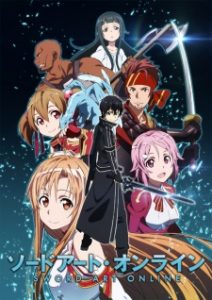 In the year 2022, virtual reality has progressed by leaps and bounds, and a massive online role-playing game called Sword Art Online (SAO) is launched. With the aid of "NerveGear" technology, players can control their avatars within the game using nothing but their own thoughts. Kazuto Kirigaya, nicknamed "Kirito," is among the lucky few enthusiasts who get their hands on the first shipment of the game. He logs in to find himself, with ten-thousand others, in the scenic and elaborate world of Aincrad, one full of fantastic medieval weapons and gruesome monsters. However, in a cruel turn of events, the players soon realize they cannot log out; the game's creator has trapped them in his new world until they complete all one hundred levels of the game.
References: Myanimelist