10 Anime Like Mobile Suit Gundam
Mobile Suit Gundam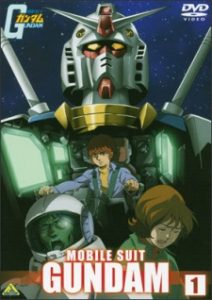 Here are my favorite picks for anime like Mobile Suit Gundam. Keep in mind the list is in no particular order. Enjoy!
Aldnoah.Zero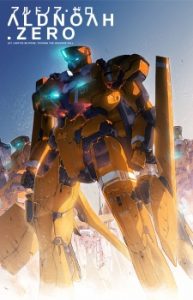 The discovery of a hypergate on the Moon once allowed the human race to teleport to Mars. Those who chose to settle there unearthed a technology far more advanced than that of their home planet, which they named "Aldnoah." This discovery led to the founding of the Vers Empire of Mars and a declaration of war against the "Terrans," those who stayed behind on Earth. However, a battle on the moon—later called "Heaven's Fall"—caused the hypergate to explode, destroying the moon and leading the two planets to establish an uneasy ceasefire.
Code Geass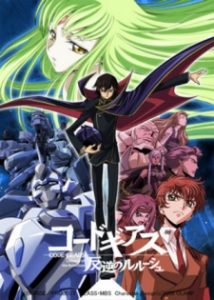 In the year 2010, the Holy Empire of Britannia is establishing itself as a dominant military nation, starting with the conquest of Japan. Renamed to Area 11 after its swift defeat, Japan has seen significant resistance against these tyrants in an attempt to regain independence. Lelouch Lamperouge, exiled prince of Britannia, unfortunately finds himself caught in a crossfire between the two nations' armed forces. He is able to escape, however, thanks to the timely appearance of a mysterious girl named C.C., who bestows upon him Geass, the "Power of Kings." Realizing the vast potential of his newfound "power of absolute obedience," Lelouch embarks upon a perilous journey as the masked vigilante known as Zero, leading a merciless onslaught against Britannia in order to get revenge once and for all.
Neon Genesis Evangelion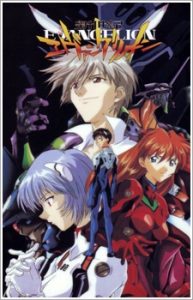 In the year 2015, the world stands on the brink of destruction. Humanity's last hope lies in the hands of Nerv, a special agency under the United Nations, and their Evangelions, giant machines capable of defeating the Angels who herald Earth's ruin. Gendou Ikari, head of the organization, seeks compatible pilots who can synchronize with the Evangelions and realize their true potential. Aiding in this defensive endeavor are talented personnel Misato Katsuragi, Head of Tactical Operations, and Ritsuko Akagi, Chief Scientist.
Fang of the Sun Dougram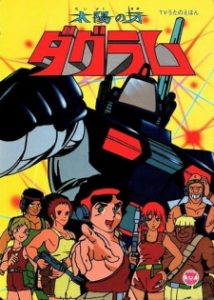 The story is centered around a small group of guerilla freedom fighters on a colonial planet named Deployer, who are known as the "Deployer 7", or "Sun Fang" team. In an unexpected coup, the elected Governor of Deployer becomes dictator and rules Deployer under martial law with the support of Earth's Federation. Fighting for independence from Earth's Federation influence, the freedom fighters begin a rebellion against the Federation's Combat Armors using a Combat Armor of their own: the Dougram.
Eureka Seven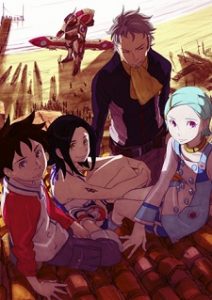 In the backwater town of Bellforest lives a 14-year-old boy named Renton Thurston. He desires to leave his home behind and join the mercenary group known as Gekkostate, hoping to find some adventure to brighten up his mundane life. However, stuck between his grandfather's insistence to become a mechanic like him and the pressure of his deceased father's legacy, the only excitement Renton finds is in his pastime of riding the Trapar wave particles that are dispersed throughout the air, an activity akin to surfing.
Metal Armor Dragonar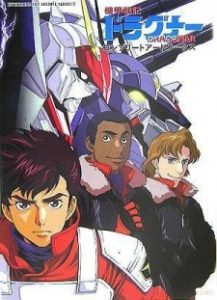 A.D. 2087 – the United Lunar Empire Giganos wages war on the Earth Federation Military to take control of the planet and establish a "rebirth" of the human race. During an invasion of a colony by Giganos' forces, three civilian men stumble upon a trio of top-secret Metal Armor units called "Dragonars" and pilot them to combat the enemy forces.
Armored Trooper Votoms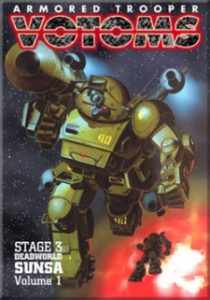 A century of bloodshed between warring star systems has plunged nearly 200 worlds into the flames of war. Now, an uneasy truce has settled across the Astragius Galaxy… Chirico Cuvie, a special forces powered-armor pilot is suddenly transferred into a unit engaged in a secret and highly illegal mission to steal military secrets—from their own military! Now he's on the run…from his own army!
Buddy Complex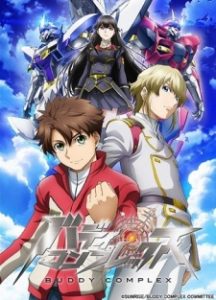 When ordinary high school student Aoba Watase is suddenly targeted by a giant robot known as a "Valiancer," he is saved by his mysterious classmate Hina Yumihara. After revealing that she and their robotic enemy are from the future, Hina suddenly propels Aoba 70 years forward in order to prevent his death.
Kakumeiki Valvrave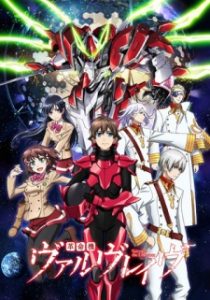 In the 71st year of the True Era, humans have successfully expanded into space and have started living in independent galactic colonies. The world itself is split between two major nations: the Atlantic Rim United States (ARUS) and the Dorssia Military Pact Federation (Dorssia)—superpowers that wage war against each other on Earth and far into outer space. In this war-torn era, a third faction comprised of Japan and Islands of the Oceanian Republic (JIOR), reside peacefully and prosper economically, maintaining neutrality between themselves and their militant neighbors.
Future Boy Conan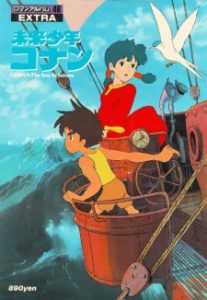 July 2008. Mankind was faced with the threat of extinction. An ultra-magnetic weapon, far more devastating than any nuclear weapon known, destroyed half the world in an instant. The earth's crust was rocked by massive movements, the earth was thrown off its axis, and the five continents were torn completely apart and sank deep below the sea…
References: Myanimelist