10 Anime Like Monster Musume
Monster Musume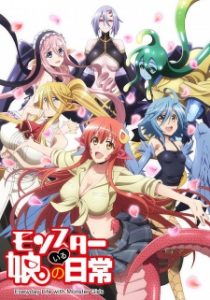 Here are my favorite picks for anime like Monster Musume. Keep in mind the list is in no particular order. Enjoy!
Rosario to Vampire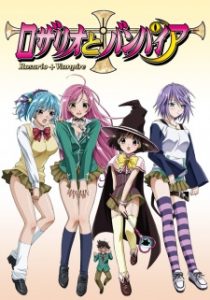 Youkai Academy is a seemingly normal boarding school, except that its pupils are monsters learning to coexist with humans. All students attend in human form and take normal academic subjects, such as literature, gym, foreign language, and mathematics. However, there is one golden rule at Youkai Academy—all humans found on school grounds are to be executed immediately!
Interviews with Monster Girls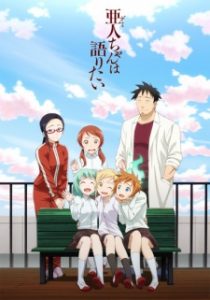 High school biology teacher Tetsuo Takahashi may look like your average everyday instructor, but beneath his gentle appearance lies something less ordinary: his fascination for the "Ajin," more commonly known as "Demi." Although these half-human, half-monster beings have integrated into human society, Takahashi believes that much about them will remain unknown unless he interacts with them firsthand.
To LOVE-Ru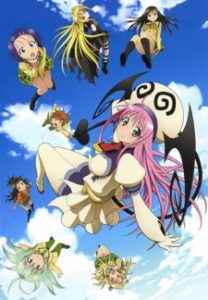 Timid 16-year-old Rito Yuuki has yet to profess his love to Haruna Sairenji—a classmate and object of his infatuation since junior high. Sadly, his situation becomes even more challenging when one night, a mysterious, stark-naked girl crash-lands right on top of a bathing Rito.To add to the confusion, Rito discovers that the girl, Lala Satalin Deviluke, is the crown princess of an alien empire and has run away from her home. Despite her position as the heiress to the most dominant power in the entire galaxy, Lala is surprisingly more than willing to marry the decidedly average Rito in order to avoid an unwanted political marriage.
High School DxD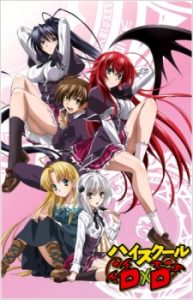 High school student Issei Hyoudou is your run-of-the-mill pervert who does nothing productive with his life, peeping on women and dreaming of having his own harem one day. Things seem to be looking up for Issei when a beautiful girl asks him out on a date, although she turns out to be a fallen angel who brutally kills him! However, he gets a second chance at life when beautiful senior student Rias Gremory, who is a top-class devil, revives him as her servant, recruiting Issei into the ranks of the school's Occult Research club.
Sekirei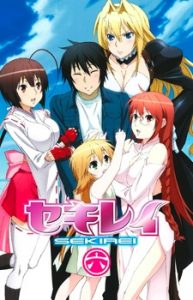 Struggling yet brilliant teenager Minato Sahashi has failed his college entrance exams for the second time, resulting in him being regarded as worthless by those around him. However, the course of his seemingly bleak future is altered dramatically when a beautiful, supernatural woman falls from the sky and into his life. That woman, Musubi, is a unique being known as a "Sekirei," a humanoid extraterrestrial with extraordinary abilities. These aliens are known for kissing humans carrying the Ashikabi gene in order to awaken additional latent powers deep within.
My Monster Secret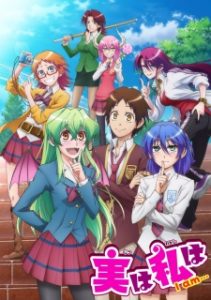 One day after school, Asahi Kuromine stumbles upon the truth that Youko Shiragami, the girl he has a crush on, is actually a vampire. According to her father's rules, Youko must now quit school in order to keep her family safe. However, Asahi does not want her to go and promises that he will keep her true nature secret. Unfortunately, this turns out to be easier said than done, as Asahi is a man who is easy to read and is unable to keep any secrets to himself.
Miss Kobayashi's Dragon Maid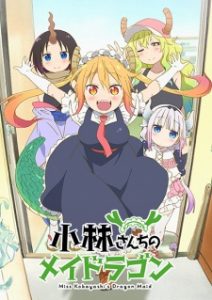 As Kobayashi sets off for another day at work, she opens her apartment door only to be met by an unusually frightening sight—the head of a dragon, staring at her from across the balcony. The dragon immediately transforms into a cute, busty, and energetic young girl dressed in a maid outfit, introducing herself as Tooru.
Is This a Zombie?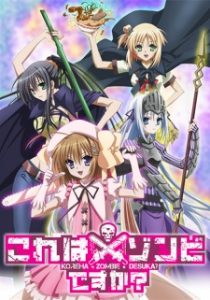 Not every zombie is the monstrous, brain-eating type. One night while walking home from the convenience store, regular high school boy Ayumu Aikawa is killed by a serial killer, and is just as suddenly brought back to life by a necromancer named Eucliwood Hellscythe. One small caveat: he's now a zombie. Things get even weirder for him when he accidentally steals a magical girl's uniform, and thus her powers! Haruna, the ex-magical girl, orders him to fight evil creatures known as Megalo in her place until they can figure out a way to get her powers back to her.
Ore ga Ojousama Gakkou ni "Shomin Sample" Toshite Gets♥Sareta Ken
Kimito Kagurazaka is a commoner with a fetish for men's muscles—or at least that's the lie he must keep telling if he wants to keep himself out of trouble at the elite all-girls school, Seikain Academy. Kidnapped by the school under the assumption that he prefers men, Kimito is made to be their "commoner sample," exposing the girls to both commoner and man so that the transition to the world after school is not jarring. Threatened with castration should his sexual preferences not match the school's assumptions, Kimito keeps up the facade to protect his manhood.
Date A Live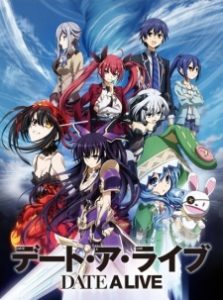 "Before the world ends, kill me or kiss me." Thirty years before the events of Date A Live, an enormous explosion devastates east Asia and kills 150 million people. This is the first known "Spacequake", an inexplicable natural disaster that has since become commonplace. Fast forward to the future. High school second year Shidou Itsuka lives alone with his cute little sister while their parents are away.
References: Myanimelist