Your Name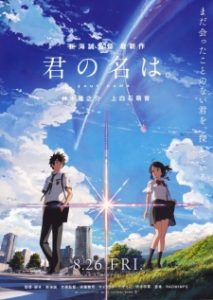 This is a list of anime recommendations of anime similar to Your Name. Bear in mind that this list is in no particular order.
Kokoro Connect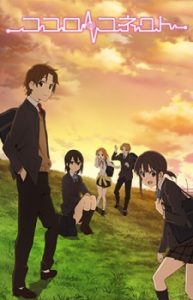 When five students at Yamaboshi Academy realize that there are no clubs where they fit in, they band together to form the Student Cultural Society, or "StuCS" for short. The club consists of: Taichi Yaegashi, a hardcore wrestling fan; Iori Nagase, an indecisive optimist; Himeko Inaba, a calm computer genius; Yui Kiriyama, a petite karate practitioner; and Yoshifumi Aoki, the class clown.
5 Centimeters per Second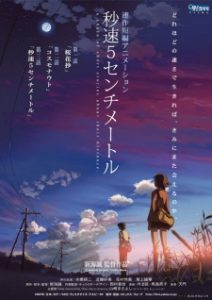 Takaki Toono and Akari Shinohara, two very close friends and classmates, are torn apart when Akari's family is transferred to another region of Japan due to her family's job. Despite separation, they continue to keep in touch through mail. When Takaki finds out that his family is also moving, he decides to meet with Akari one last time.
The Girl Who Leapt Through Time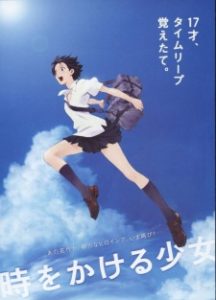 Makoto Konno is in her last year of high school, but is having a hard time deciding what to do with her future. In between enduring the pressure of her teachers and killing time with her best friends, Makoto's life suddenly changes when she accidentally discovers that she is capable of literally leaping through time.
Charlotte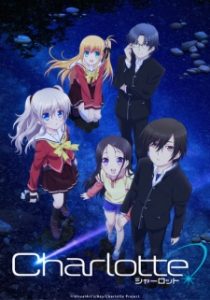 While on the surface Yuu Otosaka appears to be just another charming and intelligent teenager, he has a secret—he has the ability to slip into people's minds and fully control their body for five seconds at a time. Yuu has been using this skill for years to gain the highest grades, which allowed him to enter a prestigious high school.
The Garden of Words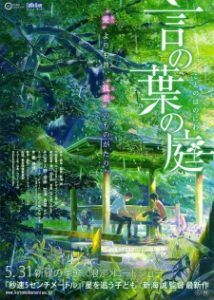 On a rainy morning in Tokyo, Takao Akizuki, an aspiring shoemaker, decides to skip class to sketch designs in a beautiful garden. This is where he meets Yukari Yukino, a beautiful yet mysterious woman, for the very first time. Offering to make her new shoes, Takao continues to meet with Yukari throughout the rainy season, and without even realizing it, the two are able to alleviate the worries hidden in their hearts just by being with each other. However, their personal struggles have not disappeared completely, and as the end of the rainy season approaches, their relationship will be put to the test.
The Seven Witches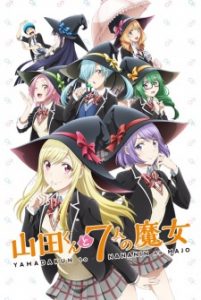 hen Ryuu Yamada entered high school, he wanted to turn over a new leaf and lead a productive school life. That's why he chose to attend Suzaku High, where no one would know of his violent delinquent reputation. However, much to Ryuu's dismay, he is soon bored; now a second year, Ryuu has reverted to his old ways—lazy with abysmal grades and always getting into fights.
The Disappearance of Haruhi Suzumiya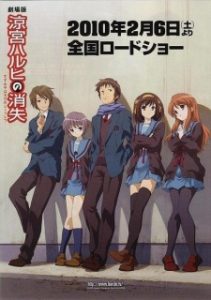 One cold Christmas day, Kyon heads over to school and the SOS Brigade's holiday celebration, only to realize that Haruhi Suzumiya seems to have disappeared. Moreover, no one even remembers her or the SOS Brigade; Mikuru Asahina knows nothing and is now afraid of him, and Itsuki Koizumi has also gone missing. The Literature Club, formed only by an uncharacteristically shy Yuki Nagato, now occupies the old SOS club room.
Erased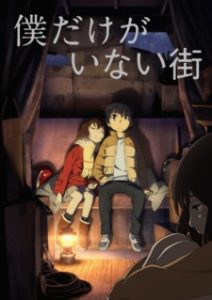 When tragedy is about to strike, Satoru Fujinuma finds himself sent back several minutes before the accident occurs. The detached, 29-year-old manga artist has taken advantage of this powerful yet mysterious phenomenon, which he calls "Revival," to save many lives. However, when he is wrongfully accused of murdering someone close to him, Satoru is sent back to the past once again, but this time to 1988, 18 years in the past. Soon, he realizes that the murder may be connected to the abduction and killing of one of his classmates, the solitary and mysterious Kayo Hinazuki, that took place when he was a child. This is his chance to make things right.
Steins;Gate: The Movie − Load Region of Déjà Vu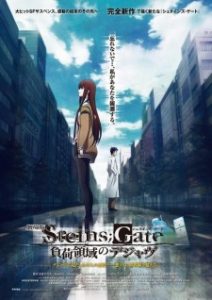 After a year in America, Kurisu Makise returns to Akihabara and reunites with Rintarou Okabe. However, their reunion is cut short when Okabe begins to experience recurring flashes of other timelines as the consequences of his time traveling start to manifest. These side effects eventually culminate in Okabe suddenly vanishing from the world, and only the startled Kurisu has any memory of his existence.
A Silent Voice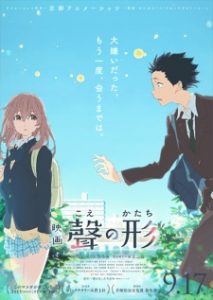 Ishida Shouya bullies a deaf girl, Nishimiya Shouko, to the point that she transfers to another school. As a result, he is ostracized and bullied himself with no friends to speak of and no plans for the future.
References: Myanimelist