10 Anime Like My Neighbor Totoro
My Neighbor Totoro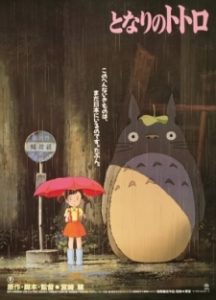 Here are my favorite picks for anime like My Neighbor Totoro. Keep in mind the list is in no particular order. Enjoy!
Wolf Children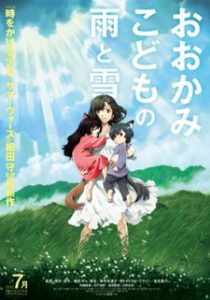 Hana, a hard-working college student, falls in love with a mysterious man who attends one of her classes though he is not an actual student. As it turns out, he is not truly human either. On a full moon night, he transforms, revealing that he is the last werewolf alive. Despite this, Hana's love remains strong, and the two ultimately decide to start a family.
Spirited Away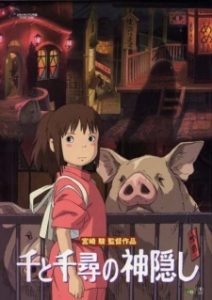 Stubborn, spoiled, and naïve, 10-year-old Chihiro Ogino is less than pleased when she and her parents discover an abandoned amusement park on the way to their new house. Cautiously venturing inside, she realizes that there is more to this place than meets the eye, as strange things begin to happen once dusk falls. Ghostly apparitions and food that turns her parents into pigs are just the start—Chihiro has unwittingly crossed over into the spirit world. Now trapped, she must summon the courage to live and work amongst spirits, with the help of the enigmatic Haku and the cast of unique characters she meets along the way.
Ponyo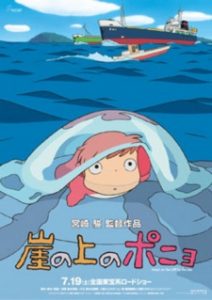 fA lonely little boy named Sousuke lives with his mother by the sea, flashing messages across the water to his father's boat. One day, amid the detritus brought in with the tide, he stumbles upon a little goldfish. Delighted by this strange new friend, he takes her home and names her Ponyo. Sousuke comes to learn, however, that Ponyo is no ordinary fish. A visit from a strange man brings with it fantastical happenings that lead Sousuke and Ponyo on an enlightening adventure.
Howl's Moving Castle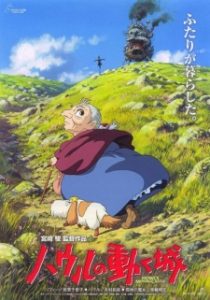 That jumbled piece of architecture, that cacophony of hissing steam and creaking joints, with smoke billowing from it as it moves on its own… That castle is home to the magnificent wizard Howl, infamous for both his magical prowess and for being a womanizer—or so the rumor goes in Sophie Hatter's small town. Sophie, as the plain daughter of a hatmaker, does not expect much from her future and is content with working hard in the shop.
Natsume's Book of Friends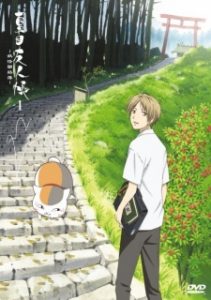 While most fifteen-year-old boys, in one way or another, harbor secrets that are related to girls, Takashi Natsume has a peculiar and terrifying secret involving youkai: for as long as he can remember, he has been constantly chased by these spirits. Natsume soon discovers that his deceased grandmother Reiko had passed on to him the Yuujinchou, or "Book of Friends," which contains the names of the spirits whom she brought under her control. Now in Natsume's possession, the book gives Reiko's grandson this power as well, which is why these enraged beings now haunt him in hopes of somehow attaining their freedom.
Pom Poko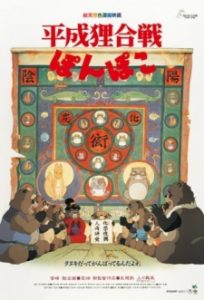 Faced with the destruction of their habitat due to the growth of Tokyo, a group of tanuki try to defend their homes. They decide to use their transforming talents to try to hold back the new development. Two of them, especially skilled at transforming, are sent to Shikoku to enlist the help of three sages. Meanwhile, the rest of them do their best to disrupt the construction site, at first causing accidents, and then actually haunting the site. However, the humans are very persistent, and soon the tanuki are forced to use more and more extreme measures to save their home.
Panda Kopanda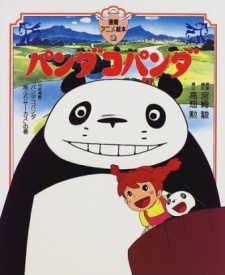 Panda Kopanda (Panda! Go Panda!) is a 30 minute movie made in 1972. Miyazaki created the original idea, the script, the layouts, and did key animation, and Takahata directed the film. The story is about a little girl, Mimiko, who was left alone while her Grandma was away. A 1973 sequel, Panda Kopanda: Amefuri Saakasu no Maki (Panda! Go Panda! & the Rainy-day Circus), continues the story and was made by the same people who made the first movie. The literal translation of the title Panda Kopanda is "Panda, Baby Panda", but it`s been released in North America as Panda Go Panda.
Mushishi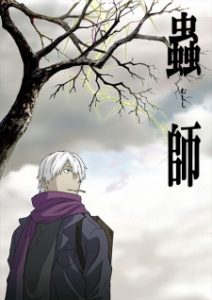 "Mushi": the most basic forms of life in the world. They exist without any goals or purposes aside from simply "being." They are beyond the shackles of the words "good" and "evil." Mushi can exist in countless forms and are capable of mimicking things from the natural world such as plants, diseases, and even phenomena like rainbows.
Miyori no Mori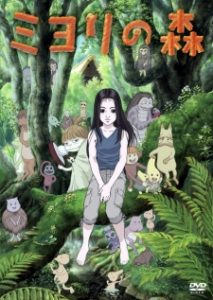 After being deserted by her parents, 11-year-old Miyori shuts her heart from the rest of the world and denies any form of human relationships. She was entrusted in the care of her grandmother who lives near a forest. Miyori will take a walk in the forest where she felt a strong sense of loneliness in the forest which seems to have nothing. However, she soon encounters unbelievable things and gradually realizes that the forest is more than what it seems…
A Letter to Momo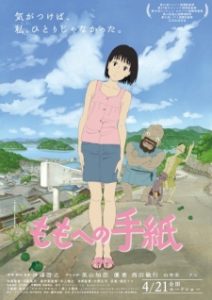 Momo is a young girl who grew up in a big city. However, following the premature loss of her father, she has to move with her mother to the old family house on a remote island. Here, time seems to have stopped: old wooden buildings, holy shrines surrounded by trees, fields painstakingly carved out from steep hills… and no shopping mall.
References: Myanimelist