Nichijou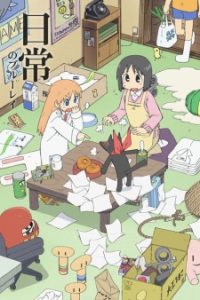 Here are my favorite picks for anime like Nichijou. Keep in mind the list is in no particular order. Enjoy!
Daily Lives of High School Boys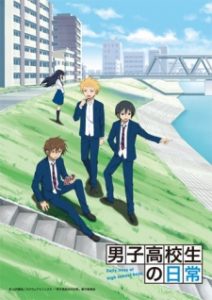 Roaming the halls of the all-boys Sanada North High School are three close comrades: the eccentric ringleader with a hyperactive imagination Hidenori, the passionate Yoshitake, and the rational and prudent Tadakuni. Their lives are filled with giant robots, true love, and intense drama… in their colorful imaginations, at least. In reality, they are just an everyday trio of ordinary guys trying to pass the time, but who said everyday life couldn't be interesting? Whether it's an intricate RPG reenactment or an unexpected romantic encounter on the riverbank at sunset, Danshi Koukousei no Nichijou is rife with bizarre yet hilariously relatable situations that are anything but mundane.
Azumanga Daioh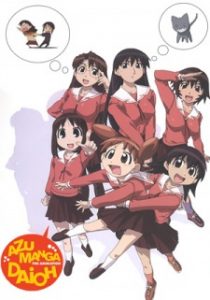 Chiyo Mihama begins her high school career as one of the strangest students in her freshman class—a tiny, 10-year-old academic prodigy with a fondness for plush dolls and homemade cooking. But her homeroom teacher, Yukari Tanizaki, is the kind of person who would hijack a student's bike to avoid being late, so "strange" is a relative word.
Lucky Star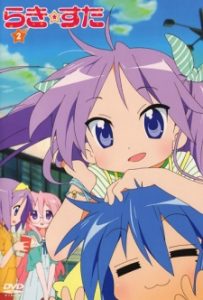 Lucky☆Star follows the daily lives of four cute high school girls—Konata Izumi, the lazy otaku; the Hiiragi twins, Tsukasa and Kagami (sugar and spice, respectively); and the smart and well-mannered Miyuki Takara.
Yuru Yuri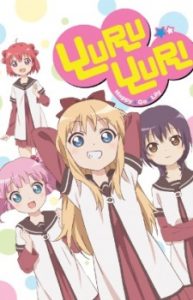 After a year in grade school without her childhood friends, first year student Akari Akaza is finally reunited with second years Yui Funami and Kyouko Toshinou at their all-girls' middle school. During the duo's first year, Yui and Kyouko formed the "Amusement Club" which occupies the now nonexistent Tea Club's room. Shortly after Akari joins, one of her fellow classmates, Chinatsu Yoshikawa, pays the trio a visit under the impression that they are the Tea Club; it is only once the three girls explain that the Tea Club has been disbanded that they can convince Chinatsu to join the Amusement Club—a group with no purpose other than to provide entertainment for its members.
My Neighbor Seki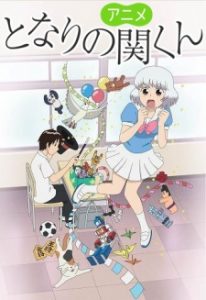 The original manga revolves around a girl named Yokoi who sits next to a boy only known as Seki-kun. During class, Seki-kun continues to not pay attention and instead creates amazing little distractions, such as a detailed golf course with the course's hole being a dent in his desk, or an entire dramatic war being played out by paper shogi pieces. Yokoi often finds herself getting reluctantly interested in his games, even though they always seem to end up getting HER in trouble with the teacher!
Place to Place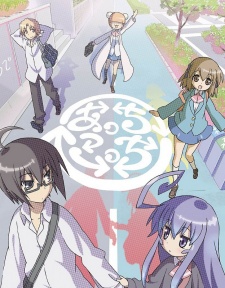 Tsumiki Miniwa, a small girl who packs a punch, is in love with her best friend, tall and easygoing Io Otonashi. The only problem is that she can't bring herself to come out and say it. And, despite the fact that he can otherwise read her like a book, Io doesn't seem to be able to pick up the obvious clues—even with all of their friends teasing that there's no one better suited for each other.
Plastic Neesan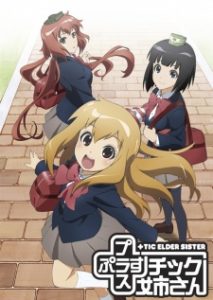 Iroe Genma is a third-year high school student often referred to as "Elder Sister" despite her short height. This troublemaking teenager is the president of her school's Model Club, which is dedicated to building plastic models of various objects and structures, such as cars, boats, and even robots.
Haven't You Heard? I'm Sakamoto
Sophisticated, suave, sublime; all words which describe the exceedingly handsome and patently perfect Sakamoto. Though it is only his first day in high school, his attractiveness, intelligence, and charm already has the girls swooning and the guys fuming with jealousy. No one seems able to derail him, as all attempts at tripping him up are quickly foiled. His sangfroid is indomitable, his wits peerless. Will any of Sakamoto's classmates, or even teachers, be able to reach his level of excellence? Probably not, but they just might learn a thing or two trying…
Paniponi Dash!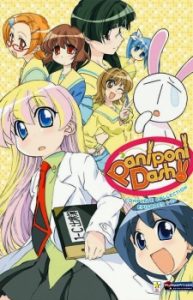 The 11-year-old Miyamoto Rebecca becomes the new teacher of a classroom which is full of weirdos. Despite her cute looks she's a little beast and can be pretty sarcastic and offensive. The school is not safe anymore now that she's in charge of a class and her students, Himeko, Ichijou, Rei and a white rabbit who took a liking to Rebecca help her to rough up the school and the neighbor with its teacher "ojii-chan."
Kill Me Baby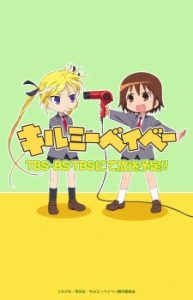 Kill Me Baby is the touching story of Yasuna, a normal (?) high school girl, and Sonya, her best friend who happens to be an assassin. Unfortunately, little Sonya's trained assassin instincts often work against her and others in her daily high school life, as Yasuna's often-broken wrist can attest to. She just wanted a hug, but she ended up with a broken neck. Isn't it sad? No, it's hilarious.
References: Myanimelist