Sekirei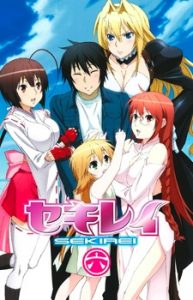 Here are my favorite picks for anime like Sekirei. Keep in mind the list is in no particular order. Enjoy!
Freezing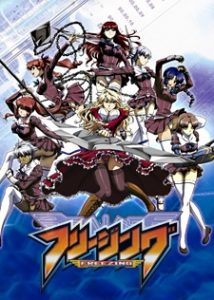 Decades into the future, humanity is under siege by an alien race known as the Novas. These inhuman beings leave devastation in their wake whenever they appear, with the efforts to stave them off becoming known as Nova Clashes. Young women known as "Pandoras" and young men known as "Limiters" are implanted with stigmata to give them superhuman powers and are trained in military academies, where they must learn to work together if humanity is to have a chance of surviving.
Fate/stay night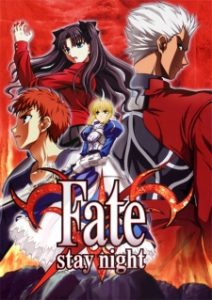 After a mysterious inferno kills his family, Shirou is saved and adopted by Kiritsugu Emiya, who teaches him the ways of magic and justice. One night, years after Kiritsugu's death, Shirou is cleaning at school, when he finds himself caught in the middle of a deadly encounter between two superhumans known as Servants. During his attempt to escape, the boy is caught by one of the Servants and receives a life-threatening injury. Miraculously, he survives, but the same Servant returns to finish what he started. In desperation, Shirou summons a Servant of his own, a knight named Saber. The two must now participate in the Fifth Holy Grail War, a battle royale of seven Servants and the mages who summoned them, with the grand prize being none other than the omnipotent Holy Grail itself.
Kämpfer
Waking up transformed into a beautiful girl might be the stuff of some guys' fantasies, but when the suddenly effeminatized Natsuru is informed by a stuffed tiger that he's now a Kampfer, a mystical fighter who has to fight other Kampfers in female form, his life becomes a living nightmare!
Akikan!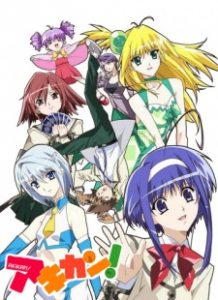 Hobbies are often a great way of meeting new people, but how could Kakeru Diachi, who collects rare juice cans, have ever suspected that he'd meet a fascinating new girl when he attempted to DRINK her? Naming her Melon, because she's got great melon… soda, Kakeru quickly learns that she's an Akikan—a beautiful girl who's also a special can created to fight other Akikans in a strange experiment to determine what kind of container is better: steel or aluminum!
Hyakka Ryouran: Samurai Girls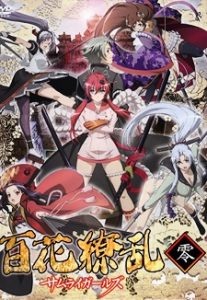 Jubei Yagyu, Hanzo Hattori, Yukimura Sanada, Sen Tokugawa, Kanetsugu Naoe, and Matabei Goto. In the alternate world of Hyakka Ryouran: Samurai Girls these are not the legendary samurai of history. They are scantily clad young ladies living in an age where the Tokugawa shogunate remained in power, and all of them have been sent to Buou Academic School in order to hone their battle skills.
Heaven's Lost Property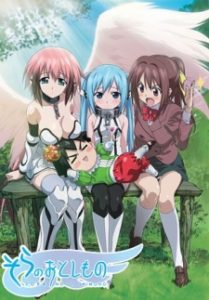 Ever since he was a child, Tomoki Sakurai has always woke up with tears after a dream of an angel. His childhood friend Sohara Mitsuki worries about this and decides to seek the help of Eishirou Sugata, an eccentric sky maniac. He concludes that Tomoki's dream is undoubtedly connected to what is known as the New World, a floating anomaly that scientists have failed to understand.
Ikkitousen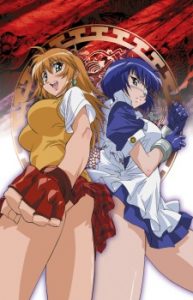 In Ikkitousen, the Kanto region of Japan is locked in the middle of a turf war between seven different high schools. Among the students of these schools are a select few who are in possession of sacred beads. These magatama harbor the souls of warriors who fought during the Three Kingdoms Era of Chinese history. Not only are these students blessed with abilities that draw from the souls they are tied to, but they are also blessed, or maybe cursed, with the fates of these warriors from the past.
Kurokami The Animation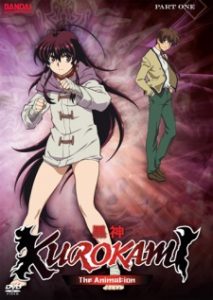 High school student Ibuki Keita has been haunted by misfortune for as long as he can remember. For no apparent reason, everyone around him dies tragically. Ultimately, he refuses to become too close to anyone, even his childhood friend Akane. This leaves Keita alone in a life full of misery and disgrace.
Campione!: Matsurowanu Kamigami to Kamigoroshi no Maou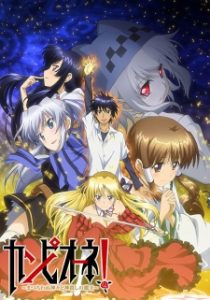 Some people suddenly find religion, but for 16-year-old Kusanagi Godou, it's that REALLY old time religion that's found him! As the result of defeating the God of War in mortal combat, Godou's stuck with the unwanted position of Campione!, or God Slayer, whose duty is to fight Heretical Gods whenever they try to muscle in on the local turf. Not only is this likely to make Godou roadkill on the Highway to Heaven, it's also a job that comes with a lot of other problems. Like how to deal with the fact that his "enhanced status" is attracting a bevy of overly-worshippy female followers. After all, they're just there to aid him in his demi-godly duties, right? So why is it that their leader, the demonically manipulative sword-mistress Erica Blandelli, seems to have such a devilish interest in encouraging some VERY unorthodox activities? Get ready for immortal affairs, heavenly harems and lots of dueling deities taking pious in the face as the ultimate smash, bash and thrash of the Titans rocks both Heaven and Earth.
Brynhildr in the Darkness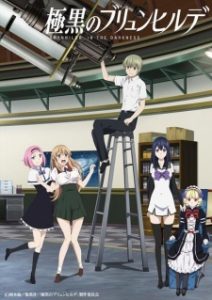 Ten years ago, Ryouta Murakami set out with his best friend Kuroneko to find proof of alien life. A tragic accident occurred, killing Kuroneko and injuring Ryouta. In honor of Kuroneko's memory, Ryouta now searches the night sky for alien signs, determined to prove that his friend had been right, and that aliens really do exist.
References: Myanimelis30