10 Anime Like The Tatami Galaxy
The Tatami Galaxy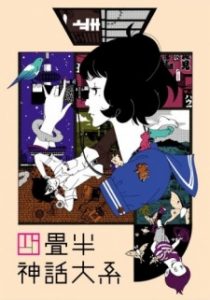 Here are my favorite picks for anime like The Tatami Galaxy. Keep in mind the list is in no particular order. Enjoy the recommendations!
Welcome to the N.H.K.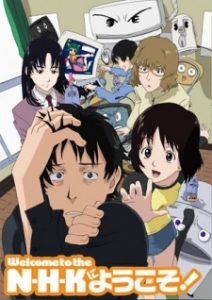 Twenty-two-year-old college dropout Tatsuhiro Satou has been a hikikomori for almost four years now. In his isolation, he has come to believe in many obscure conspiracy theories, but there is one in particular which he holds unshakable faith in: the theory that the evil conspirator behind his shut-in NEET (Not in Employment, Education or Training) status is the Nihon Hikikomori Kyokai (NHK)—an evil and secret organization dedicated to fostering the spread of hikikomori culture.
Psychiatrist Irabu series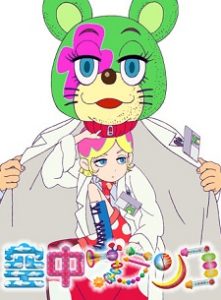 Many patients with different problems visit the psychiatric ward of Irabu General Hospital; a trapeze artist suffering from insomnia after suddenly failing his jumps, a gangster afraid of knives and sharp objects and a business man who has an erection 24 hours a day. They undergo counseling by Dr. Ichiro Irabu, who is the child-like son of the hospital director. His assistant is the sullen faced sexy nurse Mayumi. With his mysterious injections, and advice that does not make sense, Dr. Irabu confuses his patients. But at the end of his unique treatments, the patients are lead to digging further into their souls to find peace of mind.
Sayonara, Zetsubou-Sensei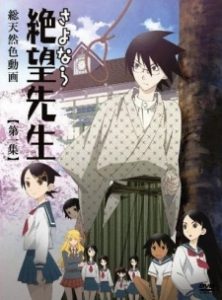 Nozomu Itoshiki is a high school teacher so pessimistic that even the smallest of misfortunes can send him into a pit of raging despair; some of these "catastrophes" even lead to suicide attempts. Sayonara Zetsubou Sensei is a satirical slice-of-life comedy set in the modern day, covering various aspects of Japanese life and culture through Nozomu and his interactions with his students: Kiri Komori, a recluse who refuses to leave the school; Abiru Kobushi, an enigma who frequently arrives to class with severe and mysterious injuries; the hyper-optimistic Kafuuka Fuura, Nozomu's polar opposite; and several other unusual girls, all of whom are just as eccentric as their teacher.
The Eccentric Family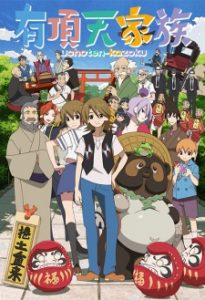 Kyoto has been populated by groups of tanuki and tengu for years, living alongside humans who are oblivious to the existence of these creatures. Yasaburou Shimogamo is the third son of an influential tanuki family who spends his carefree days taking care of an old tengu, observing humans through his ability to shapeshift, and dealing with the mysterious woman named Benten.
The Girl Who Leapt Through Time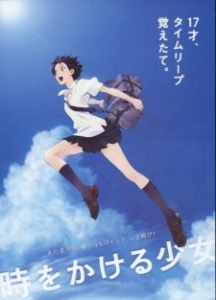 Makoto Konno is in her last year of high school, but is having a hard time deciding what to do with her future. In between enduring the pressure of her teachers and killing time with her best friends, Makoto's life suddenly changes when she accidentally discovers that she is capable of literally leaping through time.
Higurashi When They Cry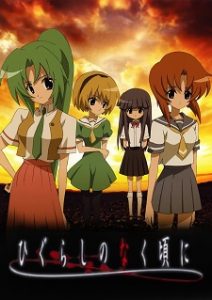 Keiichi Maebara has just moved to the quiet little village of Hinamizawa in the summer of 1983, and quickly becomes inseparable friends with schoolmates Rena Ryuuguu, Mion Sonozaki, Satoko Houjou, and Rika Furude. However, darkness lurks underneath the seemingly idyllic life they lead.
Haruhi Suzumiya
Kyon has found himself dragged through many adventures as of late—all because of the SOS Brigade club and its excitable leader, Haruhi Suzumiya. He has stopped believing in the supernatural long ago, but after being forced to join this club based solely on that, he has seen things that cannot be explained logically.
Mind Game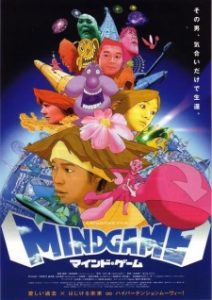 Nishi has always loved Myon since they were little. And now as adults, he wants to pursue his dream of becoming a manga artist and marrying his childhood sweetheart. There's one problem, though. She's already been proposed to and she thinks Nishi is too much of a wimp. But upon meeting the fiancé while at her family's diner and accepting him as a good guy, they encounter a couple Yakuza (Japanese mafia), only to have Nishi grasp a certain revelation. And, with his newly aquired look on life, adventures abound as he, Myon, and her sister Yan escape the Yakuza into a most unlikely location where they meet an old man…
Paranoia Agent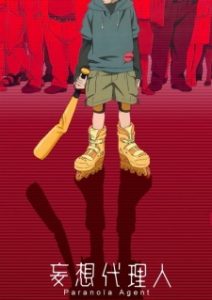 The infamous Shounen Bat (Lil' Slugger) is terrorizing the residents of Musashino City. Flying around on his rollerblades and beating people down with a golden baseball bat, the assailant seems impossible to catch—much less understand. His first victim, the well-known yet timid character designer Tsukiko Sagi, is suspected of orchestrating the attacks. Believed only by her anthropomorphic pink stuffed animal, Maromi, Tsukiko is just one of Shounen Bat's many victims.
Durarara!!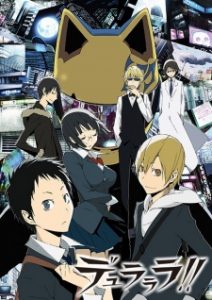 In Tokyo's downtown district of Ikebukuro, amidst many strange rumors and warnings of anonymous gangs and dangerous occupants, one urban legend stands out above the rest—the existence of a headless "Black Rider" who is said to be seen driving a jet-black motorcycle through the city streets.
References: Myanimelist