To LOVE-Ru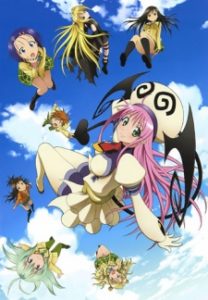 Here are my favorite picks for anime like Interviews with To LOVE-Ru. Keep in mind the list is in no particular order. Enjoy!
Rosario to Vampire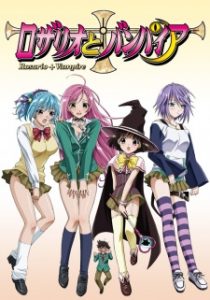 Youkai Academy is a seemingly normal boarding school, except that its pupils are monsters learning to coexist with humans. All students attend in human form and take normal academic subjects, such as literature, gym, foreign language, and mathematics. However, there is one golden rule at Youkai Academy—all humans found on school grounds are to be executed immediately!
Haiyore! Nyaruko-san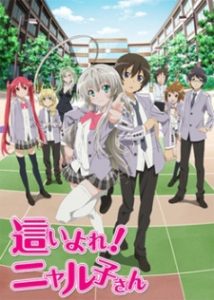 Mahiro Yasaka is just an ordinary high school student, until one day he is suddenly attacked by a dangerous monster. Just when everything seems to be lost, he is saved by a silver-haired girl named Nyaruko, who claims to be the shape-shifting deity Nyarlathotep from horror author H. P. Lovecraft's Cthulhu Mythos, sent by the Space Defense Agency to Earth. She explains to Mahiro that the creature chasing him was an alien called Nightgaunt, who had planned on abducting and selling him as a slave.
High School DxD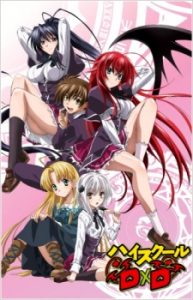 High school student Issei Hyoudou is your run-of-the-mill pervert who does nothing productive with his life, peeping on women and dreaming of having his own harem one day. Things seem to be looking up for Issei when a beautiful girl asks him out on a date, although she turns out to be a fallen angel who brutally kills him! However, he gets a second chance at life when beautiful senior student Rias Gremory, who is a top-class devil, revives him as her servant, recruiting Issei into the ranks of the school's Occult Research club.
Asobi ni Iku yo!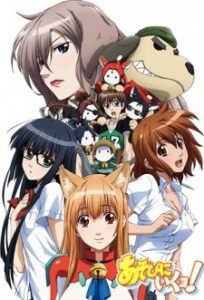 Kio is just another boring, nice guy with a boring, nice life until he meets a beautiful, curvaceous cat-girl while attending a memorial service for one of his ancestors. Next thing he knows, he's lying in bed with this half-naked beauty next to him! Her name is Eris, and she has come to Earth to learn more about its inhabitants as a representative of the planet Catian. And she's decided to set up shop at Kio's home for her stay on Earth!
Heaven's Lost Property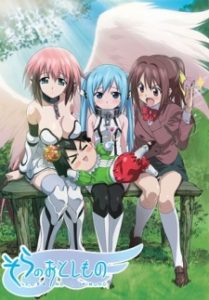 Ever since he was a child, Tomoki Sakurai has always woke up with tears after a dream of an angel. His childhood friend Sohara Mitsuki worries about this and decides to seek the help of Eishirou Sugata, an eccentric sky maniac. He concludes that Tomoki's dream is undoubtedly connected to what is known as the New World, a floating anomaly that scientists have failed to understand.
Girls Bravo: First Season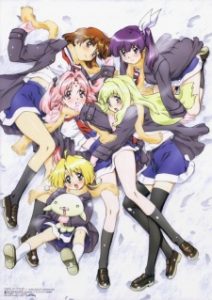 Small for his age, Yukinari has been bullied and abused by girls all his life. Now in high school, he has developed a rare condition: whenever girls touch him, or even come close, he breaks out in hives. Imagine his surprise, when he is suddenly transported to the city of Seiren on a mystic world invisibly orbiting the Earth, and populated with vast numbers of women and very few men. Fortunately, he has a new friend, Miharu-chan, whose touch inexplicably doesn't affect him.
Kanokon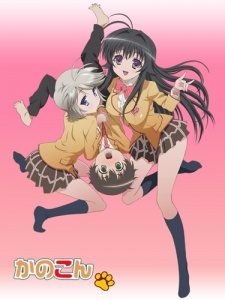 Kouta has girl troubles of the supernatural sort. For some reason, he keeps attracting the attention (and affections) of animal spirits! Having spent most of his life in the country, Kouta is understandably nervous when he moves in with his grandma to attend a high school in the big city. He hoped to make a good impression, but having Chizuru, a beautiful fox spirit, hanging off his arm didn't seem to be the sort of image he wanted to have. She's not alone in her love for Kouta, either. Nozomu, a wolf spirit, as well as other youkai have their sights set on the hapless country boy.
Please Teacher!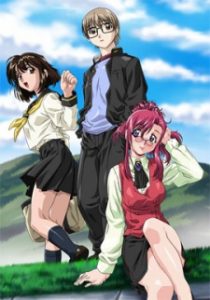 One day, Kei Kusanagi notices a strange glowing woman by the lake. He discovers that the woman is actually an alien officer from the Galaxy Federation named Mizuho Kazami, and even more shocking—she's also his teacher! In spite of this setback, he and his teacher gradually get to know each other and a romance blossoms between them. However, soon enough, the principal of the school finds out about their relationship. The solution? Get married!
Monster Musume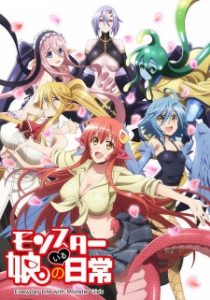 With his parents abroad, Kimihito Kurusu lived a quiet, unremarkable life alone until monster girls came crowding in! This alternate reality presents cutting-edge Japan, the first country to promote the integration of non-human species into society. After the incompetence of interspecies exchange coordinator Agent Smith leaves Kimihito as the homestay caretaker of a Lamia named Miia, the newly-minted "Darling" quickly attracts girls of various breeds, resulting in an ever-growing harem flush with eroticism and attraction.
DearS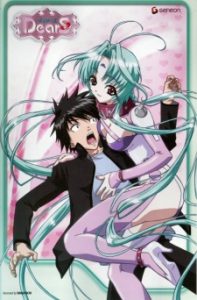 One year ago, a UFO containing 150 aliens crash-landed off the shores of Kasai. Because no one could fix their ship, the Japanese Government decided to bestow upon them the designation "DearS" and make them into Japanese citizens, teaching them the language, customs, and culture of Japan. However, in order for them to become more familiar with human society, a home-stay program has been enacted to allow them to mingle with other humans.
References: Myanimelist