10 Similar Anime Like Magical Girl Ore
Magical Girl Ore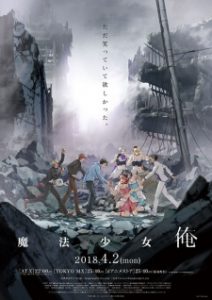 Here are my favorite picks for anime like Magical Girl Ore. Keep in mind the list is in no particular order. Enjoy!
Kämpfer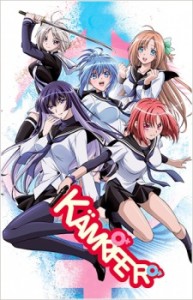 Waking up transformed into a beautiful girl might be the stuff of some guys' fantasies, but when the suddenly effeminatized Natsuru is informed by a stuffed tiger that he's now a Kampfer, a mystical fighter who has to fight other Kampfers in female form, his life becomes a living nightmare!
Putting aside the obvious "plumbing" issues, Natsuru's best childhood friend turns out to swing the other way and SHE has a crush on his new female body. Not complex enough? Natsuru's school has separate sections for boys and girls, so he and she are now double enrolled. The rumor-mill has it that he's dating herself. And there are other Kampfers attending the school who want to take her out, and he's not sure which ones mean "on a date" and which ones mean "permanently." Oh, and did we mention that some Kampfers use swords and guns?! Hormones, fists, and other body parts will fly as the daring, new gender-bender defender must become a contender or die!
Cute High Earth Defense Club Love!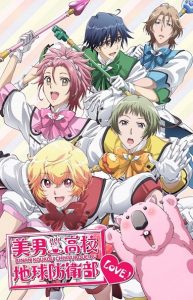 Why should girls get to have all the fun? These magical boys are here to save the world from the loveless… at least that's what the pink wombat who gives them their magical powers wants them to do.
In Binan Koukou Chikyuu Bouei-bu Love!, the main characters are the members of the "Earth Defense Club" at the Binan High School, though all they really want to do is hang out, goof off, and relax at the nearby Kurotama Bath. One fateful day, though, a pink wombat appears out of nowhere and forces these five high school students to become "Battle Lovers" and protect Earth from a trio of villains who are taking orders from a green hedgehog. Over the course of the series, the Battle Lovers will take on a variety of fiends, including the chikuwabu monster, a chopstick phantom, a monster remote control, and plenty more strange enemies!
Gonna be the Twin-Tail!!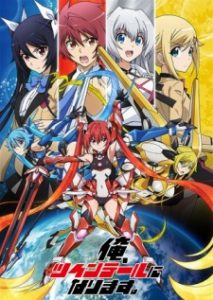 Twintails: the glory of all mankind—or at least that is what first-year high school student Souji Mitsuka believes. At school, Souji spends most of his time daydreaming and rating girls' twintails, even going as far as creating a club dedicated to the hairstyle. His obsession does not go unnoticed, however; when monsters from outer space attack Earth and claim the world's twintails for themselves, a strange woman named Twoearle enlists Souji to fight back using twintails of his own!
By transforming into the twin-tailed warrior Tail Red, Souji combats the vicious alien organization known as Ultimegil, whose main goal is to colonize Earth and steal everyone's spiritual energy, or "attribute power." Alongside fellow twin-tailed fighters Aika Tsube and Erina Shindou, Souji must find a way to defeat the invading army and defend the twintails he holds so dear.
Matoi the Sacred Slayer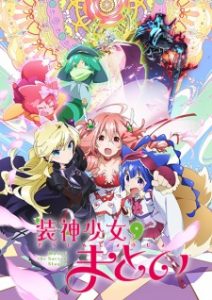 There are two girls who are in training to become Miko at the Tema Shrine: Matoi Sumeragi and Yuma Kusanagi. Matoi Sumeragi lived with her grandparents on her father's side because her mother left her since she was young, until the second year of junior high school when she finally was able to live with her father since three months ago. Matoi yearns to live a simple life. Yuma Kusanagi is the daughter of a family who lives at the shrine and is expected to become the next Miko. She knows that her ancestor used Taimakou, a technique to exorcise evil spirits and invites Matoi to challenge the ritual called Kamikagari using the skill of Taimakou.
Binan Koukou Chikyuu Boueibu Happy Kiss!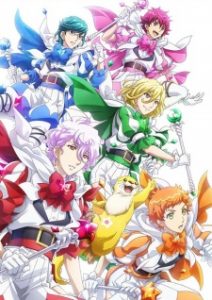 In the northern Kanto area in Japan, there is Binan City…
At Binan High School, as per usual, the "Earth Defense Club (lol)" was a club that did nothing. The club members Kyoutarou Shuzenji, Ryouma Kirishima, Nanao Wakura, Taishi Manza, and Ichiro Dogou nonchalantly enjoyed tea while having pointless conversations that amount to nothing.
Pop Team Epic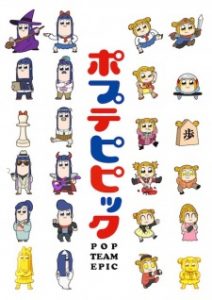 Poputepipikku turns absurdist comedy up to eleven with its pop culture references and surreal hilarity. With two bonafide high school girl protagonists—the short and exceptionally quick to anger Popuko, and the tall and unshakably calm Pipimi—they throw genres against the wall and don't wait to see what sticks. Parody is interlaced with drama, action, crudeness, and the show's overarching goal—to become a real anime.
Love Tyrant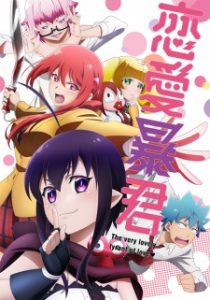 When a strange girl named Guri comes knocking at Seiji Aino's door, he quickly finds himself thrust into a world of romantic troubles. Claiming that she will die if he doesn't kiss someone within 24 hours, Guri's pleas of desperation are misunderstood as pleas for love, leading Seiji to kiss the cute stranger that came barging into his house. In actuality, it turns out that this cosplaying cupid is the wielder of a Kiss Note, in which any pairing of names she writes will kiss and become a couple. Guri explains that she misspelt and accidentally wrote Seiji's name while indulging in her yaoi fantasies, but because she had yet to pair him with anyone, their kiss was meaningless. Even worse, Guri reveals that if Seiji is not coupled with anyone soon, not only will she die, but Seiji will remain a virgin for eternity!
Is This a Zombie?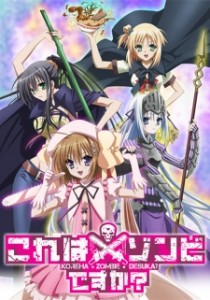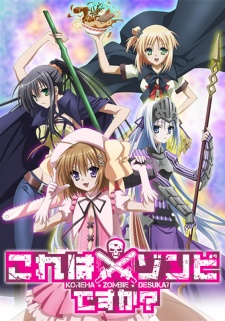 Not every zombie is the monstrous, brain-eating type.
One night while walking home from the convenience store, regular high school boy Ayumu Aikawa is killed by a serial killer, and is just as suddenly brought back to life by a necromancer named Eucliwood Hellscythe. One small caveat: he's now a zombie. Things get even weirder for him when he accidentally steals a magical girl's uniform, and thus her powers! Haruna, the ex-magical girl, orders him to fight evil creatures known as Megalo in her place until they can figure out a way to get her powers back to her.
Haven't You Heard? I'm Sakamoto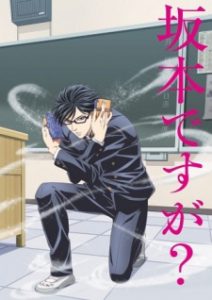 Sophisticated, suave, sublime; all words which describe the exceedingly handsome and patently perfect Sakamoto. Though it is only his first day in high school, his attractiveness, intelligence, and charm already has the girls swooning and the guys fuming with jealousy. No one seems able to derail him, as all attempts at tripping him up are quickly foiled. His sangfroid is indomitable, his wits peerless. Will any of Sakamoto's classmates, or even teachers, be able to reach his level of excellence? Probably not, but they just might learn a thing or two trying…
Anime-Gatari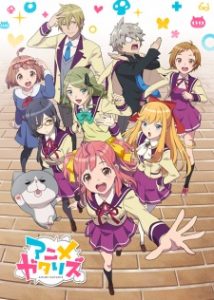 After dreaming about an anime she used to watch as a child, Minoa Asagaya could not forget a particularly memorable scene. However, despite her best efforts, she cannot recall the name of the show. Due to this, Minoa asks for help from her fellow classmates at Sakaneko High School. Her conversation is overheard by Arisu Kamiigusa, the most popular and wealthy girl in class who is also a hardcore otaku. Yet even with her vast knowledge, Arisu does not recognize the show.
References. Myanimelist