10 Similar Anime Like School Babysitters
School Babysitters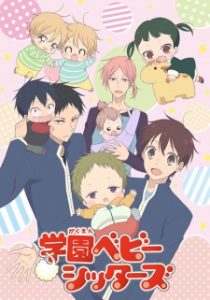 Here are my favorite picks for anime like School Babysitters. Keep in mind the list is in no particular order. Enjoy!
Hanamaru Kindergarten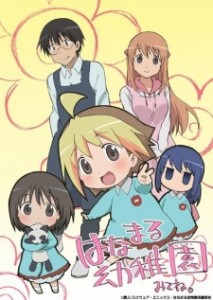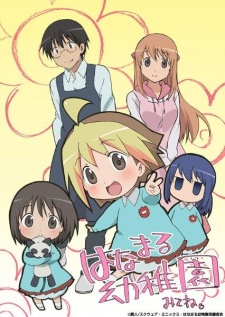 Anzu goes to a kindergarten with her friends, the shy Koume and the eccentric Hiiragi. Together they try to attract attention from their caretaker Tsuchida. However, he is clearly more interested in the pretty Yamamoto who supervises the class next door.
How to Keep a Mummy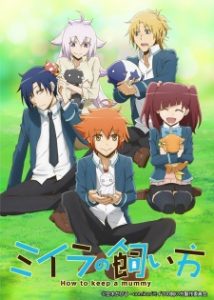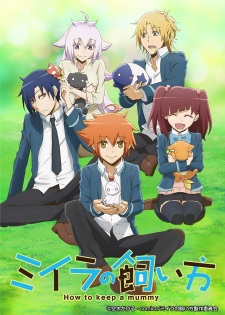 When high school student Sora Kashiwagi finds himself staring down a mysterious oversized package sent to him by his self-proclaimed "adventurer" father, the last thing he expects is for it to be opened from the inside… by a little mummy so small it can fit in the palm of his hand!
Sweetness and Lightning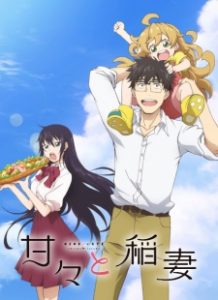 Since the death of his wife, Kouhei Inuzuka has been caring for his young daughter Tsumugi to the best of his abilities. However, with his lack of culinary knowledge and his busy job as a teacher, he is left relying on ready-made meals from convenience stores to feed the little girl. Frustrated at his own incapability to provide a fresh, nutritious meal for his daughter, Kouhei takes up an offer from his student, Kotori Iida, to come have dinner at her family's restaurant. But on their very first visit, the father and daughter discover that the restaurant is often closed due to Kotori's mother being away for work and that Kotori often eats alone. After much pleading from his pupil, Kouhei decides to continue to go to the restaurant with Tsumugi to cook and share delicious homemade food with Kotori.
Usagi Drop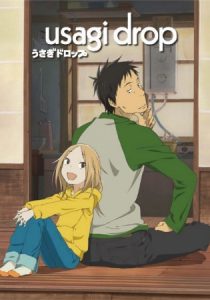 Daikichi Kawachi is a 30-year-old bachelor working a respectable job but otherwise wandering aimlessly through life. When his grandfather suddenly passes away, he returns to the family home to pay his respects. Upon arriving at the house, he meets a mysterious young girl named Rin who, to Daikichi's astonishment, is his grandfather's illegitimate daughter!
Poco's Udon World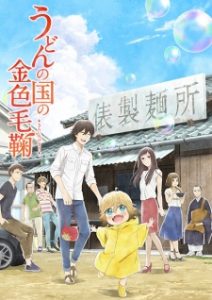 Taking a break from the hustle and bustle of Tokyo, Souta Tawara returns to his hometown in Kagawa. Though his parents are no longer around, his former home and family-owned udon restaurant reminds him of the times his family was still together. Reminiscing about his childhood, Souta enters the udon restaurant and discovers a grimy young boy sleeping.
Baby & Me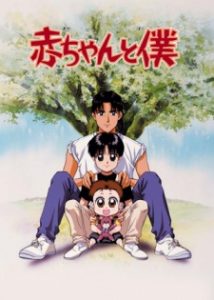 Takuya Enoki is living a difficult life for a fifth grader. His mother passed away in a tragic car accident a few months ago, forcing him to pick up the slack and take care of his baby brother, Minoru, as his father works the endless hours typical of a Japanese salaryman.
Barakamon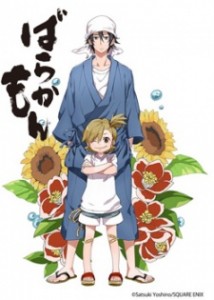 Seishuu Handa is an up-and-coming calligrapher: young, handsome, talented, and unfortunately, a narcissist to boot. When a veteran labels his award-winning piece as "unoriginal," Seishuu quickly loses his cool with severe repercussions.
Crayon Shin-chan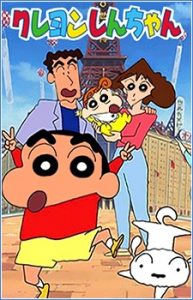 Just because an anime features a young protagonist does not necessarily mean that it is an appropriate series to show your children. Young Shinnosuke, or Shin-chan for short, is a very creative young boy that lives with his eccentric parents, Misae and Hiroshi, as well as his Prima Donna younger sister, Himawari, and has loads of unique friends to boot.
Aishiteruze Baby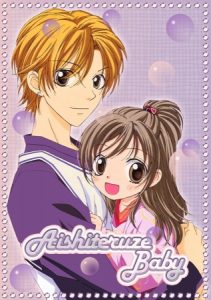 Katakura Kippei is in every way a high school playboy. Spending his days flirting with any female he can see, responsibility is the last thing on his mind. Life takes an unexpected turn for him as one day he returns home to find himself with the fulltime task of caring for his 5-year-old cousin. Kippei's aunt Miyako had disappeared, appearing to have abandoned his cousin, Yuzuyu. With Kippei's lack of responsibility and knowledge of childcare and Yuzuyu's injured heart with the disappearance of her mother, their time together is in for a bumpy ride.
My Love Story!!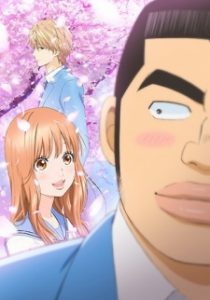 With his muscular build and tall stature, Takeo Gouda is not exactly your average high school freshman. However, behind his intimidating appearance hides a heart of gold, and he is considered a hero by the boys for his courage and chivalry. Unfortunately, these traits do not help much with his love life. As if his looks are not enough to scare the opposite sex away, Takeo's cool and handsome best friend and constant companion Makoto Sunakawa easily steals the hearts of the female students—including every girl Takeo has ever liked.
References: Myanimelist