10 Similar Anime Like Slow Start
Slow Start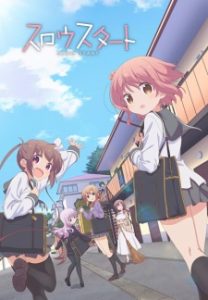 Here are my favorite picks for anime like Slow Start. Keep in mind the list is in no particular order. Enjoy!
Comic Girls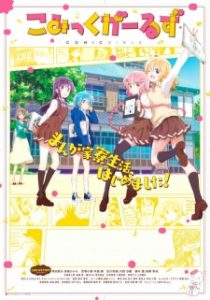 15-year-old high school student and manga creator Kaoruko Moeta uses the pen name Chaos. After ranking at the bottom of a reader survey, Kaoruko's editor recommends that she enter an all-female dormitory for manga creators. Kaoruko's roommates are shōjo manga creator Koyume Koizuka, teen romance manga creator Ruki Irokawa, and shōnen manga creator Tsubasa Katsuki. The girls support each other as they work to become better manga creators.
Three Leaves, Three Colors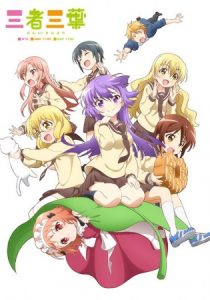 Having gone from pampered to poor after the bankruptcy of her father's company, Youko Nishikawa struggles to drop her princess-like persona and make friends at her all-girls high school. One day, while eating alone in a nearby forest, she has a chance encounter with Futaba Odagiri, the super-energetic transfer student, and Teru Hayama, an innocent-looking girl with a surprisingly direct and sometimes mean personality. Despite their differing personalities, the three girls who all have the kanji for "leaf" in their name begin an unlikely friendship as they try to navigate through an amusing and spontaneous adventure known as high school life.
Yuru Yuri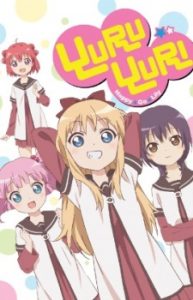 After a year in grade school without her childhood friends, first year student Akari Akaza is finally reunited with second years Yui Funami and Kyouko Toshinou at their all-girls' middle school. During the duo's first year, Yui and Kyouko formed the "Amusement Club" which occupies the now nonexistent Tea Club's room. Shortly after Akari joins, one of her fellow classmates, Chinatsu Yoshikawa, pays the trio a visit under the impression that they are the Tea Club; it is only once the three girls explain that the Tea Club has been disbanded that they can convince Chinatsu to join the Amusement Club—a group with no purpose other than to provide entertainment for its members.
Is the Order a Rabbit?
Kokoa Hoto is a positive and energetic girl who becomes friends with anyone in just three seconds. After moving in with the Kafuu family in order to attend high school away from home, she immediately befriends the shy and precocious granddaughter of Rabbit House cafe's founder, Chino Kafuu, who is often seen with the talking rabbit, Tippy, on her head.
Hidamari Sketch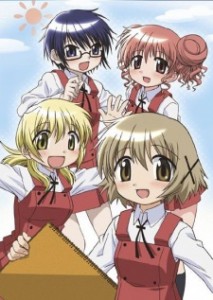 For years, Yuno has dreamed of attending Yamabuki Arts High School, but now that she's been accepted, it means the scary prospect of moving away from her home and family for the first time! Fortunately, Yuno quickly learns that if her new neighbors at the eclectic Hidamari (Sunshine) Apartments aren't technically family, at least the majority share the bond of being fellow art students. From second year students like Hiro and Sae, who try to behave like helpful older sisters (mostly successfully) to her hyperactive new neighbor, classmate and best friend Miyako (who has the scariest apartment ever) Yuno begins to build the support network she'll need for dealing with strange characters like her oddly masculine landlady, her cosplay obsessed home room teacher, her tooth-chattering principal and all of the other odd denizens who inhabit her chosen world of art.
Pan de Peace!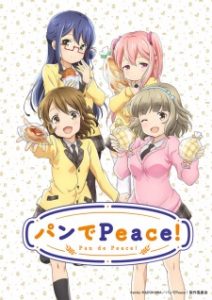 For the airheaded Minami Tani, there is nothing more delightful than delicious bread for breakfast. Bonding over a mutual love for the food, Minami meets the dignified Yuu Aizawa and the upbeat Fuyumi Fukagawa. Joining them is Noa Sakura, a pint-sized girl who sees bread as the ultimate weapon of self-defense. Together, the girls strengthen their bonds of friendship, while striving to sample every kind of bread this world has to offer.
Himouto! Umaru-chan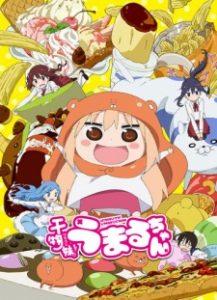 People are not always who they appear to be, as is the case with Umaru Doma, the perfect high school girl—that is, until she gets home! Once the front door closes, the real fun begins. When she dons her hamster hoodie, she transforms from a refined, over-achieving student into a lazy, junk food-eating otaku, leaving all the housework to her responsible older brother Taihei. Whether she's hanging out with her friends Nana Ebina and Kirie Motoba, or competing with her self-proclaimed "rival" Sylphinford Tachibana, Umaru knows how to kick back and have some fun!
Hinako Note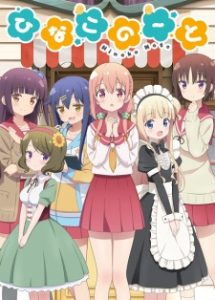 Hinako lives in the countryside and is poor at speaking. She wants to improve her speech to be able to talk to people fluently, so she moves to Tokyo and plans to join the drama club in high school. When she arrives, however, it turns out her boarding house is a secondhand bookstore, and a beautiful girl who eats books lives there.
One Room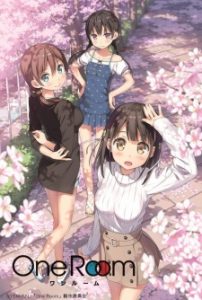 Series of shorts that tell stories of your relationship with "your" neighbor, younger sister, and childhood friend.
Mitsuboshi Colors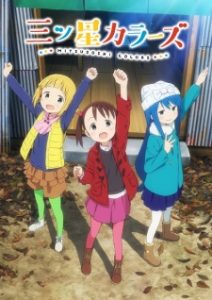 The "Colors" are three cute little girls who hang out together and protect the peace of their city. They have lots of fun together, doing stuff like playing games, solving puzzles, and going to the zoo. This anime follows their largely happy daily life.
References: Myanimelist