10 Similar Anime Like Tada Never Falls in Love
Tada Never Falls in Love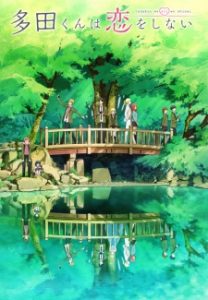 Here are my favorite picks for anime like Tada Never Falls in Love. Keep in mind the list is in no particular order. Enjoy!
Monthly Girls' Nozaki-kun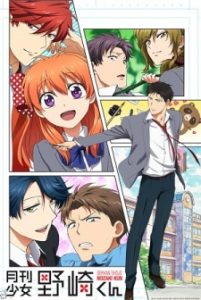 Chiyo Sakura is a cheerful high school girl who has fallen head over heels for the oblivious Umetarou Nozaki. Much to Chiyo's confusion, when she confesses to her beloved Nozaki, he hands her an unfamiliar autograph. As it turns out, the stoic teenage boy is actually a respected shoujo mangaka, publishing under the pen name Sakiko Yumeno! A series of misunderstandings leads to Chiyo becoming one of Nozaki's manga assistants.
Throughout the hilarious events that ensue, she befriends many of her quirky schoolmates, including her seemingly shameless fellow assistant, Mikoto Mikoshiba, and the "Prince of the School," Yuu Kashima. Gekkan Shoujo Nozaki-kun follows Chiyo as she strives to help Nozaki with his manga and hopes that he will eventually notice her feelings.
Rokuhoudou Yotsuiro Biyori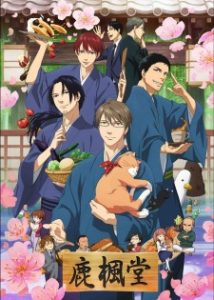 Four men—Gure, Sui, Tokitaka, and Tsubaki—each help run a Japanese tea shop together called Rokuhoudou. When one visits the shop, they are greeted warmly, served with tea, and are often helped with any problems they may have.
The Pet Girl of Sakurasou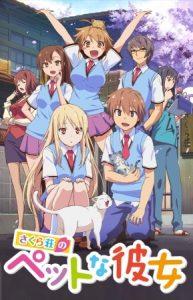 When abandoned kittens and his good conscience force second year Sorata Kanda to move into Suimei High School's infamous Sakura Hall, the satellite dorm and its eccentric, misfit residents turn his life upside down. The decidedly average Sorata finds it difficult to fit in with the bizarre collection of dorm residents like Misaki, an energetic animator; Jin, a playwright playboy; Ryuunosuke, a reclusive programmer; and Chihiro, the dorm manager, art teacher, and party girl.
Sorata's friend Nanami, a second year student and aspiring voice actress, pushes him to find new owners for the many cats so that he can quickly move back into the regular dorms. However, his desire to escape Sakura Hall wavers when the pet-like and infantile second year Mashiro Shiina, a world-class artistic savant looking to become a mangaka, transfers in during the spring trimester and quickly latches onto him.
Wotakoi: Love is Hard for Otaku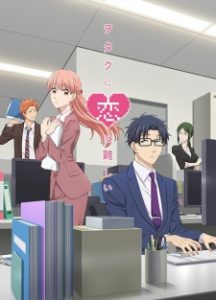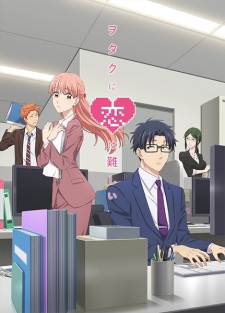 After discovering that they work at the same company, a gaming crazed otaku and a fujoshi reunite for the first time since middle school. After some post-work drinking sessions they begin dating, but will it be a perfect relationship for the two of them?
Tsuki ga Kirei
With a new school year comes a new crowd of classmates, and for their final year of junior high, aspiring writer Kotarou Azumi and track team member Akane Mizuno end up in the same class. Though initially complete strangers, a few chance encounters stir an innocent desire within their hearts. A yearning gaze, a fluttering heart—the hallmarks of young love slip into their lives as fate brings their paths to a cross.
However, though love is patient and love is kind, Kotarou and Akane discover it is not always straightforward. Despite the comfort they find in each other's company, heartache and anxiety come hand in hand with pursuing the feelings in their hearts. With the uncertainty of how the other truly feels as well as the competing affections of those around them, the road ahead is unclear. Even so, under the shining light of a beautiful full moon, Kotarou gathers his courage to ask Akane a single question, one that forever changes their quiet relationship.
Itsudatte Bokura no Koi wa 10 cm Datta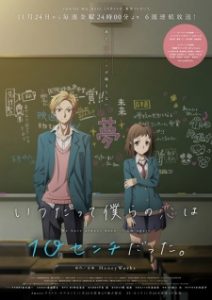 Miou Aida and Haruki Serizawa might seem like polar opposites to those around them, but as the two third-years prepare to end their high school experience, they couldn't have been been closer. While Miou is a shy and reserved member of the school art club that prefers to stay out of the limelight, Haruki is the boisterous and confident ace of the movie club, already winning awards for his directing prowess. However, after a previous chance encounter during their school entrance ceremony, they quickly become friends despite their stark differences in personality. But although their closeness might be growing, they've never become anything more than just that, much to the bewilderment of their friends.
As their time in high school draws to a close, Miou and Haruki, along with their friends in the art and movie clubs, have just one year left to face their hidden feelings and the daunting task of deciding their future careers. The two might always be only an arm's reach away, but as Haruki chases his dream of becoming a professional movie director and Miou struggles with choosing a path for herself, they'll learn just how hard it is to get past those last 10 centimeters.
A Town Where You Live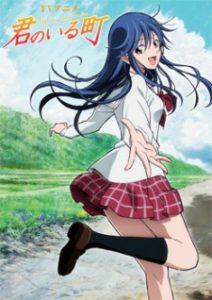 Haruto Kirishima lived a calm life out in the countryside, away from the fast-paced life of the city. Then Yuzuki Eba appeared in his life out of nowhere, having come from Tokyo to briefly live with her family. Their time together left him enamored with the memories of that short period before she just as abruptly disappeared from his life, and left him full of questions.
Kimi no Iru Machi begins some time later, after Haruto moves to Tokyo to live with his sister, in order to pursue a career as a cook. In reality though he wishes to be with Yuzuki. Things don't start good though. When he arrives he is mistaken for a burglar and attacked by his sister's neighbour Mishima Asuka. After the misunderstanding is cleared his feelings begin to waver though. Is Eba, who keeps avoiding him for seemingly no reason, the one for him or is it Asuka?
Rainbow Days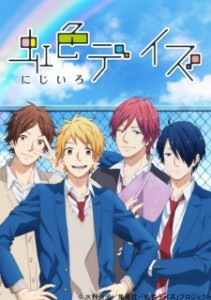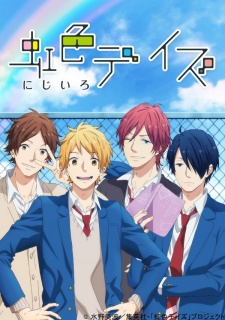 Nijiiro Days follows the colorful lives and romantic relationships of four high school boys—Natsuki Hashiba, a dreamer with delusions of love; Tomoya Matsunaga, a narcissistic playboy who has multiple girlfriends; Keiichi Katakura, a kinky sadist who always carries a whip; and Tsuyoshi Naoe, an otaku who has a cosplaying girlfriend.
When his girlfriend unceremoniously dumps him on Christmas Eve, Natsuki breaks down in tears in the middle of the street and is offered tissues by a girl in a Santa Claus suit. He instantly falls in love with this girl, Anna Kobayakawa, who fortunately attends the same school as him. Natsuki's pursuit of Anna should have been simple and uneventful; however, much to his dismay, his nosy friends constantly meddle in his relationship, as they strive to succeed in their own endeavors of love.
Hyouka
Energy-conservative high school student Houtarou Oreki ends up with more than he bargained for when he signs up for the Classics Club at his sister's behest—especially when he realizes how deep-rooted the club's history really is. Begrudgingly, Oreki is dragged into an investigation concerning the 45-year-old mystery that surrounds the club room.
Accompanied by his fellow club members, the knowledgeable Satoshi Fukube, the stern but benign Mayaka Ibara, and the ever-curious Eru Chitanda, Oreki must combat deadlines and lack of information with resourcefulness and hidden talent, in order to not only find the truth buried beneath the dust of works created years before them, but of other small side cases as well.
Golden Time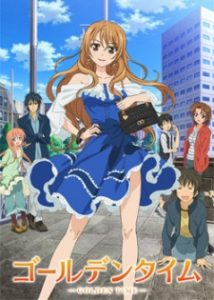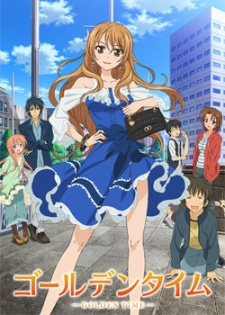 Due to a tragic accident, Banri Tada is struck with amnesia, dissolving the memories of his hometown and past. However, after befriending Mitsuo Yanagisawa, he decides to move on and begin a new life at law school in Tokyo. But just as he is beginning to adjust to his college life, the beautiful Kouko Kaga dramatically barges into Banri's life, and their chance meeting marks the beginning of an unforgettable year.
After having a glimpse of college life, Banri learns that he is in a new place and a new world – a place where he can be reborn, to have new friends, fall in love, makes mistakes and grow. And as he begins to discover who he was, the path he has chosen leads him towards a blindingly bright life that he will never want to forget.
References: Myanimelist