10 Movies Like The Bridges Of Madison County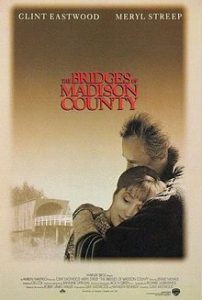 This is a list of movie recommendations of movies similar to The Bridges Of Madison County. Bear in mind that this list is in no particular order.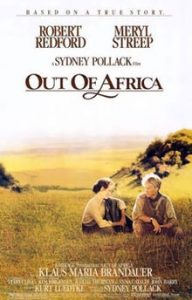 Initially set on being a dairy farmer, the aristocratic Karen Blixen (Meryl Streep) travels to Africa to join her husband, Bror (Klaus Maria Brandauer), who instead spends their money on a coffee plantation. After discovering Bror is unfaithful, Karen develops feelings for hunter Denys (Robert Redford), but realizes he prefers a simplistic lifestyle compared to her upper class background. The two continue on until a series of events force Karen to choose between her love and personal growth.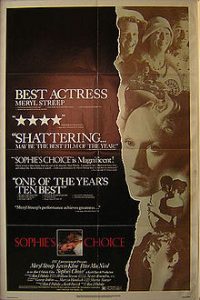 Stingo (Peter MacNicol), a young writer, moves to Brooklyn in 1947 to begin work on his first novel. As he becomes friendly with Sophie (Meryl Streep) and her lover Nathan (Kevin Kline), he learns that Sophie is a Holocaust survivor. Flashbacks reveal her harrowing story, from pre-war prosperity to Auschwitz. In the present, Sophie and Nathan's relationship increasingly unravels as Stingo grows closer to Sophie and Nathan's fragile mental state becomes ever more apparent.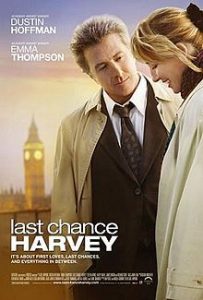 In London for his daughter's wedding, a struggling jingle-writer, Harvey Shine (Dustin Hoffman), misses his plane to New York, and thus loses his job. While drowning his sorrows in the airport pub, Harvey meets Kate (Emma Thompson), a British government worker stuck in an endless cycle of work, phone calls from her mother, and blind dates. A connection forms between the unhappy pair, who soon find themselves falling in love.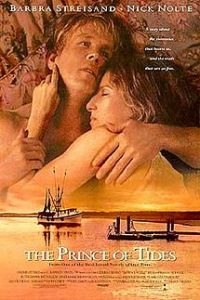 A New York psychiatrist treating an emotionally scarred woman finds it helpful to discuss her South Carolina family's troubled history with the woman's twin brother. He and the psychiatrist find themselves drawn together by their equally turbulent pasts, and they form an alliance which ultimately leads to romance.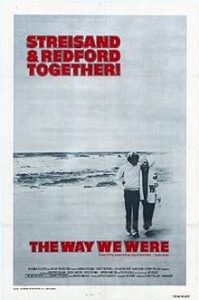 Opposites attract when, during their college days, Katie Morosky (Barbra Streisand), a politically active Jew, meets Hubbell Gardiner (Robert Redford), a feckless WASP. Years later, in the wake of World War II, they meet again and, despite their obvious differences, marry. Hubbell wants to be a screenwriter, so the two move to California despite Katie's objections. They prosper there, but as the Hollywood blacklist looms, Katie's activism threatens her husband's reputation.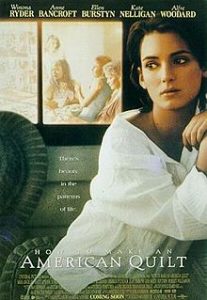 Soon-to-be-wed graduate student Finn Dodd (Winona Ryder) develops cold feet when she suspects her fiancé is cheating on her. In order to clear her head, Finn visits her grandmother, Hy (Ellen Burstyn), and great aunt, Glady Joe Cleary (Anne Bancroft), in Grasse, Calif. There, Finn learns that Hy and Glady Joe are members of a group of passionate quilters, and over the course of her visit she is regaled with tales of love and life by women who have collected rich experiences and much wisdom.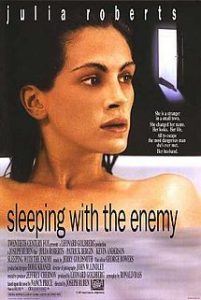 After faking her death in order to flee from her violent husband, Martin (Patrick Bergin), Laura Burney (Julia Roberts) leaves Cape Cod and moves to Iowa, where she adopts a new identity and starts dating a local teacher, Ben Woodward (Kevin Anderson). Martin, meanwhile, unearths evidence suggesting that she isn't dead, and when her mother confirms this, he tracks her to Iowa. He finds Laura and Ben and confronts them, forcing her to fight for her life once again.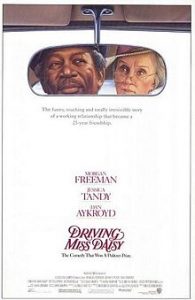 Daisy Werthan (Jessica Tandy), an elderly Jewish widow living in Atlanta, is determined to maintain her independence. However, when she crashes her car, her son, Boolie (Dan Aykroyd), arranges for her to have a chauffeur, an African-American driver named Hoke Colburn (Morgan Freeman). Daisy and Hoke's relationship gets off to a rocky start, but they gradually form a close friendship over the years, one that transcends racial prejudices and social conventions.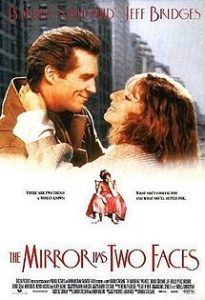 Comic tale about the relationship between a frumpy college lecturer specializing in romantic literature and a fellow professor who wants a platonic friendship with an intelligent woman. However, she begins to long for more, and they soon find that their goal of a union based on celibacy will be difficult to achieve.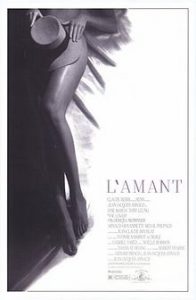 Set in 1920s colonial Indochina, a pretty, virginal French teenager (Jane March) meets a handsome Chinese playboy (Tony Leung Ka Fai) from a respectable family. Going against the conventions of their respective societies, the lustful pair begin a torrid affair in a seedy Saigon neighborhood. Their strong attraction towards one another is only intensified by the illicit nature of their rendezvous. Given such circumstances, can their relationship last?
References: Tastekid