This is a list of movie recommendations of movies similar to Kill Bill. Bear in mind that this list is in no particular order.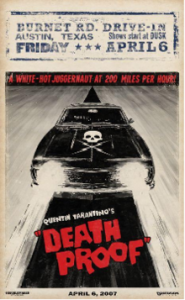 Stuntman Mike (Kurt Russell) is a professional body double who likes to take unsuspecting women for deadly drives in his free time. He has doctored his car for maximum impact; when Mike purposely causes wrecks, the bodies pile up while he walks away with barely a scratch. The insane Mike may be in over his head, though, when he targets a tough group of female friends, including real-life stuntwoman Zoe Bell (who served as Uma Thurman's double in "Kill Bill"), who plays herself.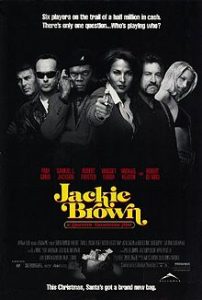 When flight attendant Jackie Brown (Pam Grier) is busted smuggling money for her arms dealer boss, Ordell Robbie (Samuel L. Jackson), agent Ray Nicolette (Michael Keaton) and detective Mark Dargus (Michael Bowen) want her help to bring down Robbie. Facing jail time for her silence or death for her cooperation, Brown decides instead to double-cross both parties and make off with the smuggled money. Meanwhile, she enlists the help of bondsman Max Cherry (Robert Forster), a man who loves her.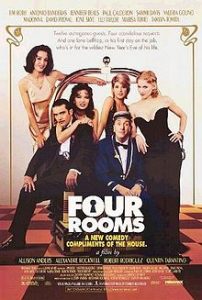 Working New Year's Eve at a hotel in Hollywood, Calif., the new bellhop, Ted (Tim Roth), has no idea what's in store for him. Left alone to tend to the guests, Ted soon finds himself in completely over his head. Between a domestic dispute and a demented entourage, spell-casting witches and destructive children, Ted has little hope of making it through the night in one piece. As he tries to maintain order and save his own life, the unlucky bellhop encounters one deranged guest after another.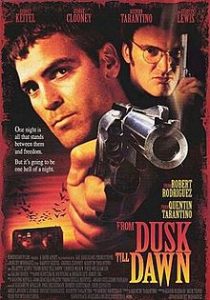 On the run from a bank robbery that left several police officers dead, Seth Gecko (George Clooney) and his paranoid, loose-cannon brother, Richard (Quentin Tarantino), hightail it to the Mexican border. Kidnapping preacher Jacob Fuller (Harvey Keitel) and his kids, the criminals sneak across the border in the family's RV and hole up in a topless bar. Unfortunately, the bar also happens to be home base for a gang of vampires, and the brothers and their hostages have to fight their way out.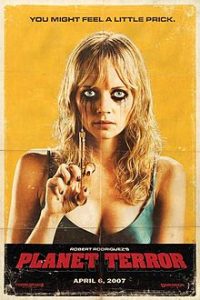 An ordinary evening in a small Texas town becomes a grisly nightmare when a horde of flesh-eating zombies goes on the prowl. Cherry (Rose McGowan), a go-go dancer, and Wray (Freddy Rodriguez), her ex-lover, band together with other survivors in a no-holds barred effort to escape the carnage. The odds become a bit more even when Cherry, who lost her leg to a hungry ghoul, gets a machine-gun appendage and lets the bullets fly.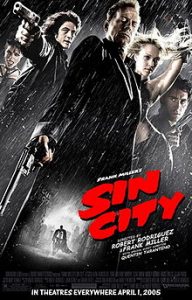 In this quartet of neo-noir tales, a mysterious salesman (Josh Hartnett) narrates a tragic story of co-dependency, while a musclebound vigilante (Mickey Rourke) tears his way through the criminal underworld in search of his lost love (Jaime King). In another part of the city, a grizzled cop (Bruce Willis) foils the ambitions of a child-killer (Nick Stahl), and an ex-prostitute (Brittany Murphy) evades her ex-pimp (Benicio Del Toro) with the help of her new boyfriend, Dwight (Clive Owen).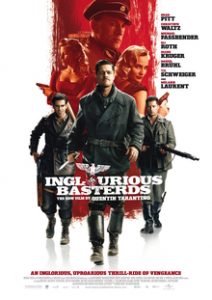 It is the first year of Germany's occupation of France. Allied officer Lt. Aldo Raine (Brad Pitt) assembles a team of Jewish soldiers to commit violent acts of retribution against the Nazis, including the taking of their scalps. He and his men join forces with Bridget von Hammersmark, a German actress and undercover agent, to bring down the leaders of the Third Reich. Their fates converge with theater owner Shosanna Dreyfus, who seeks to avenge the Nazis' execution of her family.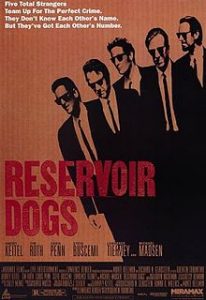 A group of thieves assemble to pull of the perfect diamond heist. It turns into a bloody ambush when one of the men turns out to be a police informer. As the group begins to question each other's guilt, the heightening tensions threaten to explode the situation before the police step in.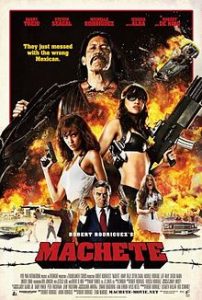 After nearly being killed during a violent fight with a powerful drug lord, a former Mexican Federale known as Machete (Danny Trejo) roams Texas streets as a vigilante and sometime day-laborer. Hired to perform a covert hit, he is double-crossed and forced to go on the run. Machete may be down, but not out, and he carves a path of blood, bullets and broken hearts in his quest to settle the score.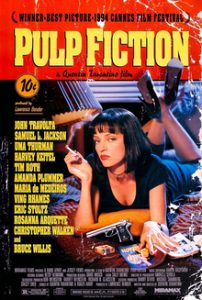 Vincent Vega (John Travolta) and Jules Winnfield (Samuel L. Jackson) are hitmen with a penchant for philosophical discussions. In this ultra-hip, multi-strand crime movie, their storyline is interwoven with those of their boss, gangster Marsellus Wallace (Ving Rhames) ; his actress wife, Mia (Uma Thurman) ; struggling boxer Butch Coolidge (Bruce Willis) ; master fixer Winston Wolfe (Harvey Keitel) and a nervous pair of armed robbers, "Pumpkin" (Tim Roth) and "Honey Bunny" (Amanda Plummer).
References: Tastedive