10 Movies Like I Know What You Did Last Summer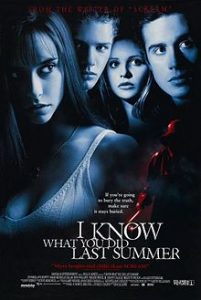 This is a list of movie recommendations of movies similar to I Know What You Did Last Summer. Bear in mind that this list is in no particular order.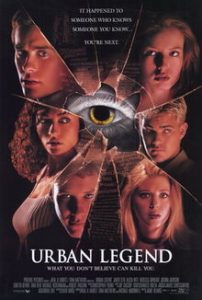 A university is beset by a rash of gruesome murders that resemble old urban legends. When her friend Michelle (Natasha Gregson Wagner) is killed by someone hiding in her car, Natalie (Alicia Witt) begins to notice the pattern. Her suspicions grow stronger when her own roommate is strangled to death. Soon the quiet college campus is transformed into hunting grounds for a maniac, and Natalie struggles to find the killer and stop the bloodshed before she becomes the next victim.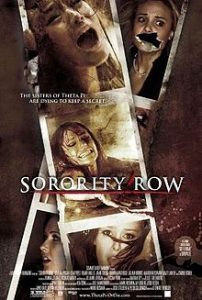 Cassidy (Briana Evigan), Jessica (Leah Pipes), Ellie (Rumer Willis), Claire (Jamie Chung) and Megan (Audrina Patridge) are sorority sisters and true-blue friends to the end — until a prank gone wrong results in Megan's demise. Rather than risk their futures by reporting the crime, the friends agree to cover it up. Cassidy and company come to regret the decision a year later when someone begins sending them videos of the night Megan died, and they fall victim to a deadly stalker.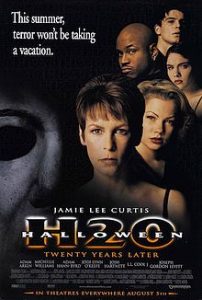 Two decades after surviving a massacre on October 31, 1978, former baby sitter Laurie Strode (Jamie Lee Curtis) finds herself hunted by persistent knife-wielder Michael Myers. Laurie now lives in Northern California under an assumed name, where she works as the headmistress of a private school. But it's not far enough to escape Myers, who soon discovers her whereabouts. As Halloween descends upon Laurie's peaceful community, a feeling of dread weighs upon her — with good reason.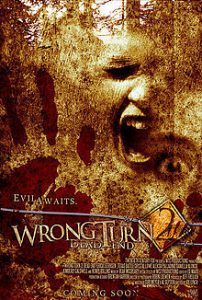 Hoping to win a cash prize, a group of strangers heads out into the West Virginia woods for a survival-themed reality television program. Ex-military tough guy Dale (Henry Rollins) and his fellow adventurers (Erica Leerhsen, Texas Battle, Daniella Alonso) are set for a week in which they'll forage for food and battle Mother Nature. But, when they find they're being hunted by a homegrown band of cannibals, the competitors are forced to fight their way out — or be eaten in the process.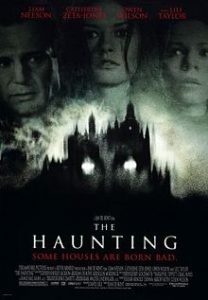 This horror tale focuses on visitors to the secluded mansion of Hill House who have been called to the isolated location by Dr. David Marrow (Liam Neeson) as part of a study on insomnia. However, Marrow is really investigating fear, and he plans to scare the subjects, including the introverted Nell (Lili Taylor) and the seductive Theo (Catherine Zeta-Jones). Unfortunately for Marrow and everyone staying at Hill House, the manor is actually haunted by an evil spirit out to torment its guests.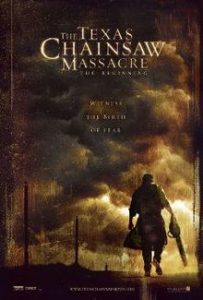 Chrissie (Jordana Brewster) and her friends (Matthew Bomer, Taylor Handley, Diora Baird) set out on a road trip for a final fling before one is shipped off to Vietnam. Along the way, bikers (Lee Tergesen, Cyia Batten) harass the foursome and cause an accident that throws Chrissie from the vehicle. The lawman who arrives on the scene kills one of the bikers and brings Chrissie's friends to the Hewitt homestead, where young Leatherface (Andrew Bryniarski) is learning the tools of terror.
As a young boy, Tim (Aaron Murphy) witnesses the horrifying event of his father (Charles Mesure) being dragged away by the boogeyman. Despite the reassurances of his mother (Lucy Lawless) that the boogeyman is not real, he is never the same afterward. Years later, Tim (Barry Watson) manages to create a normal life for himself — though he lives without closets and keeps his mattress on the floor. But when he learns of his mother's death, Tim must return home to face his childhood trauma.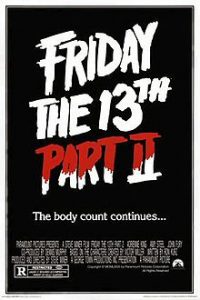 The second entry in the long-running horror series focuses on a group of teenage would-be counselors converging on Camp Crystal Lake for training under the tutelage of head counselor Paul (John Furey). Inevitably, Paul relates the story of Jason Voorhees (Warrington Gillette), a boy who ostensibly drowned at the camp and whose mother murdered a group of counselors in revenge. No one takes the tale seriously until a very much alive Jason begins gruesomely eliminating people.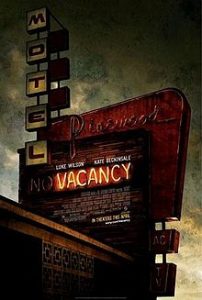 When David (Luke Wilson) and Amy's (Kate Beckinsale) car breaks down, they have little choice but to spend the night at a remote hotel. The couple entertain themselves by watching low-budget slasher movies on TV — until they realize that the horrifying images they see were recorded in the room in which they are staying. With hidden cameras capturing their every move, David and Amy must find a way out before they become the latest stars in another film in the series of snuff films.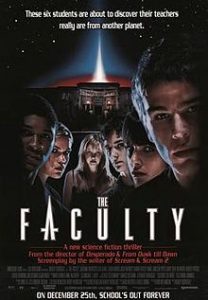 To the students at Harrington High, the principal and her posse of teachers have always been a little odd, but lately they've been behaving positively alien. Controlled by otherworldly parasites, the faculty try to infect students one by one. Cheerleader Delilah (Jordana Brewster), football player Stan (Shawn Hatosy), drug dealer Zeke (Josh Hartnett) and new girl Marybeth (Laura Harris) team up with some of their other classmates to fight back against the invaders.
References: Tastedive