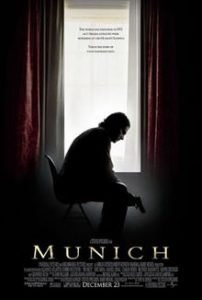 This is a list of movie recommendations of movies similar to Munich. Bear in mind that this list is in no particular order.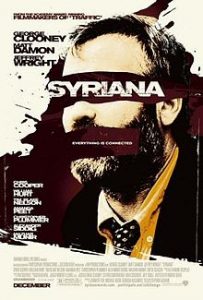 The Middle Eastern oil industry is the backdrop of this tense drama, which weaves together numerous story lines. Bennett Holiday (Jeffrey Wright) is an American lawyer in charge of facilitating a dubious merger of oil companies, while Bryan Woodman (Matt Damon), a Switzerland-based energy analyst, experiences both personal tragedy and opportunity during a visit with Arabian royalty. Meanwhile, veteran CIA agent Bob Barnes (George Clooney) uncovers an assassination plot with unsettling origins.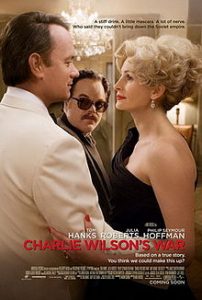 In the 1980s U.S.Rep. Charlie Wilson (Tom Hanks), Texas socialite Joanne Herring (Julia Roberts) and CIA agent Gust Avrakotos (Philip Seymour Hoffman) form an unlikely alliance to boost funding for Afghan freedom fighters in their war against invading Soviets. The trio's successful efforts to finance these covert operations contributes to the fall of the Soviet Union and the end of the Cold War.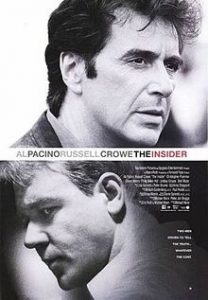 After seeking the expertise of former "Big Tobacco" executive Jeffrey Wigand (Russell Crowe), seasoned TV producer Lowell Bergman (Al Pacino) suspects a story lies behind Wigand's reluctance to speak. As Bergman persuades Wigand to share his knowledge of industry secrets, the two must contend with the courts and the corporations that stand between them and exposing the truth. All the while, Wigand must struggle to maintain his family life amidst lawsuits and death threats.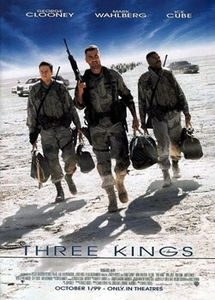 Just after the end of the Gulf War, four American soldiers decide to steal a cache of Saddam Hussein's hidden gold. Led by cynical Sergeant Major Archie Gates (George Clooney), three of the men are rescued by rebels, but Sergeant Troy Barlow (Mark Wahlberg) is captured and tortured by Iraqi intelligence. The Iraqi rebels beg for the American trio to help fight against the impending arrival of Hussein's Elite Guard. The men agree to fight in return for help rescuing Troy.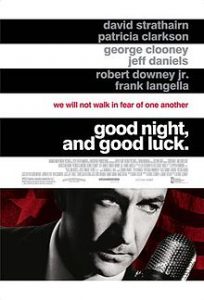 When Senator Joseph McCarthy begins his foolhardy campaign to root out Communists in America, CBS News impresario Edward R. Murrow (David Strathairn) dedicates himself to exposing the atrocities being committed by McCarthy's Senate "investigation." Murrow is supported by a news team that includes long-time friend and producer Fred Friendly (George Clooney). The CBS team does its best to point out the senator's lies and excesses, despite pressure from CBS' corporate sponsors to desist.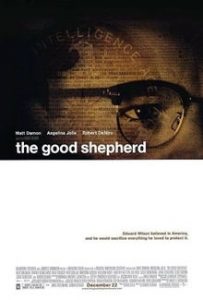 Discreet, idealistic and intensely loyal, Edward Wilson (Matt Damon) finds that service in the OSS and later as a founding member of the Central Intelligence Agency is the perfect career for a man of his talents. His methods become standard operating procedure for the CIA while he combats his counterparts in the KGB. But, as the country slips deeper into the Cold War, Edward finds that dedication to duty above family has a price.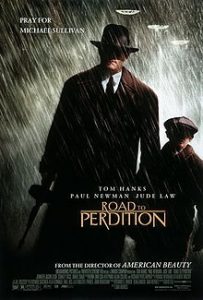 Mike Sullivan (Tom Hanks) is an enforcer for powerful Depression-era Midwestern mobster John Rooney (Paul Newman). Rooney's son, Connor (Daniel Craig), is jealous of the close bond they share, and when Mike's eldest son, Michael (Tyler Hoechlin), witnesses a hit, Connor uses the incident as an excuse to murder Sullivan's wife (Jennifer Jason Leigh) and youngest son. Forced to flee, Sullivan and Michael set out on a journey of revenge and self-discovery.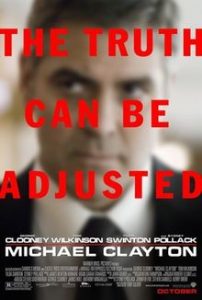 Former prosecutor Michael Clayton (George Clooney) works as a "fixer" at the corporate law firm of Kenner, Bach and Ledeen, and takes care of his employer's dirty work. Burned out and deep in debt, he is bound tightly to the firm. Clayton faces the biggest challenge of his career when a guilt-ridden attorney (Tom Wilkinson) has a breakdown during a huge class-action lawsuit.
While in Uganda on a medical mission, Scottish doctor Nicholas Garrigan (James McAvoy) becomes the personal physician and close confidante of dictator Idi Amin (Forest Whitaker). Although at first Dr. Garrigan feels flattered by his new position of power, he soon comes to realize that Amin's rule is soaked in blood, and that he is complicit in the atrocities. Garrigan faces the fight of his life as he tries to escape Amin's grasp.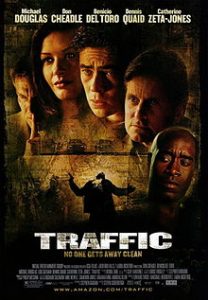 A contemporary thriller set in the world of drug trafficking. Traffic evokes the high stakes and high risks of the drug trade, as seen through a series of interrelated stories, some of which are highly personal and some of which are filled with intrigue and danger.
References: Tastedive