10 Similar Anime Like Sakura Quest
Sakura Quest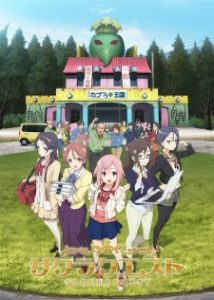 Here are my favorite picks for anime like Sakura Quest. Keep in mind the list is in no particular order. Enjoy!
Shirobako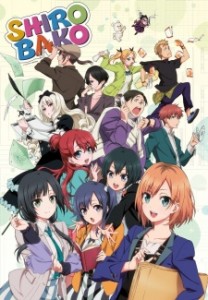 It all started in Kaminoyama High School, when five best friends—Aoi Miyamori, Ema Yasuhara, Midori Imai, Shizuka Sakaki, and Misa Toudou—discovered their collective love for all things anime and formed the animation club. After making their first amateur anime together and showcasing it at the culture festival, the group vow to pursue careers in the industry, aiming to one day work together and create their own mainstream show.
Hanasaku Iroha: Blossoms for Tomorrow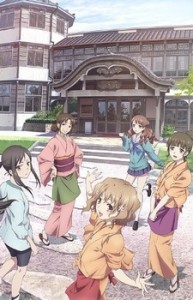 Ohana Matsumae is an energetic and wild teenager residing in Tokyo with her carefree single mother. Abruptly, her mother decides to run away with her new boyfriend from debt collectors, forcing the young girl to fend for herself—as per her mother's "rely only on yourself" philosophy—in rural Japan, where her cold grandmother runs a small inn. Driven to adapt to the tranquil lifestyle of the countryside, Ohana experiences and deals with the challenges of working as a maid, as well as meeting and making friends with enthralling people at her new school and the inn.
Locodol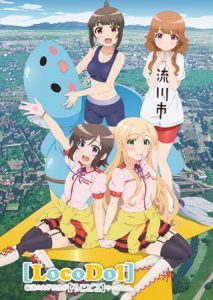 In the town of Nagarekawa, Nanako Usami, an ordinary high school girl, is approached by her uncle to become a local idol or "Locodol," partnering with upperclassman Yukari Kohinata to form the idol unit, Nagarekawa Girls. As the girls use their talent to promote Nagarekawa and their businesses, they are joined by Yui Mikoze, who acts as the local mascot, and Mirai Nazukari, who serves as Yui's substitute.
Tamayura: Hitotose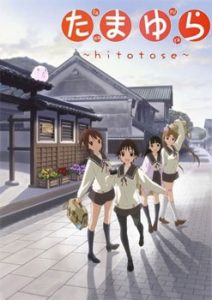 As a little girl, Fuu Sawatari's father taught her to love photography. They took pictures everywhere they went. But after he passed away, seeing those photographs only served as a reminder of her loss, so she locked them away to be forgotten. Years later, her brother Kou finds their father's picture album, and as he flips through its pages, the pictures remind Fuu of all the happy memories of her father that she will carry with her forever.
Non Non Biyori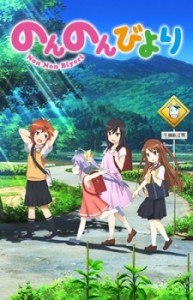 Asahigaoka might look like typical, boring countryside to most; however, no day in this village can ever be considered colorless thanks to five students of varying ages occupying the only class in the only school in town. The youngest student is first grader Renge Miyauchi, who brings an unadulterated wit, curiosity, and her characteristic catchphrase, "Nyanpasu!" Then there are the Koshigaya siblings consisting of the quiet ninth grader and elder brother Suguru, diminutive eighth grader Komari, and the mischievous seventh grader Natsumi. The recent arrival of Tokyo-raised fifth grader Hotaru Ichijou, who appears overdeveloped for her age and thus naturally holds an air of maturity, rounds out this lively and vibrant group of five classmates.
Action Heroine Cheer Fruits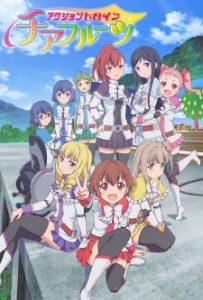 After a "local action heroine" gains popularity in a particular town, elevating her and the region to national fame, small towns all across the country begin cultivating their own local heroines, sparking a boom in staged action heroine shows. Meanwhile, in the city of Hinano, a fruit-producing region, high school teen Misaki Shirogane is encouraged by her aunt and regional governor to produce her own local heroine theatrical troupe so that the town can ride the cultural wave before it's too late.
Kumamiko: Girl Meets Bear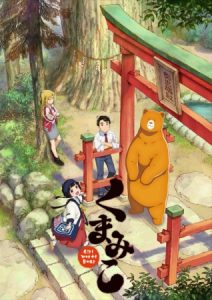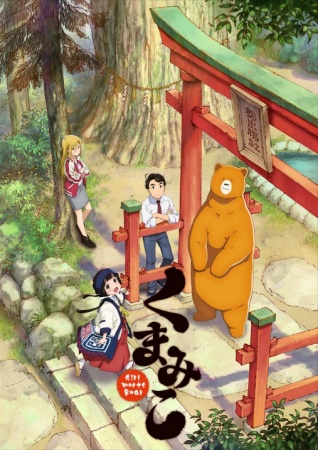 What does a bear know about life in the big city? For Machi Amayadori's sake, hopefully a lot! The young shrine maiden has spent her whole life in the rural mountains with Natsu, her talking guardian bear. Now, at fourteen, she wants to take a chance and attend high school in the big city. Can Natsu really prepare her for city life? Or will his wacky trials be too much for even Machi to bear?
Amagi Brilliant Park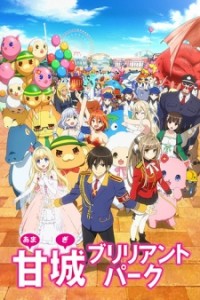 Kanie Seiya, a smart and extremely narcissistic high school student, believes that the beautiful but reserved Sento Isuzu has invited him on a date at an amusement park called Amagi Brilliant Park. Much to his chagrin, not only is the location a run-down facility, the supposed date is merely a recruitment tour where Sento and Princess Latifa Fleuranza, the owner of the theme park, ask him to become the park's new manager. Their cause for desperation? As stipulated in a land-use contract, Amagi has less than three months to meet a quota of 500,000 guests, or the park will be closed for good and the land redeveloped by a greedy real-estate company.
Aki no Kanade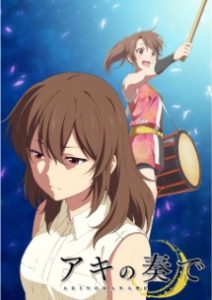 Aki Miyagawa moved to Tokyo to pursue her dream to be a taiko drummer, but had a hard time balancing her strict training regimen with her part-time job. Now, after 15 years, she's returning to coach others for a taiko festival.
Silver Spoon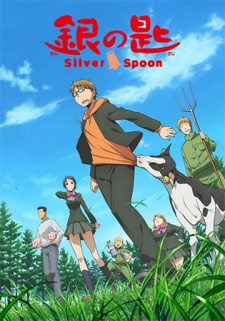 Yuugo Hachiken is studious, hard-working, and tired of trying to live up to expectations he just cannot meet. With the ushering in of a brand new school year, he decides to enrol in Ooezo Agricultural High School, a boarding school located in the Hokkaido countryside, as a means to escape from the stress brought upon by his parents.
Initially convinced that he would do well at this institution, Hachiken is quickly proven wrong by his talented classmates, individuals who have been living on farms their entire lives and know just about everything when it comes to food, vegetables, and even the physiology of livestock! Whether it be waking up at five in the morning for strenuous labor or to take care of farm animals, Hachiken is a complete amateur when it comes to the harsh agricultural life.
References: Myanimelist