10 Similar Anime Like The Great Passage
The Great Passage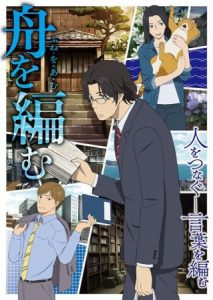 Here are my favorite picks for anime like The Great Passage. Keep in mind the list is in no particular order. Enjoy!
Showa Genroku Rakugo Shinju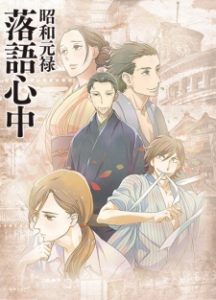 Yotarou is a former yakuza member fresh out of prison and fixated on just one thing: rather than return to a life of crime, the young man aspires to take to the stage of Rakugo, a traditional Japanese form of comedic storytelling. Inspired during his incarceration by the performance of distinguished practitioner Yakumo Yuurakutei, he sets his mind on meeting the man who changed his life. After hearing Yotarou's desperate appeal for his mentorship, Yakumo is left with no choice but to accept his very first apprentice.
Shirobako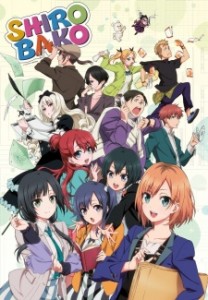 It all started in Kaminoyama High School, when five best friends—Aoi Miyamori, Ema Yasuhara, Midori Imai, Shizuka Sakaki, and Misa Toudou—discovered their collective love for all things anime and formed the animation club. After making their first amateur anime together and showcasing it at the culture festival, the group vow to pursue careers in the industry, aiming to one day work together and create their own mainstream show.
The Wind Rises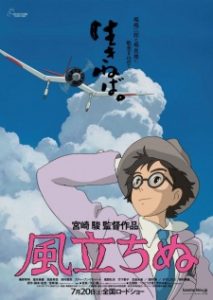 Before the Great Kanto Earthquake of 1923, before the great war that tore Japan asunder, Jirou Horikoshi lived in a world of dreams – dreams of flight, and dreams of making the world a better place.
Honey and Clover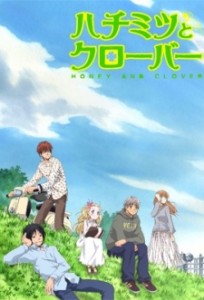 Yuuta, Takumi, and Shinobu share a six-tatami room apartment with no bath. The rent is low and it's perfect for poor college students such as themselves. Shinobu is a mysterious, quirky person, who does things on a whim. Takumi is passionate both in work and love, and Yuuta is a simple person with simple dreams and desires. That is, until he meets Hagumi, a petite girl with enormous amount of talent. Hagumi is fondly called Hagu by Shuuji, who serves as Hagu's guardian. Hagu meets Ayumi, nicknamed Ayu, and they become close friends almost instantly. Meanwhile, Ayu falls for one of the boys…
Otome Nadeshiko Koi Techou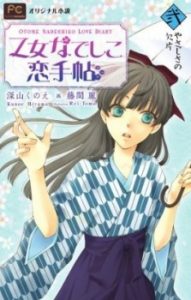 The story follows a 16-year-old girl who is experiencing her first love during Japan's Taishou period (1912-1926).
Amanchu!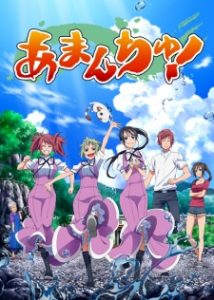 Originally from a big city, Futaba Ooki spends most days cataloguing her life through pictures on her phone. Upon moving to a seaside town, she gazes out over the vast expanse of sea and quickly becomes captivated by its endless possibilities. Unbeknownst to Futaba, her quiet contemplation catches the attention of local diving enthusiast Hikari Kohinata. Finding herself in the same class as Futaba the next day, Hikari is drawn to her quiet and shy demeanor and affectionately nicknames her Teko, sparking a tender friendship.
Barakamon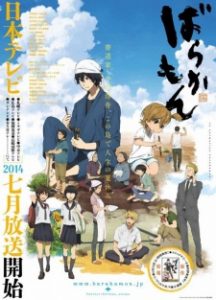 Seishuu Handa is an up-and-coming calligrapher: young, handsome, talented, and unfortunately, a narcissist to boot. When a veteran labels his award-winning piece as "unoriginal," Seishuu quickly loses his cool with severe repercussions.
Hyouka
Energy-conservative high school student Houtarou Oreki ends up with more than he bargained for when he signs up for the Classics Club at his sister's behest—especially when he realizes how deep-rooted the club's history really is. Begrudgingly, Oreki is dragged into an investigation concerning the 45-year-old mystery that surrounds the club room.
March comes in like a lion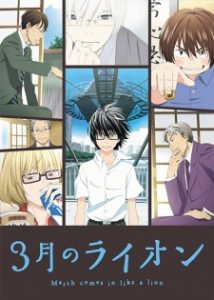 Having reached professional status in middle school, Rei Kiriyama is one of the few elite in the world of shogi. Due to this, he faces an enormous amount of pressure, both from the shogi community and his adoptive family. Seeking independence from his tense home life, he moves into an apartment in Tokyo. As a 17-year-old living on his own, Rei tends to take poor care of himself, and his reclusive personality ostracizes him from his peers in school and at the shogi hall.
Scum's Wish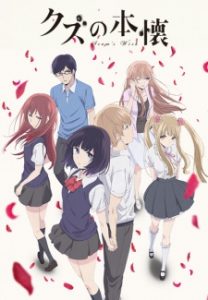 To the outside world, Hanabi Yasuraoka and Mugi Awaya are the perfect couple. But in reality, they just share the same secret pain: they are both in love with other people they cannot be with.
Hanabi has loved her childhood friend and neighbor Narumi Kanai for as long as she can remember, so she is elated to discover that he is her new homeroom teacher. However, Narumi is soon noticed by the music teacher, Akane Minagawa, and a relationship begins to blossom between them, much to Hanabi's dismay.
References: Myanimelist