10 Similar Anime Like Asobi Asobase
Asobi Asobase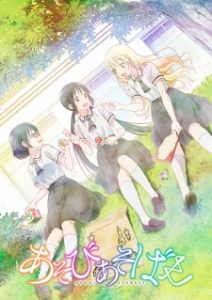 Here are my favorite picks for anime like Asobi Asobase. Keep in mind the list is in no particular order. Enjoy!
Daily Lives of High School Boys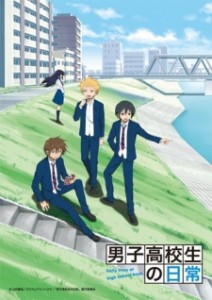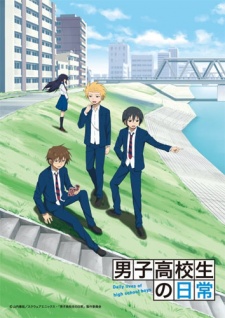 Roaming the halls of the all-boys Sanada North High School are three close comrades: the eccentric ringleader with a hyperactive imagination Hidenori, the passionate Yoshitake, and the rational and prudent Tadakuni. Their lives are filled with giant robots, true love, and intense drama… in their colorful imaginations, at least. In reality, they are just an everyday trio of ordinary guys trying to pass the time, but who said everyday life couldn't be interesting? Whether it's an intricate RPG reenactment or an unexpected romantic encounter on the riverbank at sunset, Danshi Koukousei no Nichijou is rife with bizarre yet hilariously relatable situations that are anything but mundane.
Nichijou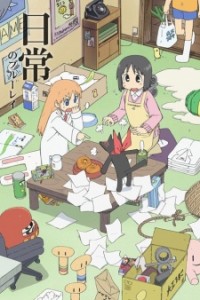 Nichijou primarily focuses on the daily antics of a trio of childhood friends—high school girls Mio Naganohara, Yuuko Aioi and Mai Minakami—whose stories soon intertwine with the young genius Hakase Shinonome, her robot caretaker Nano, and their talking cat Sakamoto. With every passing day, the lives of these six, as well as of the many people around them, experience both the calms of normal life and the insanity of the absurd. Walking to school, being bitten by a talking crow, spending time with friends, and watching the principal suplex a deer: they are all in a day's work in the extraordinary everyday lives of those in Nichijou.
Tic Elder Sister

Iroe Genma is a third-year high school student often referred to as "Elder Sister" despite her short height. This troublemaking teenager is the president of her school's Model Club, which is dedicated to building plastic models of various objects and structures, such as cars, boats, and even robots.
Joined by her two underclassmen, the violent Hazuki "Okappa" Okamoto and the rational Makina "Makimaki" Sakamaki, the small group aims to carry out their club duties but are often sidetracked by a myriad of distractions. From battles between club members to lessons on how to confess to your crush, these three schoolgirls get caught up in all sorts of wacky, and downright outrageous situations!
The Disastrous Life of Saiki K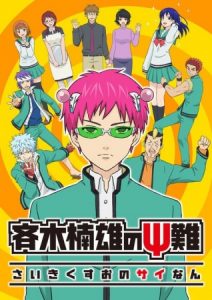 To the average person, psychic abilities might seem a blessing; for Kusuo Saiki, however, this couldn't be further from the truth. Gifted with a wide assortment of supernatural abilities ranging from telepathy to x-ray vision, he finds this so-called blessing to be nothing but a curse. As all the inconveniences his powers cause constantly pile up, all Kusuo aims for is an ordinary, hassle-free life—a life where ignorance is bliss.
Unfortunately, the life of a psychic is far from quiet. Though Kusuo tries to stay out of the spotlight by keeping his powers a secret from his classmates, he ends up inadvertently attracting the attention of many odd characters, such as the empty-headed Riki Nendou and the delusional Shun Kaidou. Forced to deal with the craziness of the people around him, Kusuo comes to learn that the ordinary life he has been striving for is a lot more difficult to achieve than expected.
Hinamatsuri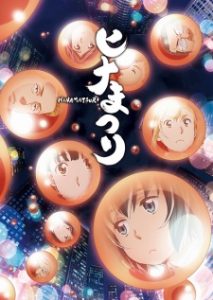 One night, a strange object falls on the head of Nitta, a member of the yakuza. Inside the box is a strange young girl named Hina. She has tremendous supernatural powers, and Nitta finds himself reluctantly taking her in. Her powers can come in handy for his yakuza business, but he also runs the risk of her using them on him! Not to mention, if she doesn't use her powers, she will eventually go berserk and destroy everything around her. Nitta and Hina's strange life together is just beginning…
Lucky Star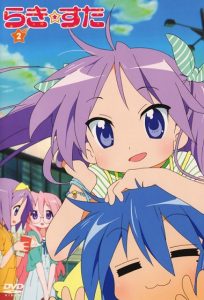 Lucky☆Star follows the daily lives of four cute high school girls—Konata Izumi, the lazy otaku; the Hiiragi twins, Tsukasa and Kagami (sugar and spice, respectively); and the smart and well-mannered Miyuki Takara.
As they go about their lives at school and beyond, they develop their eccentric and lively friendship and making humorous observations about the world around them. Be it Japanese tradition, the intricacies of otaku culture, academics, or the correct way of preparing and eating various foods—no subject is safe from their musings.
Sayonara, Zetsubou-Sensei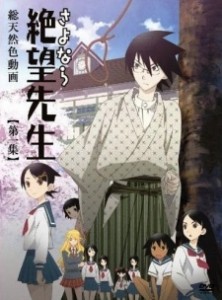 Nozomu Itoshiki is a high school teacher so pessimistic that even the smallest of misfortunes can send him into a pit of raging despair; some of these "catastrophes" even lead to suicide attempts. Sayonara Zetsubou Sensei is a satirical slice-of-life comedy set in the modern day, covering various aspects of Japanese life and culture through Nozomu and his interactions with his students: Kiri Komori, a recluse who refuses to leave the school; Abiru Kobushi, an enigma who frequently arrives to class with severe and mysterious injuries; the hyper-optimistic Kafuuka Fuura, Nozomu's polar opposite; and several other unusual girls, all of whom are just as eccentric as their teacher.
Gugure! Kokkuri-san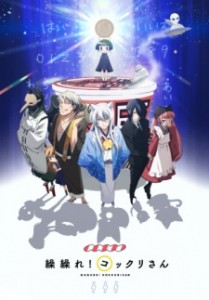 Kohina Ichimatsu, the self-proclaimed doll, called out the fox ghost Kokkuri-san with a suspicious incantation! But it was a story of the past where Kokkuri-san was able to answer any question you had. Nowadays, it relies on a certain search engine, but is actually bad at anything digital. He was going to possess Kohina, but got worried about her living all alone and devotes himself to do chores as if he was her mother. On top of that, the dog ghost Inugami who is infatuated with Kohina and the old good-for-nothing supernatural raccoon dog Shigaraki decide to root themselves with her as well!
Aho Girl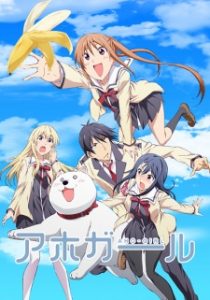 Yoshiko Hanabatake is an idiot beyond all belief. Somehow managing to consistently score zeroes on all of her tests and consumed by an absurd obsession with bananas, her senseless acts have caused even her own mother to lose all hope. Only one person is up to the task of keeping her insanity in check: childhood friend Akuru "A-kun" Akutsu.
Kill Me Baby

Kill Me Baby is the touching story of Yasuna, a normal (?) high school girl, and Sonya, her best friend who happens to be an assassin. Unfortunately, little Sonya's trained assassin instincts often work against her and others in her daily high school life, as Yasuna's often-broken wrist can attest to. She just wanted a hug, but she ended up with a broken neck. Isn't it sad? No, it's hilarious.
References: Myanimelist