10 Similar Anime Like Hinamatsuri
Hinamatsuri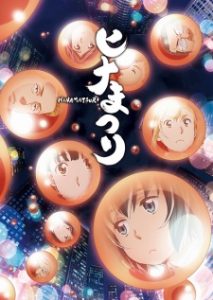 Here are my favorite picks for anime like Hinamatsuri. Keep in mind the list is in no particular order. Enjoy!
Mob Psycho 100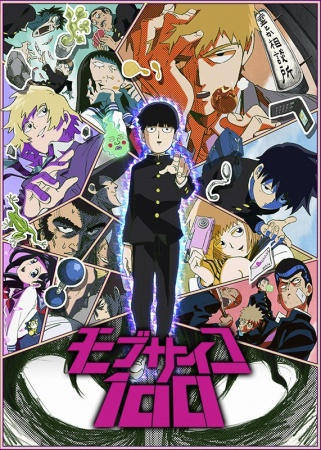 Eighth-grader Shigeo "Mob" Kageyama has tapped into his inner wellspring of psychic prowess at a young age. But the power quickly proves to be a liability when he realizes the potential danger in his skills. Choosing to suppress his power, Mob's only present use for his ability is to impress his longtime crush, Tsubomi, who soon grows bored of the same tricks.
In order to effectuate control on his skills, Mob enlists himself under the wing of Arataka Reigen, a con artist claiming to be a psychic, who exploits Mob's powers for pocket change. Now, exorcising evil spirits on command has become a part of Mob's daily, monotonous life. However, the psychic energy he exerts is barely the tip of the iceberg; if his vast potential and unrestrained emotions run berserk, a cataclysmic event that would render him completely unrecognizable will be triggered. The progression toward Mob's explosion is rising and attempting to stop it is futile.
Gintama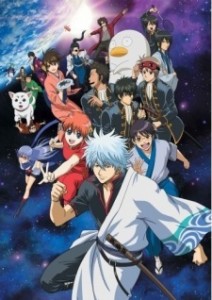 The Amanto, aliens from outer space, have invaded Earth and taken over feudal Japan. As a result, a prohibition on swords has been established, and the samurai of Japan are treated with disregard as a consequence.
However one man, Gintoki Sakata, still possesses the heart of the samurai, although from his love of sweets and work as a yorozuya, one might not expect it. Accompanying him in his jack-of-all-trades line of work are Shinpachi Shimura, a boy with glasses and a strong heart, Kagura with her umbrella and seemingly bottomless stomach, as well as Sadaharu, their oversized pet dog. Of course, these odd jobs are not always simple, as they frequently have run-ins with the police, ragtag rebels, and assassins, oftentimes leading to humorous but unfortunate consequences.
The Disastrous Life of Saiki K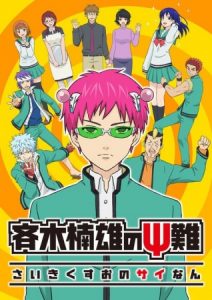 To the average person, psychic abilities might seem a blessing; for Kusuo Saiki, however, this couldn't be further from the truth. Gifted with a wide assortment of supernatural abilities ranging from telepathy to x-ray vision, he finds this so-called blessing to be nothing but a curse. As all the inconveniences his powers cause constantly pile up, all Kusuo aims for is an ordinary, hassle-free life—a life where ignorance is bliss.
Usagi Drop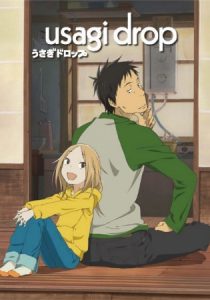 Daikichi Kawachi is a 30-year-old bachelor working a respectable job but otherwise wandering aimlessly through life. When his grandfather suddenly passes away, he returns to the family home to pay his respects. Upon arriving at the house, he meets a mysterious young girl named Rin who, to Daikichi's astonishment, is his grandfather's illegitimate daughter!
The shy and unapproachable girl is deemed an embarrassment to the family, and finds herself ostracized by her father's relatives, all of them refusing to take care of her in the wake of his death. Daikichi, angered by their coldness towards Rin, announces that he will take her in—despite the fact that he is a young, single man with no prior childcare experience.
Beelzebub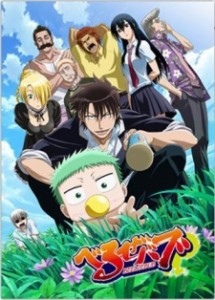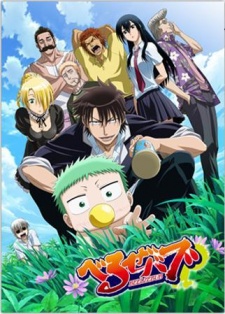 Ishiyama High is a school populated entirely by delinquents, where nonstop violence and lawlessness are the norm. However, there is one universally acknowledged rule—don't cross first year student Tatsumi Oga, Ishiyama's most vicious fighter.
One day, Oga is by a riverbed when he encounters a man floating down the river. After being retrieved by Oga, the man splits down the middle to reveal a baby, which crawls onto Oga's back and immediately forms an attachment to him. Though he doesn't know it yet, this baby is named Kaiser de Emperana Beelzebub IV, or "Baby Beel" for short—the son of the Demon Lord!
Alice & Zoroku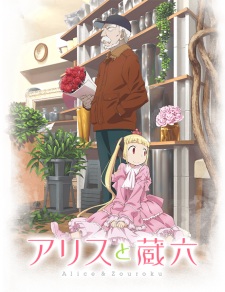 Sana is not an ordinary little girl; she possesses a special ability known as "Alice's Dream." Due to her power, which allows her to create anything from her imagination, all that she knows is the laboratory where she is a test subject. Wishing to experience the outside world, she escapes and meets a stubborn old florist named Zouroku Kashimura in a convenience store. All too soon, her pursuers catch up and Zouroku is roped into Sana's troubles.
Miss Kobayashi's Dragon Maid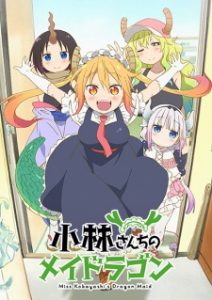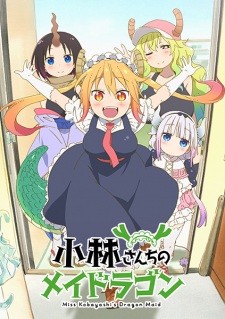 As Kobayashi sets off for another day at work, she opens her apartment door only to be met by an unusually frightening sight—the head of a dragon, staring at her from across the balcony. The dragon immediately transforms into a cute, busty, and energetic young girl dressed in a maid outfit, introducing herself as Tooru.
Aho Girl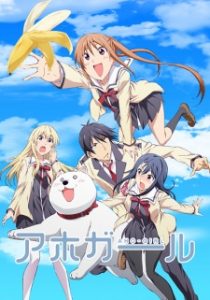 Yoshiko Hanabatake is an idiot beyond all belief. Somehow managing to consistently score zeroes on all of her tests and consumed by an absurd obsession with bananas, her senseless acts have caused even her own mother to lose all hope. Only one person is up to the task of keeping her insanity in check: childhood friend Akuru "A-kun" Akutsu.
Bungou Stray Dogs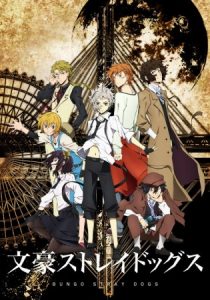 For weeks, Atsushi Nakajima's orphanage has been plagued by a mystical tiger that only he seems to be aware of. Suspected to be behind the strange incidents, the 18-year-old is abruptly kicked out of the orphanage and left hungry, homeless, and wandering through the city.
While starving on a riverbank, Atsushi saves a rather eccentric man named Osamu Dazai from drowning. Whimsical suicide enthusiast and supernatural detective, Dazai has been investigating the same tiger that has been terrorizing the boy. Together with Dazai's partner Doppo Kunikida, they solve the mystery, but its resolution leaves Atsushi in a tight spot. As various odd events take place, Atsushi is coerced into joining their firm of supernatural investigators, taking on unusual cases the police cannot handle, alongside his numerous enigmatic co-workers.
KonoSuba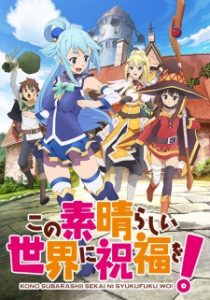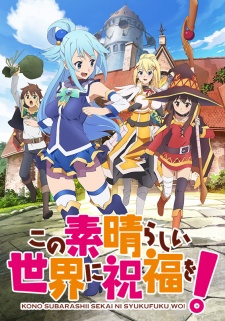 After dying a laughable and pathetic death on his way back from buying a game, high school student and recluse Kazuma Satou finds himself sitting before a beautiful but obnoxious goddess named Aqua. She provides the NEET with two options: continue on to heaven or reincarnate in every gamer's dream—a real fantasy world! Choosing to start a new life, Kazuma is quickly tasked with defeating a Demon King who is terrorizing villages. But before he goes, he can choose one item of any kind to aid him in his quest, and the future hero selects Aqua. But Kazuma has made a grave mistake—Aqua is completely useless!
References: Myanimelist