3 Ways To Contact Uber Customer Service Quickly
Uber has been pretty hush hush with what they do. Now, the reason why Uber's lack of customer support is because they aren't really a standard company. They run an app business that provides users to get rides and charges them via their app. They hire INDEPENDENT drivers that are the ones that actually provide the service for you. They then take 20% of the drivers earnings. So technically, they owe no customer service to anyone expect for app related support.
They are quite smart since they also avoid many of the troublesome customer service stuff such as hiring people for that. But because of that, users and drivers both get lackluster customer service. Below are some ways that I use to contact Uber personally.
1) Phone Number and Email Address
Unfortunately, they do not have a phone number that you can call and get your questions answered. However, they do have their support email, which you can contact below:
support@uber.com
However, here is the downside of emailing uber support. The chances are the support team from the email will be workers that aren't from the Uber headquarters, so the answers you get will be limited if they are too complicated.
Now when it comes to getting an answer from them, you will have to be patient. Don't bombard them with 3-4 emails when they haven't responded to your initial email. This will slow down the process and you end up waiting even longer for a response.
Each time you email Uber support, you get a customer representative to respond. When he or she does, you should keep responding using that email to get that rep. Otherwise, it will go to another guy/girl which will slow down the process as well.
For those that want specific support, you can check out this document provided by therideshareguy that holds all the specific state support emails.
Here are 2 official Uber sites: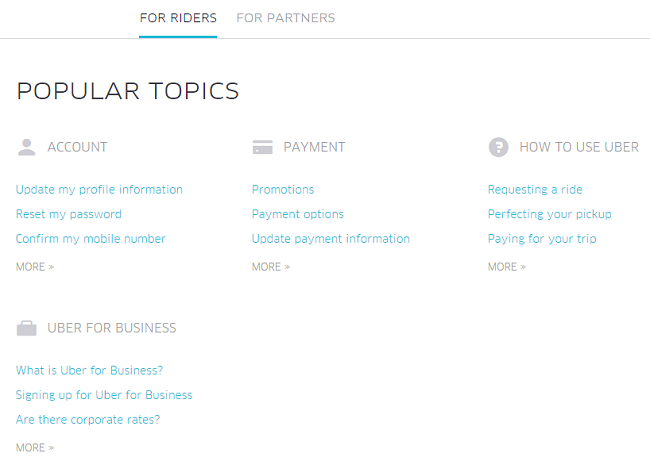 Now with the email support being the only way to contact them directly, they have also provided a very useful help page using the url above.
They provide all the common questions that both the riders and drivers often ask. These are the official answers that are written and compiled by workers from the official headquarters of Uber.
This page also gets personalized once you change the local settings to any city the moment you login. You will then get help on anything specific to that area. I never really had to contact Uber urgently, so this page pretty much has all the details you need.
3) Local Uber Offices
Here are the addresses for some of the offices:
Los Angeles
1762 Westwood Boulevard, Los Angeles, CA 90024
San Francisco
1455 Market St, San Francisco, CA 94103
New York
636 West 28th Street, New York, NY 10001
Seattle
217 2nd Avenue South, Seattle, WA 98104
Denver
1855 29th Street, Denver, CO 80216
Ohio Partner Center
1127 N High St Columbus, OH 43201
That is pretty much what I can find for the different states. Please do double check before you head over to these locations. I can't guarantee you that they will be there.