4 Costly Mistakes I Made When Building Niche Sites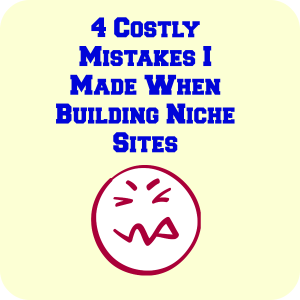 Hello online fanatics! Today I would like to share some costly mistakes I made while building niche sites. Hope you won't make them while building yours!
1 – Choosing a Short Term Niche
When I started building niche site 2 years ago, I focused on gaming sites. Now video games niche sites are great way to get started, but often times games only have a limited life span. Out of the 22 games I have done over 2 years, only 4 games become "long term games". What I mean is that people still play them after 3-4 years. Here is the graph of one of my biggest earners during their peak: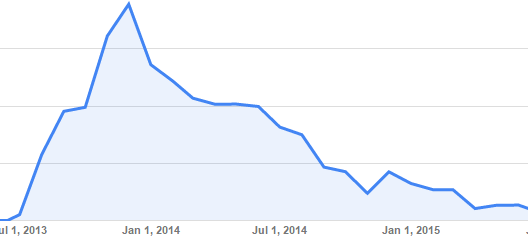 As you can see, it earns a lot less now this year than it did in 2014. It now earns 10% of what it used to. While it isn't bad since it is still passive income, but it brings me to the next costly mistake….
2 – Complacency
I remember completing 2 video game niche sites and earned over $2000/month with just those 2 sites. When I achieved it, I spent the next 2 months doing nothing but play League of Legends. I thought I made it as an internet marketer. I stopped putting in hard work and value that I did while making those sites. This would eventually come back and bite me in the butt a year later. The sites that made $2000/month only makes $300/month now.
Note to self* – Always keep building on success and never get complacent. Always provide value to people.
3 – Not Building More Evergreen Niche Sites
Ever since I got into this, I had build a few evergreen type niche sites. The costly mistake I made here was I didn't put much attention to them. I had an evergreen niche site that was generating 80 visitors a day. While that might not sound like a lot, but they convert 10 times better than my gaming niche sites in terms of earnings. Let me break it down for you.
My best performing gaming site gets roughly 20,000 visitors daily. On average it makes about $40 per day with ad networks. So my average visitor value is $0.002. That is about 2/10 of a cent per visitor.
Now let's look at my evergreen niche site value. It gets about 80 visitors daily and average about $5 per day. So my average visitor value is $0.062.  Now that is 31.25 times more than my gaming niche site.
The good part about the evergreen niche site is that it will be relevant in 10 years compared to my gaming niche site, which will only be relevant for about 5 years.
The key mistake I made here is that I procrastinated on the evergreen niche site until June 2015. From April 2014 to the present day, it ranks number 2 for its main keyword. I proceeded to do nothing(not even monetizing it) because I thought 80 visitors won't get me much. BOY I WAS WRONG. Here is a screen shot of my earnings from Amazon for that site:

This came after I re-did the homepage and added tonnes of value and information using the "Pillar Post" format from Chris Lee's Niche Course. Now had I done that back in April 2014, I would have earned roughly an extra $1200/year passive income. BIG MISTAKE I made here. I could have also expanded the site to get more visitors too.
Note to self* – Building evergreen niche sites is my next priority.
4 – Wasting Time on Unnecessary Stuff
Part of being an online entrepreneur is that nobody tells you what to do. Since nobody tells me what to do, it is very easy for me to spend my time doing unproductive things instead of building my business.
I was using Rescue Time to track my productivity score, and I only scored at a low 33% productivity rate. That means, if I used my time more efficiently, I can get more stuff done and build my business online to the next level.
What that means for me is less time playing games and more time building my business!
Conclusion
I hope you are not going to make the same mistakes I did! Always work hard and provide value to people. Success will come! Good luck and feel free to share your mistakes if you are willing to!