5 Simple Steps to Earn Your First $220.31 With Amazon FBA
Hey folks! Today, I will be sharing with you the things I learned doing Amazon FBA. When I started out doing this, I had a rough time getting started as I didn't know all the nitty gritty details. Fear not, I will break them down for you easily so you can start earning your first $220.31 as soon as possible. If you hustle and follow the steps, it is possible to achieve this target in a week.
Step 1: Sign Up for an Amazon Seller Account
This one is simple and most people fail at this hurdle if they hate dealing with sign ups and getting to learn the platform. It is actually quite easy and there are a bunch of tutorials on how to get your account going. There are 2 options for you here – Individual and Professional. Individual is free but will have more miscellaneous fees while Professional is $40/month but you get a bunch of perks.
They offer a free one-month trial for the Professional version, so it is a no brainer to use that. You will know if this business is for you anyway within a month.
Step 2: Download Amazon Seller App on Google or Apple Store
This is the default app that you will be using to scan items. The app is free. You must have a smart phone. You want to get a feel of scanning and what it is like to search for items.
If you don't know how to use the app, here is a very detailed guide on how to use it courtesy of Global Voodoo:

Now, there are also other paid options such as Profit Bandit and a few others. But we will stick to the free option to keep your starting costs low.
Step 3: Finding Places for Retail Arbitrage
This is where people have trouble with. Most established Amazon FBA sellers won't share their best finds and where to get them, but I will share it with you because I believe there is fish for everyone in the sea.
A) Discount Stores
My best finds have been from discount stores like Walmart and Dollar Tree. There are much more. Below are a list of discounts stores in the US that I highly recommend you check out:
99 Cent Store
Dollar Tree
Dollar General
Walmart
Kmart
T.J Maxx
Big Lots
For a full list, you can visit this page.
B) Thrift Stores
These are less obvious and harder to find. However, I always go to Yelp and find the local thrift store by searching for them there. Goodwill and used book stores is a good place to start. Here is an example of what I find near my area: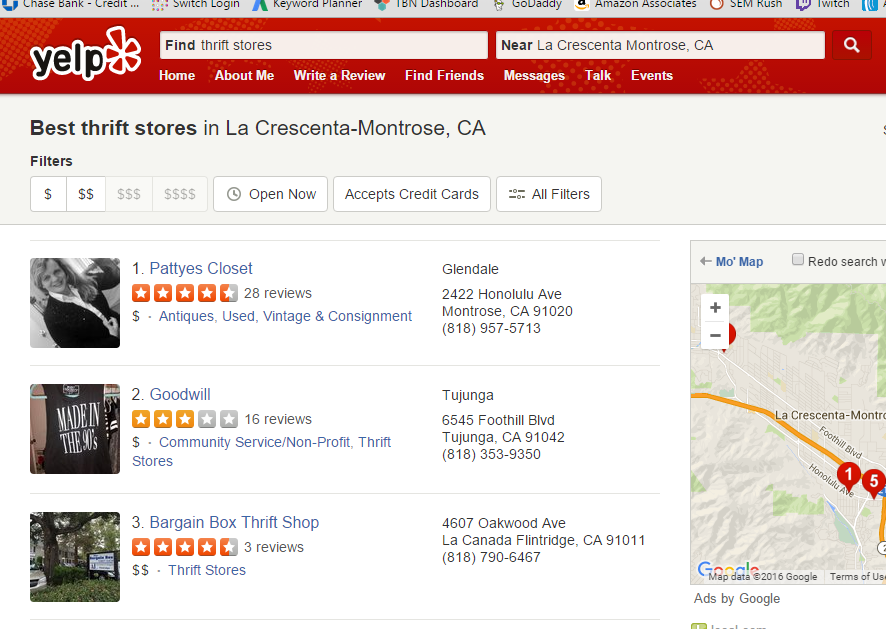 C) Liquidation Stores
These are rarely talked about because they are either hit or miss. You can find some really good items. I also use Yelp to find them.
D) Estate/Garage Sales
These are also great places to find some really good items. You do have to find them on the weekends though. That is when everyone usually has their sales. You will have to give up your weekend activities in the morning or afternoon for this. Two good places to search for these types of sales are:
My Best Finds
I don't have a problem sharing some of my best finds as they are here to motivate you to start doing them.

Not sure if you can see them, but the 3 highlighted items each gave me an average of about 40% profit margin per item.
S.M.C Assault 4 Wheeler
Huffy Ultimate Spider-Man Boys' Inline Folding Scooter-Marvel-28024 by Marvel
Nick Chavez Beverly Hills Killer Body Thickening Styling Glaze
The good thing is, they can be found in your local retail stores! I got them from TJ Maxx and Walmart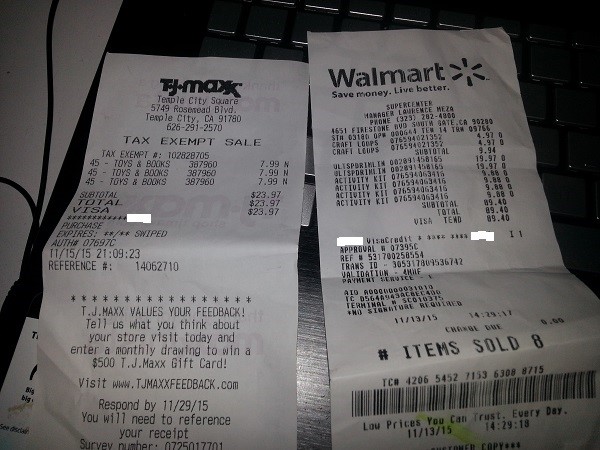 .
I got the U.S.M.C Assault 4 Wheeler for $7.99 and sold them for $18 and made a $4 profit per item. The prices are always going to fluctuate but it's a good start. Once my stock depleted, I went back to TJ Maxx to restock. Rinse and repeat.
You can also get a tax exempt if you have a resellers license, which I highly recommend that you get. You are welcome to hunt for them. I give it away because I have other items that sell well. This is a gift from me. That brings us to the next step…
Step 4: Taking Action
Now I have already given you the steps to get started. Now all you need to do is go out there and start scanning in the retail stores. You might not get any good finds when you are starting out, but if you keep on scanning, you will find a few gems. The best categories to start would be:
Toys
Office Supplies
Electronics
I have good success with these and I recommend you try them out.
Step 5: Sending Your First Shipment to Amazon Warehouse
This can be a bit daunting at first, but once you do it a few times, it will be very easy. For those that would like a detailed guide on how to send your first shipment, I have compiled the best guides out there that will get you going after reading them:
Once you have done that, you are set and Amazon will do the rest of the work for you.
Other Things You Should Know
Starting Budget
Doing retail arbitrage requires some capital. I personally started with $200. I recommend at least $200. Having more is always nice. My first few trips to the local stores weren't great. It wasn't until I hit Walmart and I made my first $90. I proceeded to find more items there and re-stocked them whenever they run low.
A month later, I made my first $220.31(-minus fees and expenses). It isn't a lot of money, but I wasn't doing it every day. I spent 4 days total for it. Not too bad of a return if you would ask me. Most of the time was spent prepping and packing. Once you found some good items to sell, it was all about doing it consistently.
Try to aim for at least 30% profit margin for an item. Of course, the higher the better, but for me, the minimum is 30.
Tools
One of the most annoying things to do was to remove those sticker tags. I use the Scotty Peeler to remove them. But you can also use a hair dryer as well. It works wonders if you don't like the Scotty Peeler.
You are also going to need some labels and stretch wraps for packaging.
Driving
Gas is also something you have to factor in. I now always do my shopping in 1 day. I hit 4-5 stores that day. The gas usually comes out to about $80 a month. I drive a Toyota, which is a fuel efficient car. Factor them into your business. Keep those receipts for taxes.
Amazon Sales Rank
Always buy things that sell fast if you want to keep the ball rolling. I will not buy anything over 80,000 sales rank unless it has a 200% profit margin.
Different categories have different sales rank, but the rule of thumb is to buy only the top 5%. Here is a guide that you should check out:
That is about it folks. The key is to get started. That is where you learn quicker. Thanks for reading this.
If you have any questions, just leave a comment on: https://onlinefanatic.com/amazon-fba-guide-and-tips/
I will do my best to help you out.