6 Anime like Kobayashi-san Chi no Maid Dragon [Miss Kobayashi's Dragon Maid]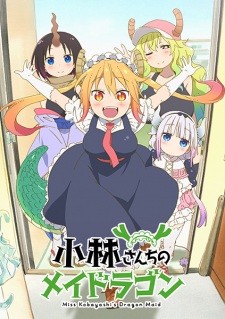 Here are my favorite picks for anime like Miss Kobayashi's Dragon Maid. Keep in mind the list is in no particular order. Enjoy!
Nichijou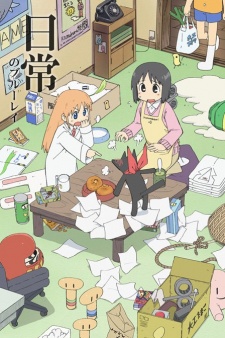 Nichijou primarily focuses on the daily antics of a trio of childhood friends—high school girls Mio Naganohara, Yuuko Aioi and Mai Minakami—whose stories soon intertwine with the young genius Hakase Shinonome, her robot caretaker Nano, and their talking cat Sakamoto. With every passing day, the lives of these six, as well as of the many people around them, experience both the calms of normal life and the insanity of the absurd. Walking to school, being bitten by a talking crow, spending time with friends, and watching the principal suplex a deer: they are all in a day's work in the extraordinary everyday lives of those in Nichijou.
Hataraku Maou-sama!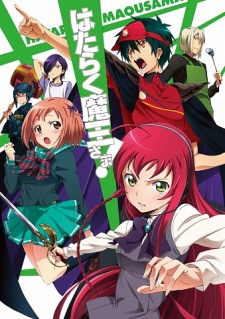 Striking fear into the hearts of mortals, the Demon Lord Satan begins to conquer the land of Ente Isla with his vast demon armies. However, while embarking on this brutal quest to take over the continent, his efforts are foiled by the hero Emilia, forcing Satan to make his swift retreat through a dimensional portal only to land in the human world. Along with his loyal general Alsiel, the demon finds himself stranded in modern-day Tokyo and vows to return and complete his subjugation of Ente Isla—that is, if they can find a way back!
Powerless in a world without magic, Satan assumes the guise of a human named Sadao Maou and begins working at MgRonald's—a local fast-food restaurant—to make ends meet. He soon realizes that his goal of conquering Ente Isla is just not enough as he grows determined to climb the corporate ladder and become the ruler of Earth, one satisfied customer at a time!
Whether it's part-time work, household chores, or simply trying to pay the rent on time, Hataraku Maou-sama! presents a hilarious view of the most mundane aspects of everyday life, all through the eyes of a hapless demon lord.
Gabriel DropOut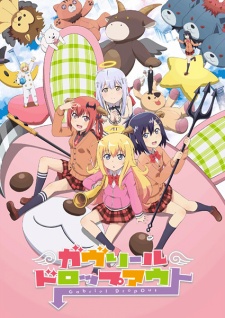 For centuries, Heaven has required its young angels to live and study among humans in order to become full-fledged angels. This is no different for top-of-her-class Gabriel White Tenma, who believes it is her mission to be a great angel who will bring happiness to mankind. However, Gabriel grows addicted to video games on Earth and eventually becomes a hikikomori. Proclaiming herself a "Faillen Angel," she is apathetic to everything else—much to the annoyance of Vignette April Tsukinose, a demon whom Gabriel befriended in her angelic early days on Earth.
Vignette's attempts to revert Gabriel back to her previous self are in vain, as Gabriel shoots down any attempt to change her precious lifestyle. As they spend their time on Earth, they meet two eccentric personalities: the angel Raphiel Ainsworth Shiraha, Gabriel's classmate with a penchant for sadism, and the demon Satanichia McDowell Kurumizawa, a clumsy self-proclaimed future ruler of the Underworld.
Gabriel DropOut follows these four friends' comedic lives as they utterly fail to understand what it truly means to be a demon or an angel.
Demi-chan wa Kataritai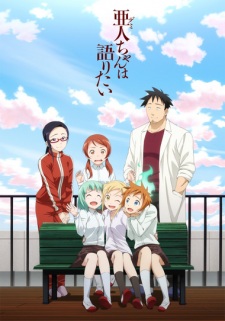 High school biology teacher Tetsuo Takahashi may look like your average everyday instructor, but beneath his gentle appearance lies something less ordinary: his fascination for the "Ajin," more commonly known as "Demi." Although these half-human, half-monster beings have integrated into human society, Takahashi believes that much about them will remain unknown unless he interacts with them firsthand.
Demi-chan wa Kataritai follows Takahashi's daily life in Shibasaki High School together with his three Demi students—Hikari Takanashi, an energetic vampire; Kyouko Machi, a gentle dullahan; and Yuki Kusakabe, the shy snow woman. Along the way, Takahashi also meets fellow teacher Sakie Satou, a succubus with an aversion towards men. To fulfill his goal of learning more about the Demi, Takahashi decides to conduct casual interviews with the girls to learn more about their abilities, psyche, and interaction with human society. As Takahashi strengthens his bond with his students, he soon discovers that the Demi are not as unusual as he initially believed.
Shinryaku! Ika Musume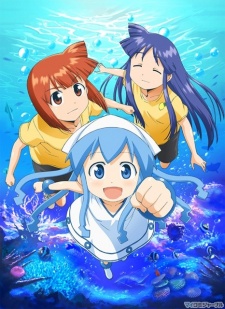 From the depth of the seas rises an evil monster, bent on taking over the human world: Ika Musume. She's ruthless. She's menacing. She's… an adorably non-threatening little girl who makes an awesome squid-ink spaghetti?
Ika Musume has come out of her home in the ocean on a quest to punish humanity for polluting her waters. With squid tentacles for hair and some pretty useful ink-spitting skills, Ika Musume is sure she'll have no trouble invading Earth. What she didn't account for were the Aizawa sisters, rough and tumble Eiko and deceptively mellow Chizuru, who immediately bully her into working as a waitress in their seafood restaurant by the shore.
Ika Musume decides to take this chance to learn more about the human world, having silly adventures, meeting lots of strange characters, and never once letting world domination out of her sights. Will Ika Musume be able to exact her revenge on the human race that had wronged her? Or will she learn to enjoy the company of these foolish air-breathers and let bygones be bygones?
New Game!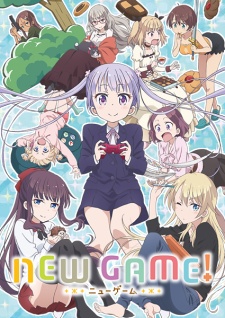 Since childhood, Aoba Suzukaze has loved the Fairies Story game series, particularly the character designs. So when she graduates from high school, it is no surprise that she applies to work at Eagle Jump, the company responsible for making her favorite video game. On her first day, she is excited to learn that she will be working on a new installment to the series: Fairies Story 3—and even more so under Kou Yagami, the lead character designer.
In their department are people who share the same passion for games. There is Yun Iijima, whose specialty is designing monsters; the shy Hifumi Takimoto, who prefers to communicate through instant messaging; Hajime Shinoda, an animation team member with an impressive figurine collection; Rin Tooyama, the orderly art director; Shizuku Hazuki, the game director who brings her cat to work; and Umiko Ahagon, the short-tempered head programmer.
New Game! follows Aoba and the others on their adventure through the ups and downs of game making, from making the perfect character design to fixing all the errors that will inevitably accumulate in the process.
References: Myanimelist