Re:Creators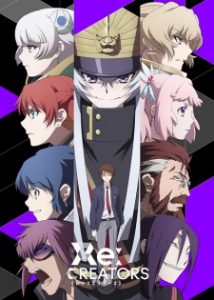 Here are my favorite picks for anime like Re:Creators. Keep in mind the list is in no particular order. Enjoy!
Fate/Zero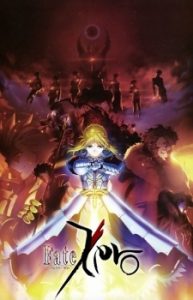 With the promise of granting any wish, the omnipotent Holy Grail triggered three wars in the past, each too cruel and fierce to leave a victor. In spite of that, the wealthy Einzbern family is confident that the Fourth Holy Grail War will be different; namely, with a vessel of the Holy Grail now in their grasp. Solely for this reason, the much hated "Magus Killer" Kiritsugu Emiya is hired by the Einzberns, with marriage to their only daughter Irisviel as binding contract.
Gate: Jieitai Kanochi nite, Kaku Tatakaeri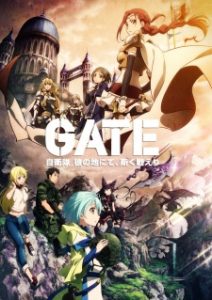 Off-duty Japan Self-Defense Forces (JSDF) officer and otaku, Youji Itami, is on his way to attend a doujin convention in Ginza, Tokyo when a mysterious portal in the shape of a large gate suddenly appears. From this gate, supernatural creatures and warriors clad in medieval armor emerge, charging through the city, killing and destroying everything in their path. With swift actions, Youji saves as many lives as he can while the rest of the JSDF direct their efforts towards stopping the invasion.
Drifters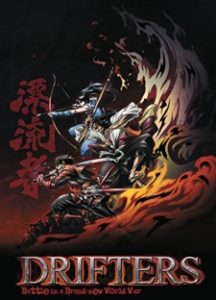 At the Battle of Sekigahara in 1600, Toyohisa Shimazu is the rearguard for his retreating troops, and is critically wounded when he suddenly finds himself in a modern, gleaming white hallway. Faced with only a stoic man named Murasaki and hundreds of doors on both sides, Toyohisa is pulled into the nearest door and into a world completely unlike his own.
The Devil Is a Part-Timer!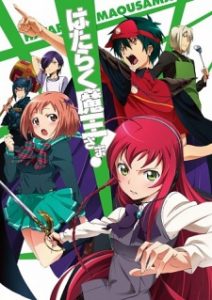 Striking fear into the hearts of mortals, the Demon Lord Satan begins to conquer the land of Ente Isla with his vast demon armies. However, while embarking on this brutal quest to take over the continent, his efforts are foiled by the hero Emilia, forcing Satan to make his swift retreat through a dimensional portal only to land in the human world. Along with his loyal general Alsiel, the demon finds himself stranded in modern-day Tokyo and vows to return and complete his subjugation of Ente Isla—that is, if they can find a way back!
Rokka: Braves of the Six Flowers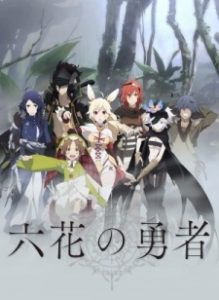 An ancient legend states that with the revival of the Demon God, six heroes—the Braves of the Six Flowers—will be chosen by the Goddess of Fate, granting them power to rise up against the fiends attempting to turn the world into a living hell. Adlet Mayer, self-proclaimed "Strongest Man in the World," has arrived at the continent of Piena in hopes of becoming a Brave. Although it doesn't go as smoothly as he had planned, Adlet is ultimately chosen as one of the six heroes shortly after being greeted by Nashetania Loei Piena Augustra, crown princess and fellow Brave.
Re:Zero − Starting Life in Another World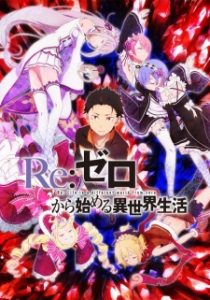 When Subaru Natsuki leaves the convenience store, the last thing he expects is to be wrenched from his everyday life and dropped into a fantasy world. Things aren't looking good for the bewildered teenager; however, not long after his arrival, he is attacked by some thugs. Armed with only a bag of groceries and a now useless cell phone, he is quickly beaten to a pulp. Fortunately, a mysterious beauty named Satella, in hot pursuit after the one who stole her insignia, happens upon Subaru and saves him. In order to thank the honest and kindhearted girl, Subaru offers to help in her search, and later that night, he even finds the whereabouts of that which she seeks. But unbeknownst to them, a much darker force stalks the pair from the shadows, and just minutes after locating the insignia, Subaru and Satella are brutally murdered.
References: Myanimelist