6 Similar Anime Like Matoi the Sacred Slayer
Matoi the Sacred Slayer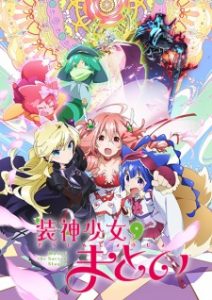 Here are my favorite picks for anime like Matoi the Sacred Slayer. Keep in mind the list is in no particular order. Enjoy!
Kamikaze Kaitou Jeanne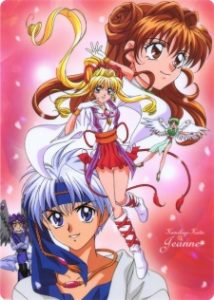 A normal looking high school girl on the outside, Kusakabe Maron is actually the reincarnation of Jeanne d' Arc. With the help of the angel, Fin Fish, Maron works as the thief Jeanne at night to seal the demons that reside in pieces of artwork, preying upon the weak hearts of the owners. She is branded as a thief due to the fact that the artworks disappear after she seals the demons. One day, a new neighbor and classmate appears, as well as a rival in her night job, the thief Sinbad. With her own best friend being the detective's daughter, out to capture her and the appearance of her new rival, Maron's work is anything but easy.
Mahou Shoujo Ore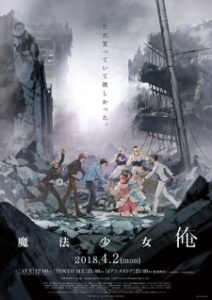 Saki Uno is an average 15-year-old girl with a side hustle as a member of the exceptionally unpopular idol duo Magical Twins. Despite this, she absolutely loves the time she spends with her best friend Sakuyo Mikage as she strives to become closer with her childhood crush, Sakuyo's brother Mohiro. Her peaceful life, however, unravels when she finds a yakuza-looking thug trying to enter her house. Forced to invite him inside, Saki learns that her mother used to be a demon fighting Magical Girl, and that her brutish guest is actually a mascot named Kokoro-chan looking to recruit a replacement. Dumbfounded and skeptical, Saki is hesitant accept the request until Kokoro-chan reveals that Mohiro is a target of some cute, squirrel-tailed demons.
Heartcatch Precure!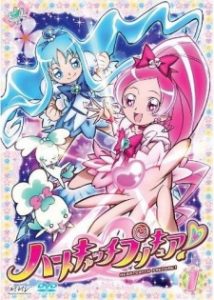 2nd year middle school student Tsubomi Hanasaki has just moved with her family to the town of Kibougahana to live with her grandma. She is shy and introverted, but is determined to start off her new school life at Myoudou Academy as confidently as possible.
Lately she has been having the same mysterious dream again and again, of Cure Moonlight's defeat at the Great Heart Tree. She wonders what it all means. Then suddenly, two fairies from the dream appear to her, and before she knows it, she is transformed into the legendary Pretty Cure, Cure Blossom!
Arjuna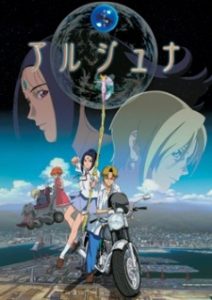 Juna was just an ordinary high-school girl, right up until the day she died in a motorcycle accident. But there, in the twilight of death, she saw the future of the barren earth destroyed by the Raaja, and was offered a second chance at life if she would stop them. Now she must learn to cast aside her thoughtlessly destructive ways and face her destiny as the Avatar of Time, the one being who can decide the fate of the planet.
Rewrite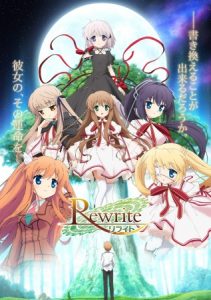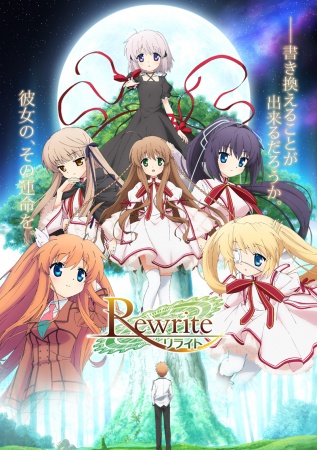 Kazamatsuri, a modern, well-developed city renowned for its burgeoning greenery and rich Japanese culture, is home to Kotarou Tennouji, a high schooler least privy to the place's shared values. Content to fill his pockets with frivolity, the proud and nosey boy whiles away his time pestering the self-proclaimed delinquent Haruhiko, and indulging in his amorous feelings toward the oddball Kotori.
Equipped with the superhuman ability to permanently rewrite any part of his body to multiply his strength or speed, Kotarou is naturally drawn to the supernatural. One special meeting with the lone member and president of the Occult Research Club, the "Witch" Akane Senri, leads to Kotarou reviving the Occult Club by recruiting Kotori and three other members: the clumsy transfer student Chihaya, the strict class representative Lucia, and the unassuming Shizuru. As Kotarou unveils hidden secrets of each member of the Occult Club through their shared adventures, he will inevitably encounter a fate that only he might be able to rewrite.
Yuki Yuna is a Hero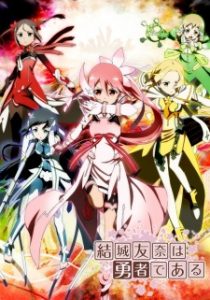 In her everyday life, Yuuna Yuuki is a hero. As proof, she is in her middle school's Hero Club, where she does her best to help others and bring a smile to everyone's face.
But Yuuna, always up to any task, is about to become an even bigger hero. Mysterious destructive forces called Vertexes begin threatening the world she loves, and the Hero Club is called upon by a strange phone app to save it. Along with her best friend Mimori Tougou, as well as sisters Fuu and Itsuki Inubouzaki, they must transform into magical girls in order to battle the Vertexes.
References: Myanimelist