6 Similar Anime Like Touken Ranbu – Hanamaru
Touken Ranbu – Hanamaru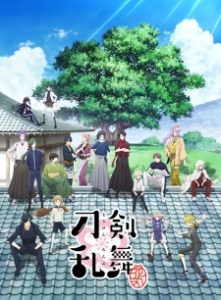 Here are my favorite picks for anime like Touken Ranbu – Hanamaru. Keep in mind the list is in no particular order. Enjoy!
The Thousand Noble Musketeers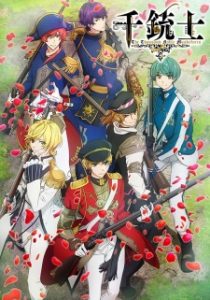 Despair War is a battle between ancient guns and contemporary guns. Due to a nuclear war, the world was destroyed. Under the full governance of a world empire, people are living with their freedom taken. Despite the forbidden rule of owning any weapons, there is a resistance that secretly fights against the world empire. They own ancient guns left as art and fight using these. Then, the Kijuushi appear as the souls of the ancient guns. Proud and magnificent, the "Absolute Royal" are the only ones that can give hope to this world. The story depicts the everyday life of the Kijuushi. Laughter, despair, happiness, confusion, pain; they would still pursue their own absolute loyalty to fight. What do they fight for? What should they protect?
KanColle: Kantai Collection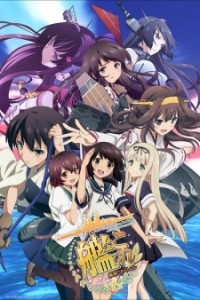 With the seas under constant threat from the hostile "Abyssal Fleet," a specialized naval base is established to counter them. Rather than standard naval weaponry, however, the base is armed with "Kanmusu"—girls who harbor the spirits of Japanese warships—possessing the ability to don weaponized gear that allows them to harness the powerful souls within themselves. Fubuki, a young Destroyer-type Kanmusu, joins the base as a new recruit; unfortunately for her, despite her inexperience and timid nature, she is assigned to the famous Third Torpedo Squadron and quickly thrust into the heat of battle. When she is rescued from near annihilation, the rookie warship resolves to become as strong as the one who saved her.
Katsugeki Touken Ranbu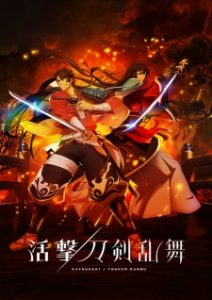 In 1863, Izuminokami Kanesada and his partner, Horikawa Kunihiro, arrive in the streets of Edo from the future to investigate their master's reports of an upcoming enemy invasion. As humanoid manifestations of the famous Toshizou Hijikata's swords, they have been tasked with protecting history from the Retrograde Army that seeks to alter it. Soon enlisting the help of other sword warriors, they continuously battle the mysterious army throughout the Bakumatsu period.
However, their journey will not be an easy one. Fraught with blood and betrayal in the chaotic era closest to their hearts, the duo will be forced to make difficult decisions with everything they care about on the line.
Land of the Lustrous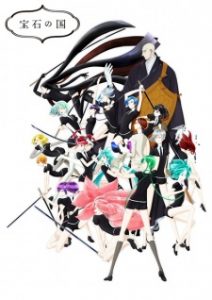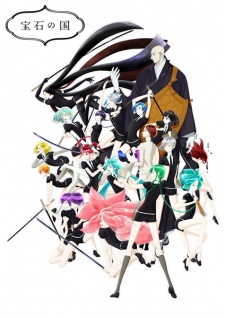 In the mysterious future, crystalline organisms called Gems inhabit a world that has been destroyed by six meteors. Each Gem is assigned a role in order to fight against the Lunarians, a species who attacks them in order to shatter their bodies and use them as decorations.
Phosphophyllite, also known as Phos, is a young and fragile Gem who dreams of helping their friends in the war effort. Instead, they are told to compile an encyclopedia because of their delicate condition. After begrudgingly embarking on this task, Phos meets Cinnabar, an intelligent gem who has been relegated to patrolling the isolated island at night because of the corrosive poison their body creates. After seeing how unhappy Cinnabar is, Phos decides to find a role that both of the rejected Gems can enjoy. Houseki no Kuni follows Phos' efforts to be useful and protect their fellow Gems.
Chiruran 1/2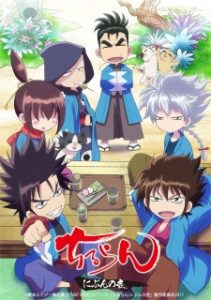 Strong, intense, and cute! The most laid-back Shinsengumi in history arrives!! An official spinoff series by Hashimoto Eiji (manga) and Umemura Shinya (story) of Chiruran Shinsengumi Requiem. Here's the laid-back everyday life of the Shinsengumi warriors.
Hakuoki ~Demon of the Fleeting Blossom~
In 1864 Japan, a young woman named Chizuru Yukimura is searching for her missing father, Koudou, a doctor by trade whose work often takes him far from home. But with no word from him in months, Chizuru disguises herself as a man and heads to Kyoto in search of him. Attracting the attention of ronin, she tries to hide and ends up witnessing a horrifying sight: the ronin being brutally murdered by crazed white-haired men. In a startling turn of events, members of the Shinsengumi arrive to dispatch the creatures. But Chizuru's safety doesn't last long, as this group of men tie her up and take her back to their headquarters, unsure of whether to let her live or silence her permanently.
References: Myanimelist