7 Anime Like Rokujouma no Shinryakusha!? [Invaders of the Rokujyouma?!]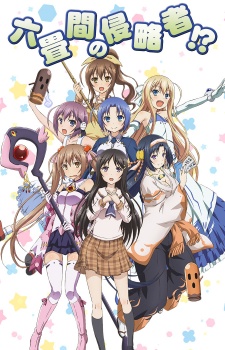 Here are my top picks for anime like Invaders of the Rokujyouma?! Keep in mind the list is in no particular order. Enjoy the recommendations!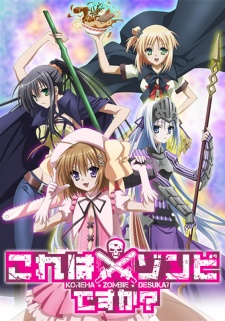 Aikawa Ayumu is a normal high school boy. One day he is killed by a serial killer and revived as a zombie by a necromancer named Eucliwood Hellscythe. He starts to serve Eu as her guard but he happens to deprive the masou-shoujo Haruna of her magic power. Haruna orders Ayumu to fight against the anti-masou-shoujo system "Megalo" in her place.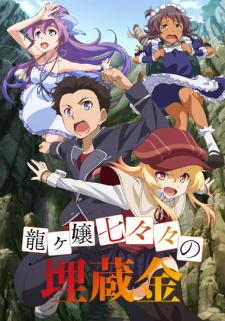 "I'm going to build a place where young people can challenge to reach any of their dreams!"
The 7 genius students, known as the GREAT 7, launched a project to construct an artificial island called Nanae Island to realize their leader, Nanana Ryugajo's peculiar idea.
12 years later, with a total population of 100,000 people with as much as 80% of those inhabitants being students, Nanae Island has successfully become prosperous as a special student zone. One of the island's newest residents was Jugo Yama — a high school student who had just transferred to the island after being disowned by his father. One day, Jugo finds in his own apartment the earth-bound spirit of the late Nanana Ryugajo, who was murdered by someone 10 years ago! Jugo's plan of living alone was suddenly thwarted by this strange roommate.  (Source: Aniplex USA)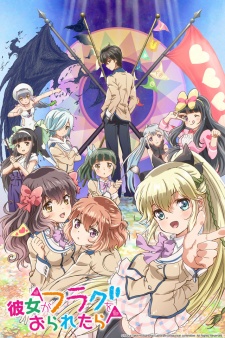 Hatate Souta is a high school boy, who has an ability to visualize "flags" for future events such as "death flag," "friendship flag," and "romance flag." Despite the flag-viewing ability, he avoids making friends with others due to a trauma he experienced in a ship submergence accident. Twelve beautiful girls get interested in his strange way of living, and they begin to live with him at the school dorm.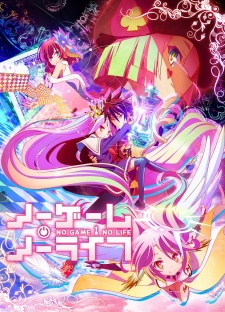 No Game No Life is a surreal comedy that follows Sora and Shiro, shut-in NEET siblings and the online gamer duo behind the legendary username "Kuuhaku." They view the real world as just another lousy game; however, a strange e-mail challenging them to a chess match changes everything—the brother and sister are plunged into an otherworldly realm where they meet Tet, the God of Games.
The mysterious god welcomes Sora and Shiro to Disboard, a world where all forms of conflict—from petty squabbles to the fate of whole countries—are settled not through war, but by way of high-stake games. This system works thanks to a fundamental rule wherein each party must wager something they deem to be of equal value to the other party's wager. In this strange land where the very idea of humanity is reduced to child's play, the indifferent genius gamer duo of Sora and Shiro have finally found a real reason to keep playing games: to unite the sixteen races of Disboard, defeat Tet, and become the gods of this new, gaming-is-everything world. [Written by MAL Rewrite]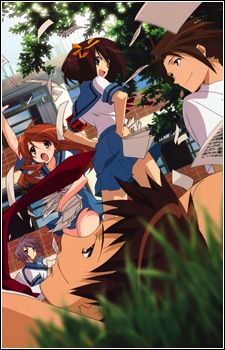 Kyon, your typical high school student, has long given up his belief in the supernatural. However, upon meeting Haruhi Suzumiya, he quickly finds out that it is the supernatural that she is interested in—aliens, time travelers, and espers among other things. When Haruhi laments about the lack of intriguing clubs around school, Kyon inspires Haruhi to form her own club. As a result, the SOS Brigade is formed, a club which specializes in all that is the supernatural.
Much to his chagrin, Kyon, along with the silent bookworm, Yuki Nagato, the shy and timid Mikuru Asahina, and the perpetually smiling Itsuki Koizumi, are recruited as members. The story follows the crazy adventures that these four endure under their whimsical leader, Haruhi. The story is based on the light novels by Nagaru Tanigawa. [Written by MAL Rewrite]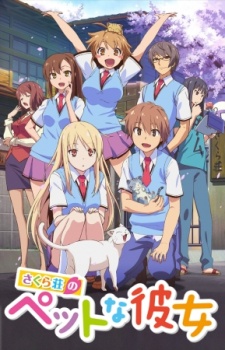 When abandoned kittens and his good conscience force second year Sorata Kanda to move into Suimei High School's infamous Sakura Hall, the satellite dorm and its eccentric, misfit residents turn his life upside down. The decidedly average Sorata finds it difficult to fit in with the bizarre collection of dorm residents like Misaki, an energetic animator; Jin, a playwright playboy; Ryuunosuke, a reclusive programmer; and Chihiro, the dorm manager, art teacher, and party girl.
Sorata's friend Nanami, a second year student and aspiring voice actress, pushes him to find new owners for the many cats so that he can quickly move back into the regular dorms. However, his desire to escape Sakura Hall wavers when the pet-like and infantile second year Mashiro Shiina, a world-class artistic savant looking to become a mangaka, transfers in during the spring trimester and quickly latches onto him.
Supported by each other's quirks, Sorata and Mashiro come out of their shells and trigger change in the lives of those around them. Based on the light novel series of the same name, Sakurasou no Pet na Kanojo explores the fine threads connecting talent, hard work, romance, and friendship with its ensemble cast. [Written by MAL Rewrite]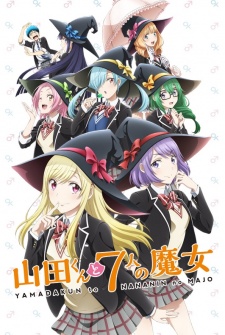 Ryuu Yamada is known as a delinquent in his high school; he has been bored of classes after one year of attending school. One day, he accidentally falls from a flight of stairs onto Urara Shiraishi, the ace student of the school. Yamada wakes up to find that he has swapped bodies with her! The two try to reverse the change and discover that kissing triggers the body swap. On the suggestion of student council vice-president Toranosuke Miyamura, they revive the Supernatural Studies Club. The club encounters other "witches" with different powers that are activated with a kiss (Source: Wikipedia)
References: Wiki, MyAnimeList, ANN