7 Anime like Sakura Quest
Sakura Quest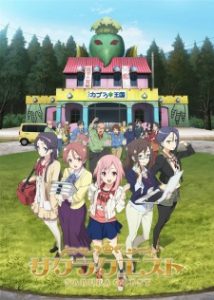 This is a list of anime recommendations of anime similar to Sakura Quest. Bear in mind that this list is in no particular order.
Shirobako
Shirobako begins with the five members of the Kaminoyama High School animation club all making a pledge to work hard on their very first amateur production and make it into a success. After showing it to an audience at a culture festival, that pledge turned into a huge dream—to move to Tokyo, get jobs in the anime industry and one day join hands to create something amazing.
Hanasaku Iroha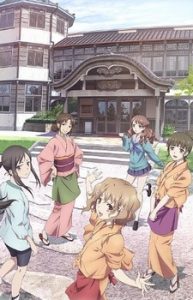 Ohana Matsumae is an energetic and wild teenager residing in Tokyo with her carefree single mother. Abruptly, her mother decides to run away with her new boyfriend from debt collectors, forcing the young girl to fend for herself—as per her mother's "rely only on yourself" philosophy—in rural Japan, where her cold grandmother runs a small inn. Driven to adapt to the tranquil lifestyle of the countryside, Ohana experiences and deals with the challenges of working as a maid, as well as meeting and making friends with enthralling people at her new school and the inn.
Locodol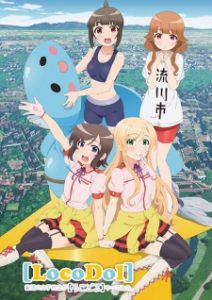 In the town of Nagarekawa, Nanako Usami, an ordinary high school girl, is approached by her uncle to become a local idol or "Locodol," partnering with upperclassman Yukari Kohinata to form the idol unit, Nagarekawa Girls. As the girls use their talent to promote Nagarekawa and their businesses, they are joined by Yui Mikoze, who acts as the local mascot, and Mirai Nazukari, who serves as Yui's substitute.
Kuma Miko: Girl Meets Bear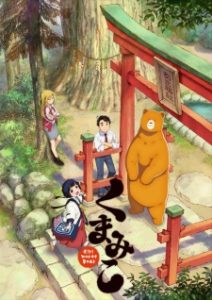 What does a bear know about life in the big city? For Machi Amayadori's sake, hopefully a lot! The young shrine maiden has spent her whole life in the rural mountains with Natsu, her talking guardian bear. Now, at fourteen, she wants to take a chance and attend high school in the big city. Can Natsu really prepare her for city life? Or will his wacky trials be too much for even Machi to bear?
Silver Spoon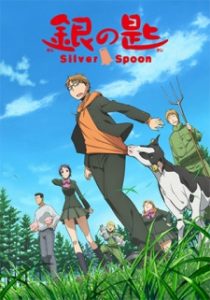 Yuugo Hachiken is studious, hard-working, and tired of trying to live up to expectations he just cannot meet. With the ushering in of a brand new school year, he decides to enrol in Ooezo Agricultural High School, a boarding school located in the Hokkaido countryside, as a means to escape from the stress brought upon by his parents.
Barakamon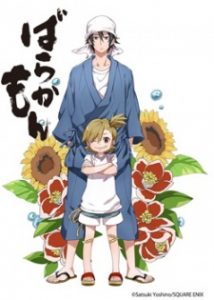 Seishuu Handa is an up-and-coming calligrapher: young, handsome, talented, and unfortunately, a narcissist to boot. When a veteran labels his award-winning piece as "unoriginal," Seishuu quickly loses his cool with severe repercussions. As punishment, and also in order to aid him in self-reflection, Seishuu's father exiles him to the Goto Islands, far from the comfortable Tokyo lifestyle the temperamental artist is used to. Now thrown into a rural setting, Seishuu must attempt to find new inspiration and develop his own unique art style—that is, if boisterous children (headed by the frisky Naru Kotoishi), fujoshi middle schoolers, and energetic old men stop barging into his house! The newest addition to the intimate and quirky Goto community only wants to get some work done, but the islands are far from the peaceful countryside he signed up for. Thanks to his wacky neighbors who are entirely incapable of minding their own business, the arrogant calligrapher learns so much more than he ever hoped to.
Amagi Brilliant Park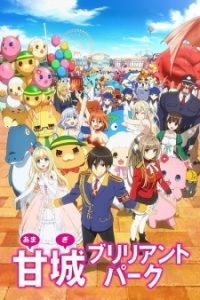 Kanie Seiya, a smart and extremely narcissistic high school student, believes that the beautiful but reserved Sento Isuzu has invited him on a date at an amusement park called Amagi Brilliant Park. Much to his chagrin, not only is the location a run-down facility, the supposed date is merely a recruitment tour where Sento and Princess Latifa Fleuranza, the owner of the theme park, ask him to become the park's new manager. Their cause for desperation? As stipulated in a land-use contract, Amagi has less than three months to meet a quota of 500,000 guests, or the park will be closed for good and the land redeveloped by a greedy real-estate company.
References: Myanimelist