7 Anime Like Sidonia Knights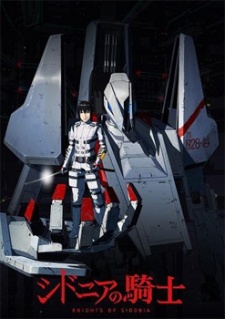 Here are some of my top picks for anime just like Sidonia Knights. The list is in no particular order. Enjoy!
At the age of 14 Shinji Ikari is summoned by his father to the city of Neo Tokyo-3 after several years of separation. There he unwillingly accepts the task of becoming the pilot of a giant robot by the name EVA01 and protect the world from the enigmatic invaders known as "angels." Even though he repeatedly questions why he has accepted this mission from his estranged and cold father, his doing so helps him to gradually accept himself. However, why exactly are the angels attacking and what are his father's true intentions are yet to be unraveled.
Macross Frontier marks the 25th anniversary of the Macross anime franchise. It is a direct sequel to the first Macross series and Macross 7 and follows the lives of Alto Saotome, Ranka Lee and a pop idol named Sheryl Nome on board the Macross Frontier colonization fleet. After the war against the Zentradi aliens, Humankind has spread across the universe in order to ensure its survival. The Macross Frontier fleet is part of a effort to spread and maintain the culture of humanity.
While fighting an intense inter-galactic war, a mecha pilot was accidentally warped into a space-time neither he nor the computer of his mecha could recognize. After waking up from a long-time hibernation, he found himself trapped on a planet, with human residents talking in an unknown form of language, using inferior technologies, and — most shocking to him — naturally breathable air.
Twenty years ago, Shokichi Komachi was part of the Bugs 2 mission to Mars that discovered Terra Formars, human-cockroach hybrids that resulted from a terraforming accident. Shokichi was one of only two survivors. Now, the AE virus that came from Mars is raging wildly on earth. Shokichi boards the spacecraft Annex 1 to go back to Mars to find a sample in order to create a vaccine. They will face an unanticipated accident, a multinational conspiracy, and even more advanced Terra Formars.
Yuji Kaido was diagnosed with a serious disease and cryogenically frozen. He wakes up more than 20 years later—and Earth is nothing like what he remembers. A race of alien bugs called the Blue have taken over the planet, and a few select humans have retreated to the space station Second Earth. Yuji is taken back to Second Earth, where he learns that he and the other sleepers will be instrumental in defeating the Blue. And his relationship with one member of the recovery squad only serves to complicate things.
Tatsumiyajima is the central island in the middle of a small cluster of islands, in a sleepy backwater of the Japanese isles. Not much happens there, and the island's young people go to school knowing that their lives are likely to remain peaceful and undisturbed. Or so they have been taught…but the truth is different. The fate of mankind is on the line, and Tatsumiyajima is the last line of defense against a hostile and incomprehensible enemy. At the center of it all, fighting for Humanity's continued existence, is the giant robot Fafner, the dragon that guards this final treasure of mankind.
In the future Japan has become a fractured country, and small towns now exist. The rulers of this world have the cursed power of Telekinesis. When an incident occurs, 5 children come to realize the world is not as it seems, and learn the bloody history behind this world. These 5 children unite and help the world as it falls into a downward spiral of chaos.
References: ANN, MyAnimeList, Wiki