8 Anime like Hajime no Ippo: New Challenger
Hajime no Ippo: New Challenger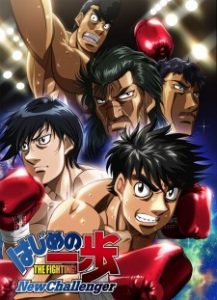 Here are my favorite picks for anime like Hajime no Ippo: New Challenger. Keep in mind the list is in no particular order. Enjoy the recommendations!
Slam Dunk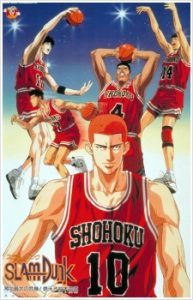 Hanamichi Sakuragi, infamous for this temper, massive height, and fire-red hair, enrolls in Shohoku High, hoping to finally get a girlfriend and break his record of being rejected 50 consecutive times in middle school. His notoriety precedes him, however, leading to him being avoided by most students. Soon, after certain events, Hanamichi is left with two unwavering thoughts: "I hate basketball," and "I desperately need a girlfriend."
Grappler Baki: Saidai Tournament-hen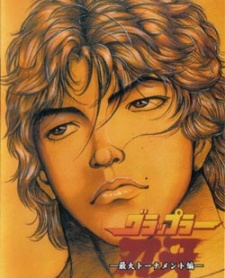 Baki, a great grappler needs to live up to his name being the son of the the greatest grapplers of all time: Hanma Yujiro. At the Shinshinkai Organization's private arena, anything goes and the odds are always stacked against you. Current champion of the urderground tournament he fight to defend his title against the worlds strongest and best martial artists, including "the beast" his own father Yujiro.
Ashita no Joe 2
It has been six months since the tragic accident in Joe and Rikiishi's fight. Joe believes he has overcomed Rikiishi's death and decides to make a comeback. Joe does make a successful comeback by scoring 5 KO's by body blows. Joe is then given a shot at the national title as a means by the boxing commission to put him down. The champion, Tiger Ozaki makes use of Joe's habits and ends up making Joe's corner throw in the towel. Joe is afraid to throw punches at the face because of what happened to Rikiishi. Youko, Joe's love interest and the owner of the gym where Rikiishi trained at recruits a world ranked boxer from Venezuela, Carlos Rivera, to get Joe back on his feet and pursue his boxing career to the regional and world ranks.
Kenichi: The Mightiest Disciple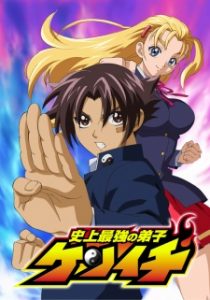 "Weak Legs" Kenichi Shirahama would rather spend his time reading self improvement books than fighting. However, when he finally works up the courage to become strong and join his school's karate club, he is coerced into fighting a bullying upperclassman who is intent on getting him kicked out of the club. He is about to give it all up until he falls for his mysterious new classmate, Miu Furinji. In order to face this challenge, he undergoes rigorous training at the dojo she lives at, Ryouzanpaku. Some initial training by the masters there allow him to defeat his upperclassman, however his fighting prowess brings him to the attention of the powerful gang of delinquents, Ragnarok. Wishing to protect the things he loves and determined to have the strength to face the increasing adversity, he must learn various martial arts from the dojo's resident masters, taking Karate, Muay Thai, Ju Jitsu and Chinese Martial Arts and combining them to create his own fighting style!
Full Metal Panic!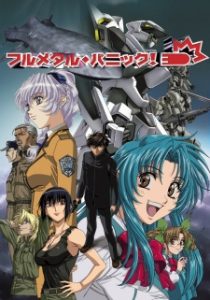 Equipped with cutting-edge weaponry and specialized troops, a private military organization named Mithril strives to extinguish the world's terrorism and all threats to peace on earth. The organization is powered by the "Whispered," individuals who possess intuitive knowledge and the remarkable ability to create powerful devices and machinery.
Eyeshield 21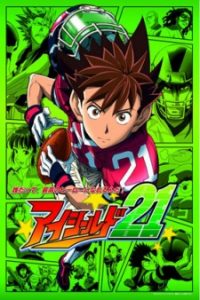 Sena is like any other shy kid starting high school; he's just trying to survive. Constantly bullied, he's accustomed to running away. Surviving high school is about to become a lot more difficult after Hiruma, captain of the school's American football team, witnesses Sena's incredible agility and speed during an escape from some bullies. Hiruma schemes to make Sena the running back of his school team, The Devil Bats, hoping that it will turn around the squad's fortunes from being the laughingstock of Japan's high school leagues, to title contender.
Rainbow: Nisha Rokubou no Shichinin
Japan, 1955: Mario Minakami has just arrived at Shounan Special Reform School along with six other teenagers who have been arrested on serious criminal charges. All assigned to the same cell, they meet older inmate Rokurouta Sakuragi—a former boxer—with whom they establish a close bond. Under his guidance, and with the promise that they will meet again on the outside after serving their sentences, the delinquents begin to view their hopeless situation in a better light.
Souten Kouro
Souten Kouro's story is based loosely on the events taking place in Three Kingdoms period of China during the life of the last Chancellor of the Eastern Han Dynasty, Cao Cao (155 – March 15, 220), who also serves as the main character. The Three Kingdoms period has been a popular theme in Japanese manga for decades, but Souten Kouro differs greatly from most of the others on several points. One significant difference is its highly positive portrayal of its main character, Cao Cao, who is traditionally the antagonist in not only Japanese manga, but also most novel versions of the Three Kingdoms period, including the original 14th century version, Romance of the Three Kingdoms by Luo Guanzhong. Another significant difference from others is that the storyline primarily uses the original historical account of the era, Records of Three Kingdoms by Chen Shou, as a reference rather than the aforementioned Romance of the Three Kingdoms novel. By this, the traditional hero of Romance of the Three Kingdoms, Liu Bei, takes on relatively less importance within the story and is portrayed in a less positive light. Yet, several aspects of the story are in fact based on the novel version, including the employment of its original characters such as Diao Chan, as well as anachronistic weapons such as Guan Yu's Green Dragon Crescent Blade and Zhang Fei's Viper Blade.
References: Myanimelist