8 Similar Anime Like Blood Blockade Battlefront & Beyond
Blood Blockade Battlefront & Beyond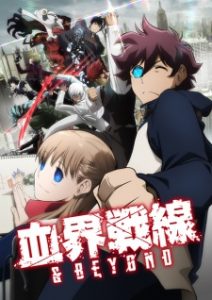 Here are my favorite picks for anime like Blood Blockade Battlefront & Beyond. Keep in mind the list is in no particular order. Enjoy!
One Punch Man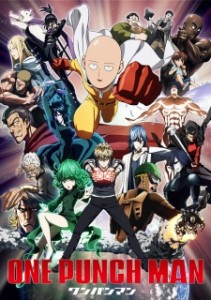 The seemingly ordinary and unimpressive Saitama has a rather unique hobby: being a hero. In order to pursue his childhood dream, he trained relentlessly for three years—and lost all of his hair in the process. Now, Saitama is incredibly powerful, so much so that no enemy is able to defeat him in battle. In fact, all it takes to defeat evildoers with just one punch has led to an unexpected problem—he is no longer able to enjoy the thrill of battling and has become quite bored.
Is It Wrong to Try to Pick Up Girls in a Dungeon?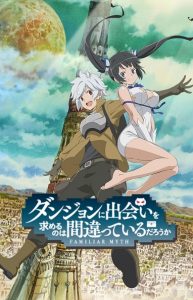 Life in the bustling city of Orario is never dull, especially for Bell Cranel, a naïve young man who hopes to become the greatest adventurer in the land. After a chance encounter with the lonely goddess, Hestia, his dreams become a little closer to reality. With her support, Bell embarks on a fantastic quest as he ventures deep within the city's monster-filled catacombs, known only as the "Dungeon." Death lurks around every corner in the cavernous depths of this terrifying labyrinth, and a mysterious power moves amidst the shadows.
Durarara!!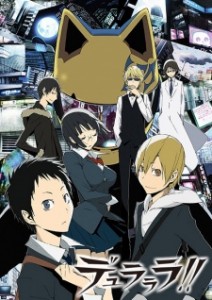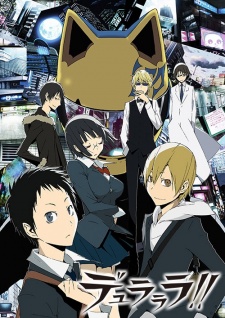 In Tokyo's downtown district of Ikebukuro, amidst many strange rumors and warnings of anonymous gangs and dangerous occupants, one urban legend stands out above the rest—the existence of a headless "Black Rider" who is said to be seen driving a jet-black motorcycle through the city streets.
Mikado Ryuugamine has always longed for the excitement of the city life, and an invitation from a childhood friend convinces him to move to Tokyo. Witnessing the Black Rider on his first day in the city, his wishes already seem to have been granted. But as supernatural events begin to occur, ordinary citizens like himself, along with Ikebukuro's most colorful inhabitants, are mixed up in the commotion breaking out in their city.
Bungou Stray Dogs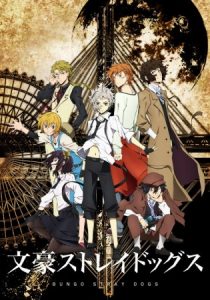 For weeks, Atsushi Nakajima's orphanage has been plagued by a mystical tiger that only he seems to be aware of. Suspected to be behind the strange incidents, the 18-year-old is abruptly kicked out of the orphanage and left hungry, homeless, and wandering through the city.
While starving on a riverbank, Atsushi saves a rather eccentric man named Osamu Dazai from drowning. Whimsical suicide enthusiast and supernatural detective, Dazai has been investigating the same tiger that has been terrorizing the boy. Together with Dazai's partner Doppo Kunikida, they solve the mystery, but its resolution leaves Atsushi in a tight spot. As various odd events take place, Atsushi is coerced into joining their firm of supernatural investigators, taking on unusual cases the police cannot handle, alongside his numerous enigmatic co-workers.
Darker than Black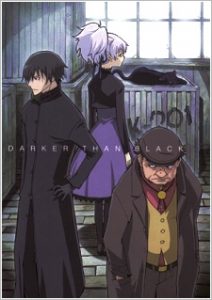 It has been 10 years since Heaven's Gate appeared in South America and Hell's Gate appeared in Japan, veiling the once familiar night sky with an oppressive skyscape. Their purposes unknown, these Gates are spaces in which the very laws of physics are ignored. With the appearance of the Gates emerged Contractors, who, in exchange for their humanity, are granted supernatural abilities.
Hamatora The Animation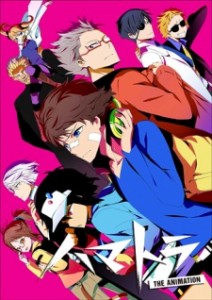 The ability to create miracles is not just a supernatural phenomenon; it is a gift which manifests in a limited number of human beings. "Minimum," or small miracles, are special powers that only selected people called "Minimum Holders" possess. The detective agency Yokohama Troubleshooting, or Hamatora for short, is composed of the "Minimum Holder PI Duo," Nice and Murasaki. Their office is a lone table at Cafe Nowhere, where the pair and their coworkers await new clients.
Suddenly, the jobs that they begin to receive seem to have strange connections to the serial killer whom their friend Art, a police officer, is searching for. The murder victims share a single similarity: they are all Minimum Holders. Nice and Murasaki, as holders themselves, are drawn to the case—but what exactly is the link between Nice and the one who orchestrates it all?
Bungo Stray Dogs 2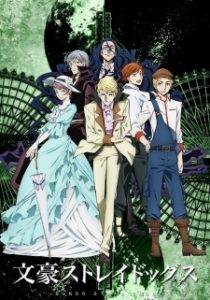 Despite their differences in position, three men—the youngest senior executive of the Port Mafia, Osamu Dazai, the lowest ranking member, Sakunosuke Oda, and the intelligence agent, Angou Sakaguchi—gather at the Lupin Bar at the end of the day to relax and take delight in the company of friends.
However, one night, Angou disappears. A photograph taken at the bar is all that is left of the three together.
Gintama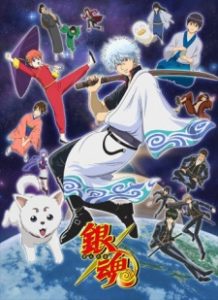 The Amanto, aliens from outer space, have invaded Earth and taken over feudal Japan. As a result, a prohibition on swords has been established, and the samurai of Japan are treated with disregard as a consequence.
However one man, Gintoki Sakata, still possesses the heart of the samurai, although from his love of sweets and work as a yorozuya, one might not expect it. Accompanying him in his jack-of-all-trades line of work are Shinpachi Shimura, a boy with glasses and a strong heart, Kagura with her umbrella and seemingly bottomless stomach, as well as Sadaharu, their oversized pet dog. Of course, these odd jobs are not always simple, as they frequently have run-ins with the police, ragtag rebels, and assassins, oftentimes leading to humorous but unfortunate consequences.
References: Myanimelist