8 Similar Anime Like Chio's School Road
Chio's School Road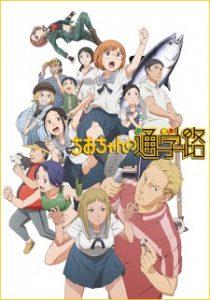 Here are my favorite picks for anime like Chio's School Road. Keep in mind the list is in no particular order. Enjoy!
Daily Lives of High School Boys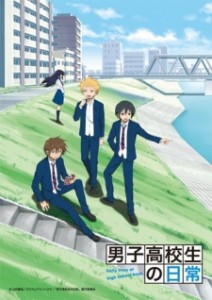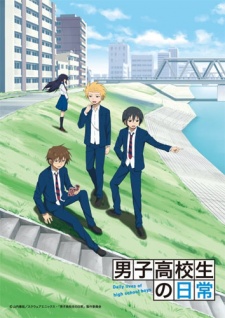 Roaming the halls of the all-boys Sanada North High School are three close comrades: the eccentric ringleader with a hyperactive imagination Hidenori, the passionate Yoshitake, and the rational and prudent Tadakuni. Their lives are filled with giant robots, true love, and intense drama… in their colorful imaginations, at least. In reality, they are just an everyday trio of ordinary guys trying to pass the time, but who said everyday life couldn't be interesting? Whether it's an intricate RPG reenactment or an unexpected romantic encounter on the riverbank at sunset, Danshi Koukousei no Nichijou is rife with bizarre yet hilariously relatable situations that are anything but mundane.
Nichijou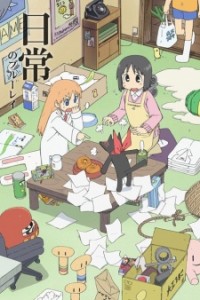 Nichijou primarily focuses on the daily antics of a trio of childhood friends—high school girls Mio Naganohara, Yuuko Aioi and Mai Minakami—whose stories soon intertwine with the young genius Hakase Shinonome, her robot caretaker Nano, and their talking cat Sakamoto. With every passing day, the lives of these six, as well as of the many people around them, experience both the calms of normal life and the insanity of the absurd. Walking to school, being bitten by a talking crow, spending time with friends, and watching the principal suplex a deer: they are all in a day's work in the extraordinary everyday lives of those in Nichijou.
No Matter How I Look at It, It's You Guys' Fault I'm Not Popular!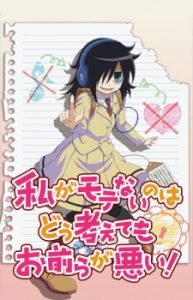 After living 50 simulated high school lives and dating over 100 virtual boys, Tomoko Kuroki believes that she is ready to conquer her first year of high school. Little does she know that she is much less prepared than she would like to think. In reality, Tomoko is an introverted and awkward young girl, and she herself is the only one who doesn't realize it! With the help of her best friend, Yuu Naruse, and the support and love of her brother Tomoki, Tomoko attempts to brave the new world of high school life.
Asobi Asobase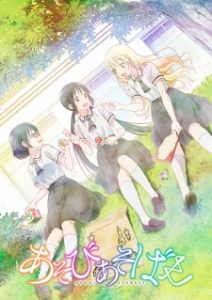 Hanako, an athletically proficient, yet thick-headed student with a weird fashion sense, plays a game with the American transfer student Olivia. However, their vigor irritated their classmate Kasumi who dislikes playing games since she has always been teased by her sister for being bad at them. With a turn of events, it was found out that Kasumi is terrible at English. Thus, she asked her foreign classmate Olivia to help her, but Olivia, who is only born and raised in Japan with foreign parents, can't actually speak English at all! Watch over these three girls' surreal school-life comedy.
Hinamatsuri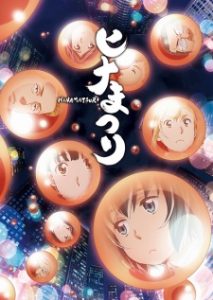 One night, a strange object falls on the head of Nitta, a member of the yakuza. Inside the box is a strange young girl named Hina. She has tremendous supernatural powers, and Nitta finds himself reluctantly taking her in. Her powers can come in handy for his yakuza business, but he also runs the risk of her using them on him! Not to mention, if she doesn't use her powers, she will eventually go berserk and destroy everything around her. Nitta and Hina's strange life together is just beginning…
High Score Girl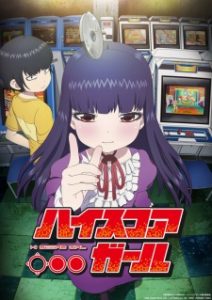 The year is 1991 and 6th grader Yaguchi Haruo only has video games to live for. He's not popular in school and he's neither handsome, funny, nice nor even friendly. The only thing he has going for him is that he is good at video games. One day at the local arcade, he plays Oono Akira, a fellow classmate but who's popular, smart, pretty and a rich girl that absolutely destroys him at Street Fighter II. Not only does he lose to her 30 times in a row, he can't beat her at any game. Haruo can't seem to shake Akira off as she follows him from arcade to arcade everyday after school and beats him every time. As weird as it sounds, the odd couple begins a strange bond and friendship.
Gintama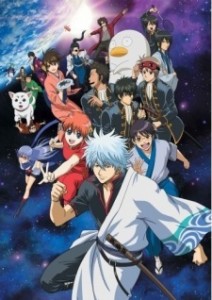 The Amanto, aliens from outer space, have invaded Earth and taken over feudal Japan. As a result, a prohibition on swords has been established, and the samurai of Japan are treated with disregard as a consequence.
However one man, Gintoki Sakata, still possesses the heart of the samurai, although from his love of sweets and work as a yorozuya, one might not expect it. Accompanying him in his jack-of-all-trades line of work are Shinpachi Shimura, a boy with glasses and a strong heart, Kagura with her umbrella and seemingly bottomless stomach, as well as Sadaharu, their oversized pet dog. Of course, these odd jobs are not always simple, as they frequently have run-ins with the police, ragtag rebels, and assassins, oftentimes leading to humorous but unfortunate consequences.
The Disastrous Life of Saiki K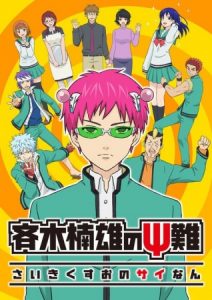 To the average person, psychic abilities might seem a blessing; for Kusuo Saiki, however, this couldn't be further from the truth. Gifted with a wide assortment of supernatural abilities ranging from telepathy to x-ray vision, he finds this so-called blessing to be nothing but a curse. As all the inconveniences his powers cause constantly pile up, all Kusuo aims for is an ordinary, hassle-free life—a life where ignorance is bliss.
Unfortunately, the life of a psychic is far from quiet. Though Kusuo tries to stay out of the spotlight by keeping his powers a secret from his classmates, he ends up inadvertently attracting the attention of many odd characters, such as the empty-headed Riki Nendou and the delusional Shun Kaidou. Forced to deal with the craziness of the people around him, Kusuo comes to learn that the ordinary life he has been striving for is a lot more difficult to achieve than expected.
References: Myanimelist