88 Things To Do When You Are Bored At Home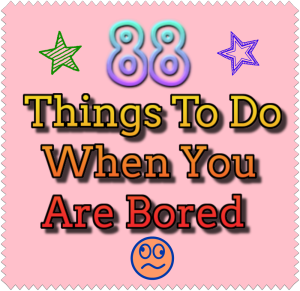 Boredom is deemed as one of the greatest enemies of happiness. Fortunately, boredom can be easily conquered. You just need to widen your imagination so that you can think of things that will help you fight boredom. Below is a list of the 88 things to do when you are bored at home.
1. Read about ghost stories and urban legends.
2. Play with your pet.
3. Create a free blog on Blogger and WordPress and write all your weird thoughts.
4. Read a book about the country that you are interested with.
5. Try to play darts in your room.
6. Study how to moonwalk.
7. Turn the TV upside down then watch it.
8. Think about the origin of humans.
9. Write a story or poem that can represent your thoughts.
10. Go to the kitchen and cook your favorite meals.
11. Watch a movie that will either make you laugh or cry.
12. Count how much you already spent and how much you saved for the month.
13. List the things that you like about your friends and email it to them.
14. Prank people on the phone.
15. Pick a language that is unfamiliar to you then look for books in the internet that will help you learn it.
16. Chew a bubblegum, put it in your hair then try to remove a hair strand.
17. Listen to your favorite songs.
18. Watch your favorite TV shows and be a coach-potato for that day.
19. Read the newspaper.
20. Play chess by yourself and learn how to defeat your own strategy.
21. Exercise in your room doing stretching exercises and some jumping jacks.
22. Learn how to sew by creating simple patterns in a white cloth.
23. Write a book about your journeys in life.
24. Try to answer crossword puzzles in the newspaper.
25. Call some of your friends that you have not seen for over a month.
26. Clean your house and backyard.
27. Play some music instruments.
28. Try to compose your own songs.
29. Call your friends and invite them in your house for dinner.
30. Re-arrange the equipment and furniture in your house.
31. Look for family photos and yearbooks then be nostalgic about the old days.
32. Make a fruit juice for yourself.
33. Organize your files in your computer.
34. Get old magazine pictures and make a collage through the pictures.
35. Make a funny YouTube video for your family and friends.
36. List down the things that you want to accomplish before you die.
37. List all your achievements and be proud of yourself.
38. Wash your clothes.
39. Try to draw your own picture.
40. Post the pictures of your old books and sell the books online.
41. Create a letter for your parents.
42. Search the latest fashion trends in the internet.
43. Chat online with you friends abroad.
44. List down the things that you need to buy in the grocery store.
45. Take a selfie.
46. Make a scrap book for yourself.
47. Have a cup of coffee near your window and just look at the environment outside your house.
48. Write an essay about how bored you are at home.
49. Study your lessons in school.
50. Act like a dog.
51. Meditate or pray.
52. Have a bubble bath.
53. Massage yourself.
54. Play songs and dance.
55. Do online shopping.
56. Put some makeup on your face and try to look like your favorite celebrity.
57. Call all your friends and invite them for a house party.
58. Learn how to do origami.
59. Draw some faces on your fingers and try to talk with them.
60. Wait for the sunset and watch it from your window.
61. Visit your favorite social networking sites.
62. Think about what you will do on your next vacation.
63. Have your own time capsule.
64. Look for weird facts online.
65. Play video games.
66. Sleep in your room.
67. Go outside at night and watch the stars.
68. Think about your goals in life and how you will achieve those.
69. Decorate your house.
70. Play with your old toys.
71. Plant a tree in your backyard.
72. Take an IQ test online.
73. Research for online jobs.
74. Build a tent in your room and pretend that you are in a camping site.
75. Try to hypnotize yourself through the mirror.
76. Wash your car.
77. Cross-dress and laugh at yourself.
78. Do everything you can to kiss your elbows.
79. Study how to juggle objects.
80. Find the meaning of your name in other countries.
81. Study how to do magic tricks.
82. Gather information about treasure maps.
83. Go to your room and organize your clothes properly.
84. Search about your family tree.
85. Think of businesses that you can start at home.
86. Look at the sky and try to imagine objects through the cloud's shape.
87. Pick some flowers in your garden and place those in a vase.
88. Simply walk in your house or in the neighborhood and be amazed by how peaceful your mind will be after doing this.