9 Anime Like Shimoneta to Iu Gainen ga Sonzai Shinai Taikutsu na Sekai
Here are my top picks for anime Like SHIMONETA: A Boring World Where the Concept of Dirty Jokes Doesn't Exist. Man, this is the longest name of an anime I have ever seen. Anyways, the list is in no particular order. Enjoy!
Takatoshi is a new student in a recently gender-integrated high school, and is asked to join the student council as the vice president. Thus begins his days as the only normal boy among 3 female student council officers.
A company of ghosts has moved into Daten City, taking advantage of human greed. Two angels, Panty and Stocking, are sent from heaven to exterminate them—but in reality they got kicked out for bad behavior.
Ryuuko Matoi carries a large weapon shaped like half of a pair of scissors. She's looking for the woman with the other half, who killed her father. Satsuki Kiryuuin, student council president of Honnouji Academy, is said to know the woman's identity, so Ryuuko transfers there. Those who arrive at the school receive a special "goku uniform", and Satsuki has used that power to rule the school in fear.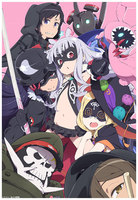 Junior High student Jimon Asuta is in a fix. He had a big fight with his dad and was kicked out of the house. With no money and no place to live he shares the last of the food with an unusual little girl he encounters. It turns out she is Venera the Great, the leader of the secret organization Zvezda and committed to conquering the world. At first he thinks it is just a little girl's fantasy, but strange events with weird technology soon prove that Zvezda is, in fact, for real.
High school freshman Hayato Izumi lost the campaign for student council president to Ui Wakana, a girl who shocked the entire student body by promising "will remove all restrictions on campus romance" and gave away free condoms. Later that day Wakana the president-elect brought her belongings to Izumi's residence and claimed herself his betrothed fiancée.
There was a time when the Hachimitsu Private Academy was a revered and elite all-girls' boarding school on the outskirts of Tokyo but a recent policy revision is allowing boys into the student body. On his first day, Kiyoshi Fujino discovers that he's one of only five boys enrolled at the school. Completely overwhelmed by the thousands of girls on campus, the few boys find that their situation is less than ideal.
In a slightly different timeline than ours, the explosion of information and misinformation came to be considered a direct threat to society. In a daring decision, it was decided to create a new government agency dedicated solely to information management. Some thirty years later, in 2019, the government still monitors and controls information, suppressing anything they find undesirable, but standing against their abuses of power are the libraries, with their special agents called 'the book soldiers.'
Ebichu is the story of a talking hamster, her owner (a single office lady), and the good-for-nothing boyfriend she spends every other night with.
Yamada, first name withheld, is a 15-year-old girl who has just entered Takizawa High School. Easily considered exceptionally beautiful, she has only one problem with her own body, she thinks her vagina looks weird and is very self-conscious about it.
Upon entering high school, her dream was to have casual sex with 100 men but therein lies the problem, she believes an experienced partner will tease her about the way her vagina looks or simply the fact that she's a virgin. She stumbles upon the solution in the form of Kosuda Takashi, a fellow virgin, whom she believes will help ease the transition to more experienced partners. There's only one small problem, Yamada doesn't know anything about sex or the ancient art of seduction, meaning her quest to conquer Kosuda will be a difficult one.
References: MyAnimeList, ANN, Wiki