9 Similar Anime Like Golden Kamuy
Golden Kamuy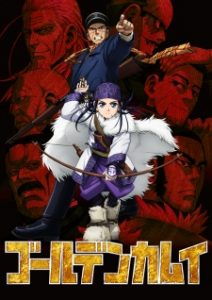 Here are my favorite picks for anime like Golden Kamuy. Keep in mind the list is in no particular order. Enjoy!
Drifters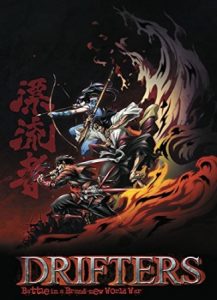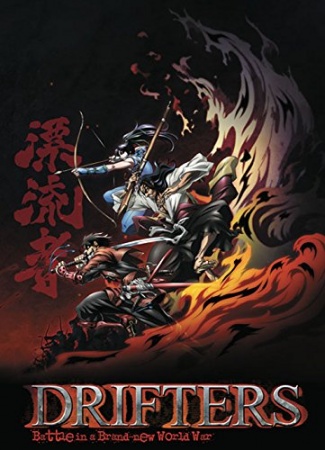 At the Battle of Sekigahara in 1600, Toyohisa Shimazu is the rearguard for his retreating troops, and is critically wounded when he suddenly finds himself in a modern, gleaming white hallway. Faced with only a stoic man named Murasaki and hundreds of doors on both sides, Toyohisa is pulled into the nearest door and into a world completely unlike his own.
The strange land is populated by all manner of fantastical creatures, as well as warriors from different eras of Toyohisa's world who were thought to be dead. Quickly befriending the infamous warlord Nobunaga Oda and the ancient archer Yoichi Suketaka Nasu, Toyohisa learns of the political unrest tearing through the continent. Furthermore, they have been summoned as "Drifters" to fight against the "Ends," people who are responsible for the creation of the Orte Empire and are trying to annihilate the Drifters. As the Ends grow more powerful, so does the Empire's persecution of elves and other demihumans. It is up to Toyohisa and his group of unconventional heroes to battle in a brand-new world war to help the Empire's subjects, while protecting the land to claim for themselves and challenging the Ends.
Katanagatari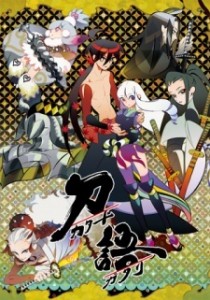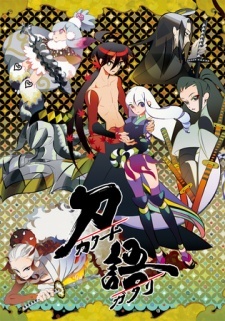 In an Edo-era Japan lush with a variety of sword-fighting styles, Shichika Yasuri practices the most unique one: Kyotouryuu, a technique in which the user's own body is wielded as a blade. The enigmatic seventh head of the Kyotouryuu school, Shichika lives quietly in exile with his sister Nanami until one day—the wildly ambitious strategist Togame barges into their lives.
Togame brazenly requests that Shichika help in her mission to collect twelve unique swords, known as the "Deviant Blades," for the shogunate. Shichika accepts, interested in the girl herself rather than petty politics, and thus sets out on a journey. Standing in their way are the fierce wielders of these legendary weapons as well as other power-hungry entities who seek to thwart Togame's objective. In order to prevail against their enemies, the duo must become an unbreakable team as they forge ahead on a path of uncertainty and peril.
Sword of the Stranger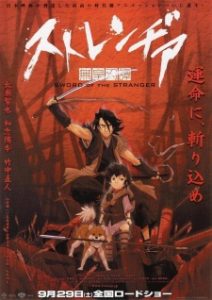 In the Sengoku period of Japan, a young orphan named Kotarou and his dog Tobimaru steal from unsuspecting villagers in order to make ends meet. However, Kotarou is forced to remain on the run when he finds himself being hunted down by assassins sent by China's Ming Dynasty for mysterious reasons not involving his petty crimes.
Fortunately, the duo run into Nanashi, a ronin who has taken refuge in a small temple, when Kotarou is attacked and Tobimaru poisoned. Although the samurai saves the helpless pair from their pursuers, he feels that there is no need to help them further; but when offered a gem in exchange for his services as a bodyguard, he reluctantly accepts Kotarou's offer of employment—just until Tobimaru is healed and the two reach their destination. As the three set out on a perilous journey, it soon becomes evident that their path is riddled with danger, as the Ming Dynasty has now sent a terrifying swordsman after them to capture Kotarou and fulfill a certain prophecy.
Hellsing Ultimate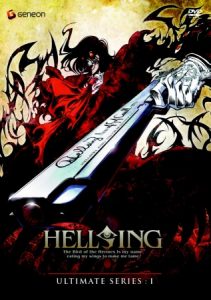 There exist creatures of darkness and evil that plague the night, devouring any human unfortunate enough to be caught in their grasp. On the other side is Hellsing, an organization dedicated to destroying these supernatural forces that threaten the very existence of humanity. At its head is Integra Fairbrook Wingates Hellsing, who commands a powerful military and spends her life fighting the undead.
Integra's vast army, however, pales in comparison with her ultimate weapon: the vampire Alucard, who works against his own kind as an exterminator for Hellsing. With his new vampire servant, Seras Victoria, at his side, Alucard must battle not only monsters, but all those who stand to oppose Hellsing, be they in the guise of good or evil.
JoJo's Bizarre Adventure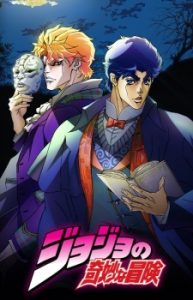 In 1868, Dario Brando saves the life of an English nobleman, George Joestar. By taking in Dario's son Dio when the boy becomes fatherless, George hopes to repay the debt he owes to his savior. However Dio, unsatisfied with his station in life, aspires to seize the Joestar house for his own. Wielding an Aztec stone mask with supernatural properties, he sets out to destroy George and his son, Jonathan "JoJo" Joestar, and triggers a chain of events that will continue to echo through the years to come.
Half a century later, in New York City, Jonathan's grandson Joseph Joestar discovers the legacy his grandfather left for him. When an archeological dig unearths the truth behind the stone mask, he realizes that he is the only one who can defeat the Pillar Men, mystical beings of immeasurable power who inadvertently began everything.
Treasure Island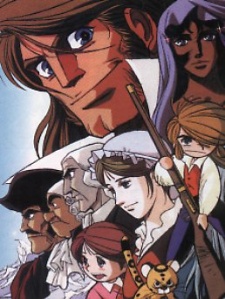 Jim Hawkins is a young boy lead by progressive events to embark on a search journey for the legendary treasure of the once dreaded pirate, Captain Flint. On their way to Treasure Island, John Silver, Jim's best friend, take over command of the ship revealing his true self as the ruthless pirate who once was the right hand of Flint himself. Feeling betrayed, Jim now has to deal with his mixed feelings and face Silver who still consider himself and Jim as friends.
Fullmetal Alchemist: Brotherhood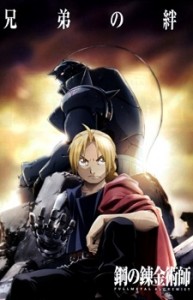 Alchemy is bound by this Law of Equivalent Exchange—something the young brothers Edward and Alphonse Elric only realize after attempting human transmutation: the one forbidden act of alchemy. They pay a terrible price for their transgression—Edward loses his left leg, Alphonse his physical body. It is only by the desperate sacrifice of Edward's right arm that he is able to affix Alphonse's soul to a suit of armor. Devastated and alone, it is the hope that they would both eventually return to their original bodies that gives Edward the inspiration to obtain metal limbs called "automail" and become a state alchemist, the Fullmetal Alchemist.
Three years of searching later, the brothers seek the Philosopher's Stone, a mythical relic that allows an alchemist to overcome the Law of Equivalent Exchange. Even with military allies Colonel Roy Mustang, Lieutenant Riza Hawkeye, and Lieutenant Colonel Maes Hughes on their side, the brothers find themselves caught up in a nationwide conspiracy that leads them not only to the true nature of the elusive Philosopher's Stone, but their country's murky history as well. In between finding a serial killer and racing against time, Edward and Alphonse must ask themselves if what they are doing will make them human again… or take away their humanity.
Gintama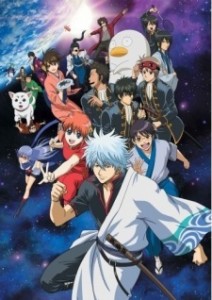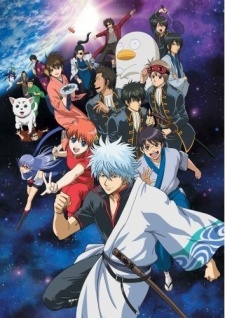 The Amanto, aliens from outer space, have invaded Earth and taken over feudal Japan. As a result, a prohibition on swords has been established, and the samurai of Japan are treated with disregard as a consequence.
However one man, Gintoki Sakata, still possesses the heart of the samurai, although from his love of sweets and work as a yorozuya, one might not expect it. Accompanying him in his jack-of-all-trades line of work are Shinpachi Shimura, a boy with glasses and a strong heart, Kagura with her umbrella and seemingly bottomless stomach, as well as Sadaharu, their oversized pet dog. Of course, these odd jobs are not always simple, as they frequently have run-ins with the police, ragtag rebels, and assassins, oftentimes leading to humorous but unfortunate consequences.
Michiko & Hatchin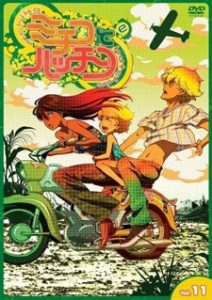 Under the unrelenting heat of the South American sun, hardened criminal Michiko Malandro breaks out of a high security prison for the fourth time in search of a man from her past. Michiko finds a clue in the form of Hana Morenos, a young girl trapped under the fists of her abusive foster family. In her powerlessness, Hana fantasizes about the day when she is finally whisked away from her captors by her very own Prince Charming. Little does she know that her fated prince would turn out to be the buxom and husky convict who charges in atop a stolen motorbike, claiming to be her mother.
References: Myanimelist