9 Similar Anime Like Hanebado!
Hanebado!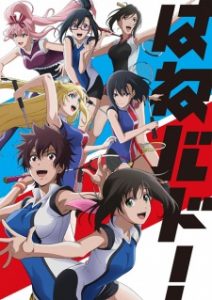 Here are my favorite picks for anime like Hanebado! Keep in mind the list is in no particular order. Enjoy!
Haikyuu!!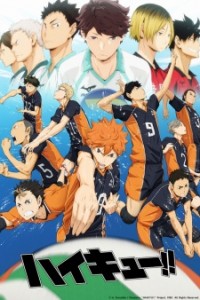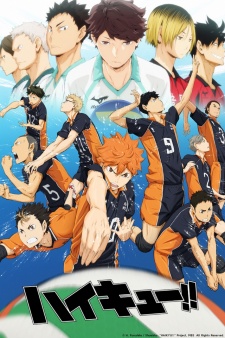 Inspired after watching a volleyball ace nicknamed "Little Giant" in action, small-statured Shouyou Hinata revives the volleyball club at his middle school. The newly-formed team even makes it to a tournament; however, their first match turns out to be their last when they are brutally squashed by the "King of the Court," Tobio Kageyama. Hinata vows to surpass Kageyama, and so after graduating from middle school, he joins Karasuno High School's volleyball team—only to find that his sworn rival, Kageyama, is now his teammate.
Thanks to his short height, Hinata struggles to find his role on the team, even with his superior jumping power. Surprisingly, Kageyama has his own problems that only Hinata can help with, and learning to work together appears to be the only way for the team to be successful. Based on Haruichi Furudate's popular shounen manga of the same name, Haikyuu!! is an exhilarating and emotional sports comedy following two determined athletes as they attempt to patch a heated rivalry in order to make their high school volleyball team the best in Japan.
A Place Further than the Universe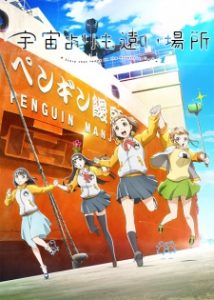 Filled with an overwhelming sense of wonder for the world around her, Mari Tamaki has always dreamt of what lies beyond the reaches of the universe. However, despite harboring such large aspirations on the inside, her fear of the unknown and anxiety over her own possible limitations have always held her back from chasing them. But now, in her second year of high school, Mari is more determined than ever to not let any more of her youth go to waste. Still, her fear continues to prevent her from taking that ambitious step forward—that is, until she has a chance encounter with a girl who has grand dreams of her own.
Spurred by her mother's disappearance, Shirase Kobuchizawa has been working hard to fund her trip to Antarctica. Despite facing doubt and ridicule from virtually everyone, Shirase is determined to embark on this expedition to search for her mother in a place further than the universe itself. Inspired by Shirase's resolve, Mari jumps at the chance to join her. Soon, their efforts attract the attention of the bubbly Hinata Miyake, who is eager to stand out, and Yuzuki Shiraishi, a polite girl from a high class background. Together, they set sail toward the frozen south.
Free!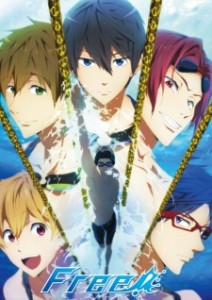 Haruka Nanase has a love for water and a passion for swimming. In elementary school, he competed in and won a relay race with his three friends Rin Matsuoka, Nagisa Hazuki, and Makoto Tachibana. After claiming victory at the tournament, the four friends went their separate ways. Years later, they reunite as high school students; however, Rin couldn't care less about returning to the way things used to be. Not only does he attend a different school, but the sole thing important to him is proving that he is a better swimmer than Haruka.
After the bitter reunion, Haruka, Nagisa, and Makoto decide to form the Iwatobi High School Swim Club, but they will need a fourth member if they hope to take part in the upcoming tournament. Enter Rei Ryuugazaki, a former member of the track team whom Nagisa recruits. As the time to compete draws near, the four develop a close bond while training intensely to come out on top and settle things between Haruka and Rin once and for all.
Harukana Receive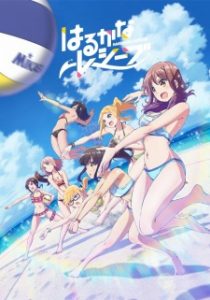 The story takes place in Okinawa, where Haruka forms a beach volleyball pair with Kanata. Kanata, who couldn't handle the pressure put on her by her short height, had given up on beach volleyball already but is convinced by Haruka to step back on the sand once again and aim for the junior tournament.
Prince of Stride Alternative

"Stride"—an extreme sport that combines parkour, free running, relay, and sprinting—is what made first year high school student Nana Sakurai enroll in Honan Academy, after being captivated by the school's stride team. Sharing the mutual intention of joining the team is fellow first year and stride maniac, Takeru Fujiwara, and together they request to join. Much to their dismay, however, the stride club is no longer active due to lack of members, and they are now operating under the shogi club.
In order to revive the stride club, Nana and Takeru recruit first year Riku Yagami—a fast runner who is interested in almost every sport. With this new team, the club now aims high at a new goal: to win the prestigious End of Summer competition, and bring the Honan stride team back to their prime.
Ping Pong The Animation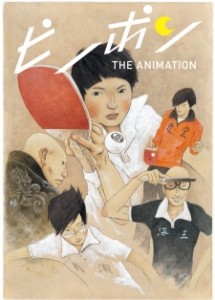 "The hero comes. The hero comes. The hero comes. Chant these words in your mind, and I'll surely come to you…" This mantra is what Makoto Tsukimoto repeats as a source of motivation when he fights through the stress of not only grueling ping pong matches, but also in situations of his life. Makoto doesn't fight alone; he and his friend, Yukata Hoshino, nicknamed Smile and Peco respectively, are two boys who have grown up playing ping pong together nearly every day. Peco, brimming with confidence, aims to be the best table tennis player in the world; Smile, on the other hand, shows little ambition. Nevertheless, the two have always stuck together, with a bond built upon their mutual love for this sport.
Every year, students from all across Japan gather for the inter-high table tennis competition to achieve national and international stardom. Through intense training and competition, only the very best persevere.
Scorching Ping Pong Girls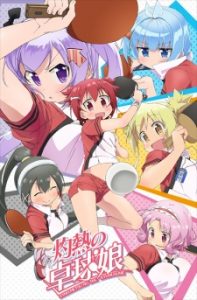 The world of middle school girls' ping pong enters an age of heated rivalry as the throne at its apex is surrendered…
Tsumujikaze Koyori, a girl who loves ping pong, has just transferred to Suzumegahara Middle School. Along with her friends who strive to be the national champions, can Koyori bring the winds of change to the school?! The curtain is about to rise on a scorching hot tale of girls who love ping pong!
Sound! Euphonium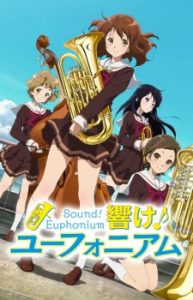 After swearing off music due to an incident at the middle school regional concert band competition, euphonist Kumiko Oumae enters high school hoping for a fresh start. As fate would have it, she ends up being surrounded by people with an interest in the high school brass band. Kumiko finds the motivation she needs to make music once more with the help of her bandmates, some of whom are new like novice tubist Hazuki Katou; veteran contrabassist Sapphire Kawashima; and band vice president and fellow euphonist Asuka Tanaka. Others are old friends, like Kumiko's childhood friend and hornist-turned-trombonist Shuuichi Tsukamoto, and trumpeter and bandmate from middle school, Reina Kousaka.
Baby Steps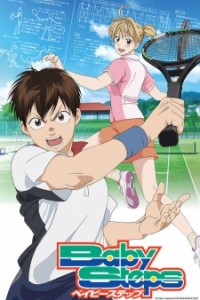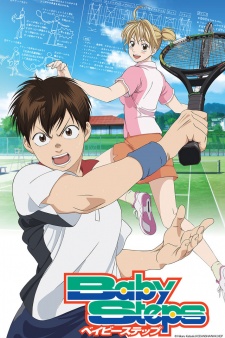 Diligent and methodical honor student Eiichirou Maruo decides to exercise more during the little free time he has available because he is worried about his health. For this reason, after seeing a flyer, he joins the Southern Tennis Club at the beginning of his freshman year.
References: Myanimelist