9 Similar Anime Like Megalo Box
Megalo Box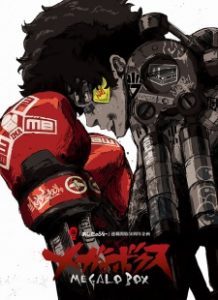 Here are my favorite picks for anime like Megalo Box. Keep in mind the list is in no particular order. Enjoy!
Samurai Champloo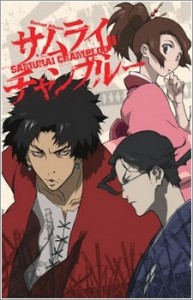 Fuu Kasumi is a young and clumsy waitress who spends her days peacefully working in a small teahouse. That is, until she accidentally spills a drink all over one of her customers! With a group of samurai now incessantly harassing her, Fuu desperately calls upon another samurai in the shop, Mugen, who quickly defeats them with his wild fighting technique, utilizing movements reminiscent to that of breakdancing. Unfortunately, Mugen decides to pick a fight with the unwilling ronin Jin, who wields a more precise and traditional style of swordfighting, and the latter proves to be a formidable opponent. The only problem is, they end up destroying the entire shop as well as accidentally killing the local magistrate's son.
Cowboy Bebop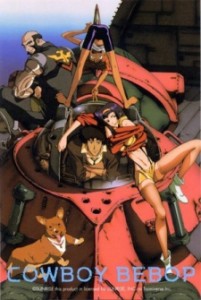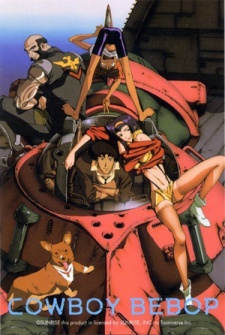 In the year 2071, humanity has colonized several of the planets and moons of the solar system leaving the now uninhabitable surface of planet Earth behind. The Inter Solar System Police attempts to keep peace in the galaxy, aided in part by outlaw bounty hunters, referred to as "Cowboys." The ragtag team aboard the spaceship Bebop are two such individuals.
Mellow and carefree Spike Spiegel is balanced by his boisterous, pragmatic partner Jet Black as the pair makes a living chasing bounties and collecting rewards. Thrown off course by the addition of new members that they meet in their travels—Ein, a genetically engineered, highly intelligent Welsh Corgi; femme fatale Faye Valentine, an enigmatic trickster with memory loss; and the strange computer whiz kid Edward Wong—the crew embarks on thrilling adventures that unravel each member's dark and mysterious past little by little.
Hajime no Ippo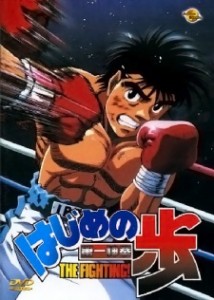 Makunouchi Ippo has been bullied his entire life. Constantly running errands and being beaten up by his classmates, Ippo has always dreamed of changing himself, but never has the passion to act upon it. One day, in the midst of yet another bullying, Ippo is saved by Takamura Mamoru, who happens to be a boxer. Ippo faints from his injuries and is brought to the Kamogawa boxing gym to recover. As he regains consciousness, he is awed and amazed at his new surroundings in the gym, though lacks confidence to attempt anything. Takamura places a photo of Ippo's classmate on a punching bag and forces him to punch it. It is only then that Ippo feels something stir inside him and eventually asks Takamura to train him in boxing. Thinking that Ippo does not have what it takes, Takamura gives him a task deemed impossible and gives him a one week time limit. With a sudden desire to get stronger, for himself and his hard working mother, Ippo trains relentlessly to accomplish the task within the time limit. Thus Ippo's journey to the top of the boxing world begins.
Ashita no Joe
Joe Yabuki is a troubled youth, whose only solution to problems is throwing punches at them. What he lacks in manners and discipline, he makes up for with his self-taught fighting skills.
One day, while wandering the slums of Doya, Joe gets into a fight with the local gang. Although greatly outnumbered, he effortlessly defeats them, drawing the attention of Danpei Tange—a former boxing coach turned alcoholic. Seeing his potential, he offers to train Joe into Japan's greatest boxer. At first, Joe dismisses Danpei as a hopeless drunk; but after the trainer saves his life, he agrees to live with him and learn the art of boxing. Unfortunately, Joe's personality makes him an unruly student, and he often falls back to his old ways.
Redline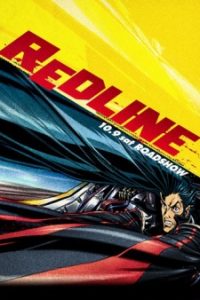 Every five years, an exhilarating race called Redline is held, and the universe's most anticipated competition has only one rule: that there are none. Racers are pushed to their absolute limit—a feeling that daredevil driver JP knows all too well. Having just qualified to participate in Redline, he is eager to battle against the other highly skilled drivers, particularly the beautiful rising star and the only other human that qualified, Sonoshee McLaren.
But this year's Redline may be far more dangerous than usual—it has been announced to take place on the planet Roboworld with its trigger-happy military and criminals who look to turn the race to their own advantage. However, the potential danger doesn't stop the racers; in fact, it only adds to the thrill. Relying solely on his vehicle's speed, JP prepares for the event to come, aiming to take first place in the biggest race of his life.
Casshern Sins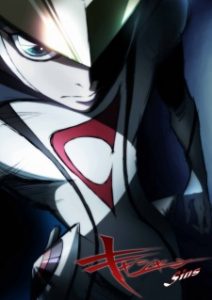 In a distant future, Earth has become a wasteland and humanity as we know it has died out. All that remains are sentient robots. They were supposed to be able to live forever—until the one called Luna died and The Ruin started. Their bodies will rust, and there is nothing that can be done to fix it. Now the robots are left only to contemplate their deaths, kept going only by the rumor that if they eat the one called Casshern they will gain immortality.
Yu-Gi-Oh! 5D's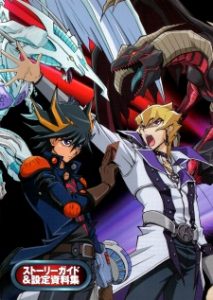 Yu☆Gi☆Oh! 5D's, set in the not too distant future, is the sequel to Yu☆Gi☆Oh!: Duel Monsters GX. Following on from its predecessors, the show is centered on the Duel Monsters Card Game.
Neo Domino City, a newer, evolved city is the largest in the world, watched over by its Director, Rex Godwin. Satellite, the renamed old Domino City, is now the city's main waste disposal area and the inhabitants who live there, Satellites, live in poor conditions and are forbidden from Duelling.
s.CRY.ed
A strange environmental phenomenon 22 years ago in the Kanazawa prefecture caused the land to split and protrude upwards reaching unprecedented heights, creating the secluded area known as The Lost Ground. Kazuma is a young mercenary who lives in the Lost Ground, looking for any work he can find to sustain his livelihood within the harsh environment. He is one of the few people that are gifted with the Alter ability, which allows him to plaster his right arm and torso with a metallic alloy. When this mercenary encounters HOLY, an order whose purpose is to suppress and capture what they call Native Alter Users, and one of the elite members of HOLY, Ryuho, an epic rivalry begins.
Yuri!!! on Ice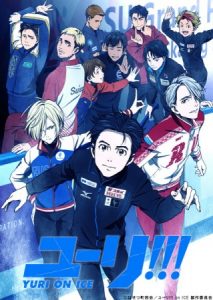 Reeling from his crushing defeat at the Grand Prix Finale, Yuuri Katsuki, once Japan's most promising figure skater, returns to his family home to assess his options for the future. At age 23, Yuuri's window for success in skating is closing rapidly, and his love of pork cutlets and aptitude for gaining weight are not helping either.
However, Yuuri finds himself in the spotlight when a video of him performing a routine previously executed by five-time world champion, Victor Nikiforov, suddenly goes viral. In fact, Victor himself abruptly appears at Yuuri's house and offers to be his mentor. As one of his biggest fans, Yuuri eagerly accepts, kicking off his journey to make it back onto the world stage. But the competition is fierce, as the rising star from Russia, Yuri Plisetsky, is relentlessly determined to defeat Yuuri and win back Victor's tutelage.
References: Myanimelist