Amazon FBA Review – Is This Business Right For You?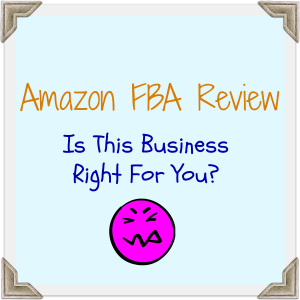 Alright, so you probably heard a lot of Amazon FBA but you are not quite sure what this is all about. This post is going to address that and also answer the common questions that are often asked by new Amazon FBA sellers. This is going to be a very in depth review of the business, so I hope you are prepared for it.
Amazon FBA in a Nutshell
Amazon FBA stands for Fulfillment by Amazon, which lets you send inventory to Amazon warehouses where they store your products and sell them for you. They handle your inventory and also handle all customer service issues for you. Your products will be sold on Amazon itself.
When the customers choose your product, Amazon will automatically send it to your customer when they pay. They also ship it to them for you. That is the beauty of Amazon FBA.
Is This Business For You?
This is just like any other profitable business, but you also need to find out whether this is something you enjoy doing. There are 3 types of models available in this business, so I will list each type and also give you the pros and cons of them.
1) Retail Arbitrage 
Now this is the first model that most people start with. The way it works is that you look for items that is selling at a cheaper price than it is on Amazon. These items can usually be found in places such as retail stores, thrift stores or garage sales(just to name a few). You then put them on Amazon and sell it for a profit.
| Pros | Cons |
| --- | --- |
| Easy to get started | You have to invest a fair bit of time to find items to sell on Amazon |
| Earning potential will be determined by how many items you sell | Income stops when you stop looking for items |
| Startup budget can be as low as $200. | Sometimes you will spend the whole day and find nothing |
| Perfect business for people that like to goshopping | |
For starters, here is a step by step guide to get started.
A) Sign up for an Amazon Sellers Account Here
They offer 2 selling plans: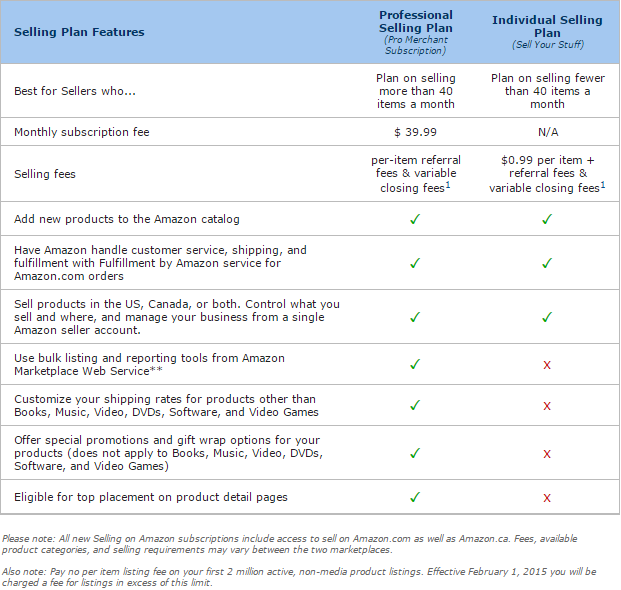 You either start with the individual selling plan or the professional selling plan. They do offer you the professional selling plan with a trial that gives you the first month free. If you are new to Amazon FBA, I encourage you to take on the free trial.
The reason for that is you will know whether this business is for you within a month anyways, so if you find out that you do not like it, just make sure to cancel it before the month ends. You can do that by heading to the amazon seller account and change your subscription settings.
However, if you know you are not going to sell more than 40 item types initially, you are more than welcome to stick with the free individual plan.
B) Get a Smartphone and Scanner App
Now 99% of the people will have a smartphone. All you have to do is download the Amazon Seller App on either Android or iOS. This app will tell you what prices Amazon is selling an item for. It will also allow you to scan items that has a bar code in local retail stores. You can then compare the price that item is selling at that store versus the price on Amazon. If the price difference allows you to make 30% or higher profit margin, then it is a good idea to buy that item.
Note* Some items are restricted and you cannot sell them on Amazon. Some categories also need approval.
Keep in mind there are also 3rd party apps such as Profit Bandit($10/month) and ASellerTool that does the same thing plus a few cool features that makes your life easier.
Here are some videos showing you more about scanning apps if you don't know how to use them.
Beginners Guide on Using the Amazon Seller App – Global Voodoo

Scanning Tools for FBA: Compare Profit Bandit With Others – Entrepreneur Girl
C) Start Looking For Items to Sell
Once you have the app, you are ready to start! The best places to look for items in the beginning are your local retail stores. Head over to those stores and look for the clearance aisle and start scanning items. At first it will feel weird but once you start making money by selling a few items, you will stop caring about what other people think of it. 🙂
To find what items sell fast on Amazon, you need to pay attention to sales rank. Sales rank gives you a good idea of how fast the item sells. Check out these guides to help you out:
Camelcamelcamel – Great site that offers sales rank and price history
You can also some online sourcing by finding good deals online from other websites. Here is a quick guide:
Bonus: Share this post to unlock a list of useful tools and places to find products to sell.
Top Places to Source for Inventory 
Thrift Stores – You can find some amazing finds in your local thrift stores. To find one near you, head over to Yelp and type "Thrift Stores". I sold a box of greeting cards for a $20 profit from it. Good things to scan would be VHS tape, music CDs, books and musical instruments.
Used Book Stores – Ah these are great places if you want to get into selling books. Since I live in Los Angeles, I visit these book stores. Use Yelp to find one near your local area. Go after erotica and romance novels. I have had great success with it.
Garage/Yard/Estate Sales – If you have time on Fridays and Saturdays, you should consider garage sales. I find mine using Gsalr, Yard Sale and Garage Sales. Take your time to scan everything. My best find was a toy that was brand new and was going for $33 on Amazon and they sold it to me for $9.
Major Retail Stores – Target, Costco, Dollar Tree, Dollar General and Toys R Us are some that I frequent quite often. Costco is a wholesale place. Occasionally(every 2 weeks) I will find bundles that are worth selling on Amazon. The key here is to visit MULTIPLE stores. Each store's clearance sale will be different. Toys are great. Buy them in June(check CamelCamelCamel of the items price history) and sell them during Christmas period.
Useful Tools
Inventory Lab – Easy tracking of your inventory and also tracking profit and losses.
Scoutify – A tool similar to Profit Bandit and does a good job at scanning items. I think its a lot easier to use this than Profit Bandit. Scoutify is also created by Inventory Lab owners.
Scotty Peelers – These are very useful in removing price tags from any item. Most of the time when you go source for inventory, you will find items that often have sticker tags. Using your hands isn't the most effective way, so the Scotty Peelers will come in handy here. I also use them for removing box stickers, which can be a pain in the butt.
Self Seal Poly Bags – This is another alternative to poly wraps. This works best for items such as toys, health & beauty products and groceries. Since most of these items are small and boxed, poly bags will often give a much better presentation when your customers open their products. I recommend 9 x 12 and 14 x 20 sizes for beginners.
Dymo Label Printer – This will help you save time and label costs in the long run. Printing Amazon FNSKU labels is a breeze with this item. You can also use this to print those "DO NOT SEPARATE" or  "Expiration Date" labels. Now I don't recommend you get brand new one. Buying a used one works just as well. Since this can be pricey, I suggest you go to craigslist or eBay and get a used one that will usually be 30% of its original price, which can go as high as 100 dollars.
Avery Labels – Avery labels are a must have once you want to create your shipments to send it to the Amazon Warehouse. I got them from Costco, but you can also buy them online as well. This goes well with the Laser Printer or Dymo Label Printer.
Price Blink – This is a very useful tool for mainly online sourcing. It is a browser add on that gives you information on an item that may have a lower price on other websites. If you want to sell a specific item on Amazon, you can use Price Blink to see if you can get that item for a much lower price somewhere else online.
D) Packaging, Labeling and Sending Items to the Amazon Warehouse
Once you got a few items you want to sell on Amazon for a profit. You will need to package them. Depending on your item, you will need to package them a certain way. You can check out the proper procedures of packaging here. Here are also some pro guides by successful sellers:
Once you send it to the Amazon warehouse, your job is done! Now you just wait for your item to sell and they will send you a notification when something sells. Keep in mind if your items do not sell after a certain period of time, storage fees will incur.
This concludes the first type!
2) Wholesale Selling
Now this one is slightly more advanced. Instead of going to retail stores to find profitable items to sell, you contact wholesalers of items that will give you a nice profit margin on Amazon. Basically, you are buying in bulk from distributors or manufacturers and sell them on Amazon.
The hard part is doing research and finding products that are not sold by other Amazon FBA sellers.
| Pros | Cons |
| --- | --- |
| You can start with a small order(usually 100+) and scale from there | Wholesale product's profit margins are less |
| No sticker removal | Your profits are good until another competitor starts selling the same wholesale product as you |
| Re-order when your stock is depleted | Finding a good product can take a while even with good research |
| You can negotiate exclusive rights to sell on Amazon if you build a relationship with the distributor | |
Here are some wholesale tips and resources for you to start:
Wholesale Sourcing with Charlene Anderson
There are also some wholesale directories that you can join to get access to wholesaler suppliers and distributors. Keep in mind these directories does cost money though. Take a look at their site before deciding whether it is worth the fee. All these sites aim to reduce the amount of time you spend searching for distributors.
3) Private Label Products
This is the most lucrative business model out of the three, but it also requires the most capital. You get to create your own brand product and sell on Amazon.
| Pros | Cons |
| --- | --- |
| You have 100% control over your brand | Startup costs should be $1500 to cover potential failures |
| Great profit margins(usually 30-50% per item sold) | You have to do really good research in order to find a good product |
| Once setup it is quite passive with very little work needed | Setting up a site and trademark is necessary |
| This business can be scaled easily well into 6 figures | |
| Choosing smaller/light and easy to ship items is recommended | |
While this system is the lucrative, the amount of work you put in is also important. To break it down for you, here are some steps you need to take to get started:
Register a business license and EIN(~$100)
Determine sales tax for all states
Search for a supplier to buy your product
Dealing with the supplier and avoiding scams
Open Amazon pro seller account($40/month)
Get familiar with Amazon rules and regulations
DIY or hire designers for  product images and branding(free if DIY, otherwise its ~$50+)
Promote your product and get reviews
That is pretty much the whole process. Definitely a lot of work to be done before seeing some profits, but it is well worth it. Here are some successful entrepreneurs that are using this method to generate good income:
If you are interested in a very detailed description on the ins and outs of the business, you can check out this book by Jon Bowser, a succesful PLR Amazon FBA guy that makes 6 figures doing it for just $10.
Last But Not Least…
Sales Tax! This is something you should not be ignoring if you intend to get into the Amazon FBA business. Different states in the US have different laws regarding sales tax. Depending on which state your product you ship it to, some states need you to collect sales tax.
Since I am no certified tax accountant, I will direct you to the experts on this one.
Conclusion
I hope this post is able to clear up some questions and doubts you might have about the program. As for which model you should go after, I will break it down for you:
Choose retail arbitrage if you are looking to earn income via buying low and selling high. You will be trading quite a bit of your time to earn income. This is also very suitable for people that like to shop or search for items, kinda like treasure hunting. This is the perfect fit for beginners who want to start their business without investing huge amounts of money.
Choose wholesale selling if you just want to sell items in bulk. You will be talking to a lot of suppliers and negotiation skills are a must here. The better you are at it the more profits you will make. They thing is you won't find any seller revealing success as it will increase their competition.
Choose private labeling if you want a very lucrative and scale-able business. Once you put in the work, the business model can be very passive. Now you can also choose to expand your business by getting more products related to the first one.